Prof John Doonan
BSc Hons (Leeds), PhD (Leeds)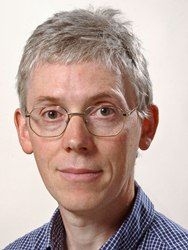 Chair (DLM)
Contact Details
Profile
John Doonan has more than 25 years experience in genetics and developmental cell biology of plants and fungi. Before joining IBERS as Director of the National Plant Phenomics Centre , he was Group Leader at the John Innes Centre in Norwich. Previous to that he worked at the Robert Wood Johnston Medical School in New Jersey, USA and obtained his PhD from Leeds University.
Teaching
Lecturer
Research
Plant growth underpins the productivity of both natural and agricultural ecosystems. Our group uses both induced (mutants) and natural variation in experimental model systems and wheat to understand how plants grow and respond to their environment. Current research focuses on cyclin dependent protein kinase targets (a) in the microtubule system and (b) in the protein translation machinery. We are developing high throughput high content phenotyping technologies at the National Plant Phenomics Centre that will allow the better exploitation of genomic-type information in the process of both gene discovery and plant breeding.
Our lab welcomes visiting students, post-doc and academics on short and longer term training visits. Please contact us by email.
Research is supported by grants from the BBSRC, Leverhulme, FP7, BEAA, and the Welsh Government.
Research Groups
Publications
Cell Wall Epitopes and Endoploidy as Reporters of Embryogenic Potential in Brachypodium Distachyon Callus Culture
Betekhtin, A., Rojek, M., Nowak, K., Pinski, A., Milewska-Hendel, A., Kurczynska, E.,
Doonan, J.
& Hasterok, R.
2018
In :

International Journal of Molecular Sciences.
19
,
12
, 3811
Impacts of abiotic stresses on the physiology and metabolism of cool-season grasses: A review
Loka, D.
,
Harper, J.
,
Humphreys, M.
,
Gasior, D.
,
Jones, D.
,
Scullion, J.
,
Doonan, J.
,
Kingston-Smith, A.
, Dodd, R., Wang, J., Chadwick, D. R., Hill, P., Jones, D. L., Mills, G., Hayes, F. & Robinson, D.
2018
In :

Food and Energy Security.
e00152
Root imaging showing comparisons in root distribution and ontogeny in novel Festulolium populations and closely related perennial ryegrass varieties
Humphreys, M.
,
Doonan, J.
,
Boyle, R.
,
Camargo-Rodriguez, A.
,
Marley, C.
, Williams, K.,
Farrell, M.
, Brook, J.,
Gasior, D.
,
Loka, D.
,
Collins, R.
,
Marshall, A.
,
Allen, D.
,
Yadav, R.
, Dungait, J. A. J., Murray, P. J. &
Harper, J.
2018
In :

Food and Energy Security.
e00145
Plant phenomics: history, present status and challenges
Zhou, J., Tardieu, F., Pridmore, T.,
Doonan, J.
, Reynolds, D., Hall, N., Griffiths, S., Cheng, T., Zhu, Y., Wang, X., Jiang, D. & Ding, Y.
2018
(Accepted/In press)
In :

Journal of Nanjing Agricultural University.
41
,
4
Functional mapping of quantitative trait loci (QTLs) associated with plant performance in a wheat MAGIC mapping population
Camargo-Rodriguez, A. V.
, Mackay, I. J., Mott, R.,
Han, J.
,
Doonan, J.
,
Askew, K.
,
Corke, F.
, Williams, K. & Bentley, A.
2018
In :

Frontiers in Plant Science.
9
, 887
More publications on the Research Portal