Prof Jon Moorby
BA (Oxon), PhD (Glasgow)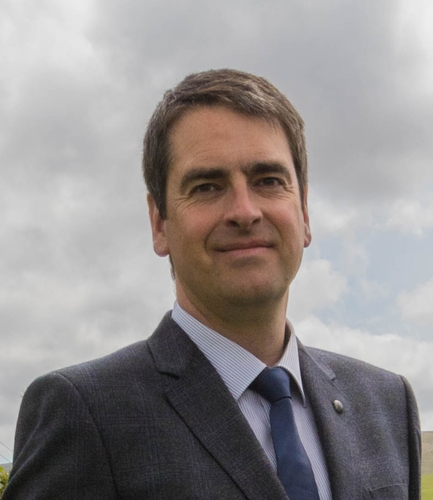 Chair in Livestock Science
Contact Details
Profile
I am Chair in Livestock Science, the University's Director of Sustainable Farming Systems, and IBERS' Director of International Research. My research interest is improving the use of feed nutrients for efficient livestock production: farming to make use of feeds that people cannot eat to produce foods that people can eat, while minimising the environmental impact of the processes.
Use of forages for improved livestock production

Short and long term effects of reducing protein intake of growing and lactating dairy cattle on immediate and subsequent productivity

Dietary manipulation to reduce methane emissions from ruminant animals

Sustainable intensification of forage-based production systems

Improvement of temperate and tropical forages for improved farmer livelihoods
Teaching
Module Coordinator
Grader
Coordinator
Additional Lecturer
Tutor
Lecturer
I coordinate and teach MSc Livestock and Equine Nutrition modules, and tutor undergraduate the Communicating Research module.
Research
I am PI and Co-I on a number of UK and international research projects in Europe, sub-Saharan Africa, and South America, including:
RCUK-CIAT Newton Fund - tropical forage-based diets for Colombian cattle, with CIAT and Glasgow University
CowficieNcy - an EU Marie Sklodowska-Curie RISE programme to improve cattle N use efficiency, with partners in the EU and the US
PeaGen - a BBSRC-funded LINK project breeding and using novel peas for sustainable livestock production
Research Groups
Sustainable Grassland Systems and Agri-Food
Greenhouse gas reduction in livestock agriculture
Publications
Atkinson, G, Smith, L, Smith, M, Reynolds, C, Humphries, D
, Moorby, J
, Leemans, D
& Kingston-Smith, A
2020, '
A computer vision approach to improving cattle digestive health by the monitoring of faecal samples
',
Scientific Reports
, vol. 10, 17557.
https://doi.org/10.1038/s41598-020-74511-0
Arango, J, Ruden, A, Martinez-Baron, D, Loboguerrero, AM, Berndt, A, Chacón, M, Torres, C, Oyhantcabal, W, Gomez B., CA, Ricci, P, Ku-Vera, J
, Moorby, J
& Chirinda, N 2020, '
Ambition meets reality: Achieving GHG emission reduction targets in the livestock sector of Latin America
',
Frontiers in Sustainable Food Systems
, vol. 4, 65.
https://doi.org/10.3389/fsufs.2020.00065
Hanlon, ME
, Moorby, JM
, McConochie, HR
& Foskolos, A
2020, '
Effects of addition of nutritionally improved straw in dairy cow diets at 2 starch levels
',
Journal of Dairy Science
, vol. 103, no. 11, pp. 10233-10244.
https://doi.org/10.3168/jds.2020-18360
Kipling, RP
, Taft, HE, Chadwick, DR, Styles, D
& Moorby, J
2019, '
Challenges to implementing greenhouse gas mitigation measures in livestock agriculture: A conceptual framework for policymakers
',
Environmental Science and Policy
, vol. 92, pp. 107-115.
https://doi.org/10.1016/j.envsci.2018.11.013
Foskolos, A
, Hanlon, ME
, Gordon, N
, Vaughan, I, Cubitt, D
& Moorby, J
2019, '
Effects of nutritionally improved straw (NIS) in dairy cow diets at two different starch concentrations
', Total Dairy 2019, Stratford-upon-Avon, United Kingdom of Great Britain and Northern Ireland,
19 Jun 2019
-
20 Jun 2019
.
More publications on the Research Portal