Prof Mariecia Fraser
PhD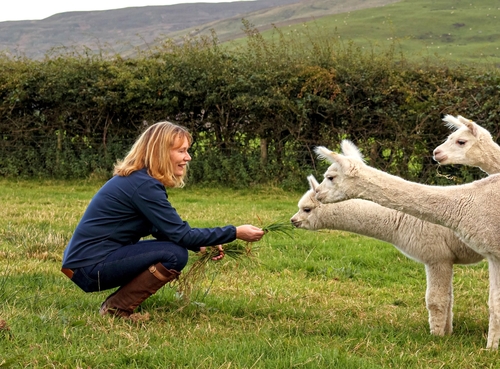 Professor in Upland Agroecosystems
Contact Details
Profile
Head, Pwllpeiran Upland Research Centre
Additional Information
Member, Natural England Scientific Advisory Committee (2018-present)
Member, Hybu Cig Cymru Research and Knowledge Exchange Advisory Committee (2018-present).
Council member, British Grassland Society (2016-2020)
Editor, Animal: an international journal of bioscience
Teaching
Grader
Lecturer
Tutor
Course Viewer
Research
I have a background in animal science and grazing ecology and specialise in developing and testing management strategies for upland systems. My research interests include: species and breed differences in diet selection and ingestive behaviour, conservation grazing, nutrient supply from forages, greenhouse gas emissions from grazing animals, and the bio-energy potential of semi-natural grasslands. I have worked with a range of animal species (sheep, cattle, goats, ponies, deer, South American camelids) and pasture types (cultivated, improved permanent pasture and semi-natural grass and heath communities), as well as fresh and ensiled alternative forages (high WSC grasses, forage legumes, brassicas, pulses and bi-crops), to deliver a range of products (meat, fibre, habitats and biorenewables).
Publications
Fraser, M
, Vallin, H
& Roberts, B
2022, '
Grassland-based livestock farming and biodiversity
',
Animal
, vol. 16, no. 12, 100671.
10.1016/j.animal.2022.100671
Hayward, A, Behnke, J, Childs, D, Corripio-Miyar, Y, Fenton, A
, Fraser, M
, Kenyon, F, McNeilly, T, Pakeman, RJ, Pedersen, A, Pemberton, J, Sweeny, A, Wilson, K & Pilkington, J 2022, '
Long-term temporal trends in gastrointestinal parasite infection in wild Soay sheep
',
Parasitology
, vol. 149, no. 13, pp. 1749-1759.
10.1017/S0031182022001263
Compton, L, J.A.N., M, Barker, ZE, Bannick, A, Dijkstra, J, Tamminga, S, Anthony, SG, Aubry, A, Duthie, CA
, Fraser, M
, Misselbrook, TH
, Moorby, J
, Williams, AG, Yan, T & Reynolds, CK 2022, '
Models of enteric methane emission and nitrogen excretion by sheep and cattle: Recommendations for the UK national greenhouse gas inventory
',
Animal - Science proceedings
, vol. 13, no. 4, pp. 540-541.
10.1016/j.anscip.2022.07.417
Moorby, J
& Fraser, M
2022, '
New feeds and feeding systems in forage-fed ruminant livestock systems
'
Matrix - Quarterly magazine of the Animal Feed Manufacturers Association
, vol. 31, no. 1, pp. 47-51.
Fraser, M
, Davies, IG
, Richards, HE
& Davies, SL 2022,
Performance of Trifolium repens and T. pratense under marginal growing conditions
. in
Grassland at the heart of circular and sustainable food systems: Proceedings of the 29th General Meeting of the EGF.
European Grassland Federation.
More publications on the Research Portal