Dr Mariecia Fraser
PhD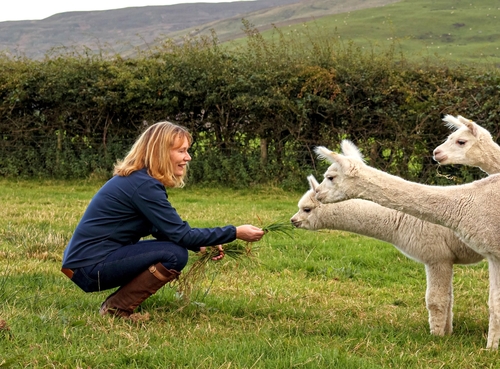 Reader in Upland Agroecosystems
Contact Details
Additional Information
Based at the Pwllpeiran Upland Research Centre.
Teaching
Grader
Moderator
Research
I have a background in animal science and grazing ecology and specialise in developing and testing management strategies for upland systems. My research interests include: species and breed differences in diet selection and ingestive behaviour, conservation grazing, nutrient supply from forages, greenhouse gas emissions from grazing animals, and the bio-energy potential of semi-natural grasslands. I have worked with a range of animal species (sheep, cattle, goats, ponies, deer, South American camelids) and pasture types (cultivated, improved permanent pasture and semi-natural grass and heath communities), as well as fresh and ensiled alternative forages (high WSC grasses, forage legumes, brassicas, pulses and bi-crops), to deliver a range of products (meat, fibre, habitats and biorenewables).
Publications
Gonzalez Diaz, JA, Celaya, R
, Fraser, M
, Osoro, K, Ferreira, LMM, Fernandez Garcia, F, Gonzalez Diaz, B & Rosa Garcia, R 2018,
Agroforestry systems in northern Spain: the role of land management and socio-economy in the dynamics of landscapes
. in JC Dagar & VP Tewari (eds),
Agroforestry: Anecdotal to Modern Science.
Springer Nature, pp. 189-216.
Forster, DJ
, Fraser, M
, Rowe, R & McNamara, N 2018,
Does sward management affect carbon storage under upland permanent pasture?
in B Horan, D Hennessy, M O'Donovan, E Kennedy, B McCarthy, JA Finn & B O'Brien (eds),
Sustainable meat and milk production from grasslands: Proceedings 27th General Meeting of the European Grassland Federation.
European Grassland Federation, vol. 23, Teagasc, pp. 595-597, 27th EGF General Meeting, Cork, Ireland,
17 Jun 2018
.
Fraser, M
& García, RR 2018, '
Mixed-species grazing management to improve sustainability and biodiversity
',
Scientific and Technical Review
, vol. 37, no. 1, pp. 247-257.
More publications on the Research Portal