Prof Mariecia Fraser
PhD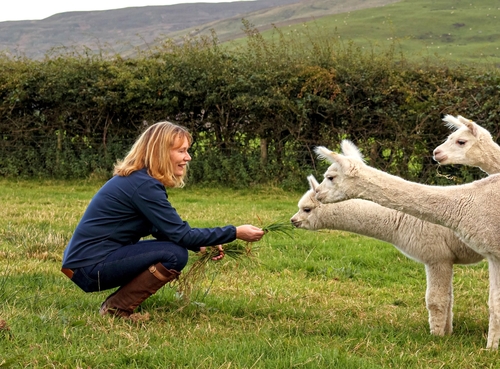 Professor in Upland Agroecosystems
Contact Details
Profile
Head, Pwllpeiran Upland Research Centre
Additional Information
Member, Natural England Scientific Advisory Committee (2018-present)
Member, Hybu Cig Cymru Research and Knowledge Exchange Advisory Committee (2018-present).
Council member, British Grassland Society (2016-2020)
Editor, Animal: an international journal of bioscience
Teaching
Grader
Moderator
Tutor
Additional Lecturer
Lecturer/tutor:
Research
I have a background in animal science and grazing ecology and specialise in developing and testing management strategies for upland systems. My research interests include: species and breed differences in diet selection and ingestive behaviour, conservation grazing, nutrient supply from forages, greenhouse gas emissions from grazing animals, and the bio-energy potential of semi-natural grasslands. I have worked with a range of animal species (sheep, cattle, goats, ponies, deer, South American camelids) and pasture types (cultivated, improved permanent pasture and semi-natural grass and heath communities), as well as fresh and ensiled alternative forages (high WSC grasses, forage legumes, brassicas, pulses and bi-crops), to deliver a range of products (meat, fibre, habitats and biorenewables).
Publications
Sandor, R, Iovino, M, Lichner, L, Alagna, V
, Forster, DJ
, Fraser, M
, Kollár, J, Surda, P, Nagy, V, Szabo, A & Fodor, N 2021, '
Impact of climate, soil properties and grassland cover on soil water repellency
',
Geoderma
, vol. 383, 114780.
https://doi.org/10.1016/j.geoderma.2020.114780
Corton, J
, Donnison, I
, Ross, A, Lea-Langton, A, Wachendorf, M
& Fraser, M
2021, '
Impact of vegetation type and pre-processing on product yields and properties following hydrothermal conversion of conservation biomass
',
Renewable and Sustainable Energy Reviews
, vol. 137, 110462.
https://doi.org/10.1016/j.rser.2020.110462
Fraser, M
, Vallin, H
, Davies, JRT
, Rowlands, GE
& Chang, X 2021, '
Integrating Narcissus-derived galanthamine production into traditional upland farming systems
',
Scientific Reports
, vol. 11, 1389.
https://doi.org/10.1038/s41598-021-81042-9
Roberts, BP
, Neal, M
, Snooke, N
, Labrosse, F
, Curteis, T
& Fraser, M
2020, '
A bespoke low‐cost system for radio tracking animals using multi‐rotor and fixed‐wing unmanned aerial vehicles
',
Methods in Ecology and Evolution
.
https://doi.org/10.1111/2041-210X.13464
Fraser, M
2020, '
Back to the future: How do we make the most of Welsh upland permanent pasture?
', Paper presented at Resilience in the Welsh Uplands - An Evidence Perspective,
14 Sep 2020
-
18 Sep 2020
.
More publications on the Research Portal