Dr Pippa Moore
PhD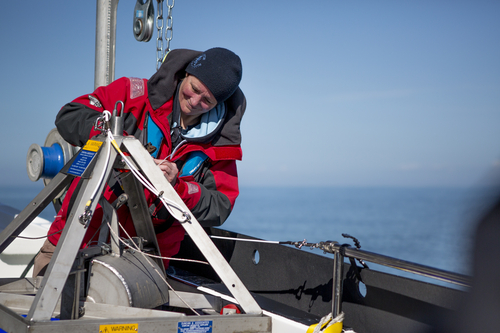 Reader
Theme Leader: Animal and Aquatic Sciences
Contact Details
Profile
I graduated with a First Class BSc(Hons) degree in Marine Biology and Coastal Ecology from the University of Plymouth (2001) and subsequently completed a PhD in marine ecology and climate change (2005) through the Marine Biological Association and the University of Plymouth. I went on to complete post-docs at the Marine Biological Association, UK (2005 - 2006), University of Queensland (2006-2007), University of Plymouth (2007-2008) and Edith Cowan University, Western Australia (2008-2011) before starting a lectureship at Aberystwyth University in 2011.
Teaching
Module Coordinator
Lecturer
Tutor
Postgraduate Students
Ally Evans (2011-2015) Artificial defence structures as surrogate habitats for natural rocky shores: giving nature a helping hand.
Ben Harvey (2011-2015) Determining the impacts of ocean acidification and global warming on biotic interactions in shallow-water marine environments.

Nathan King (2013-) The effects of climate warming on the ecophysiological responses of kelp.
Mathilde Bue (2015-) Food-web dynamics in UK kelp forests
I am very interested to hear from any students with interests in climate change ecology, kelp forest community ecology or more generally marine community ecology. Possible sources of funding are available.
Research
My research interests primarily lie in understanding how shallow-water marine systems are structured & function.
Climate impacts research: Using a range of approaches my research focuses on the impacts of global warming&ocean acidification on marine biodiversity. In particular, I am interested in how these environmental stresses affect key ecosystem processes (e.g. predator-prey, plant-herbivore & competitive interactions) & the consequences for shallow-water assemblage structure & functioning.
Biological habitat enhancement of engineered structures: Coastal & offshore engineered structures are increasingly being used to enable society to adapt to & mitigate the effects of anthropogenic climate change. These structures often provide a hard substrate where previously there had been none & as such they can act as habitat for rocky reef marine species. However, these structures are often lacking in the small to medium scale heterogeneity that enables natural assemblages to form. Working with colleagues from around the UK I am investigating the impacts of these structures on soft sediment assemblages & exploring methods to increase the amount of small to medium scale heterogeneity to facilitate the establishment of natural rocky shore assemblages. Such modifications will result in increased amenity value & may also have structural & commercial benefits.
Publications