Dr Pippa Moore
PhD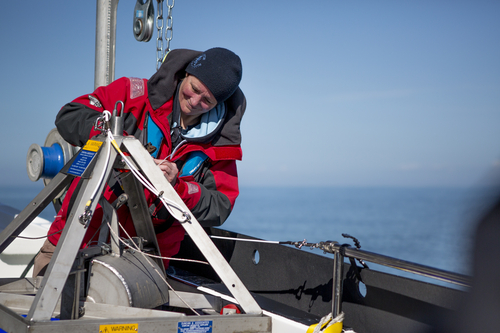 Profile
I graduated with a First Class BSc(Hons) degree in Marine Biology and Coastal Ecology from the University of Plymouth (2001) and subsequently completed a PhD in marine ecology and climate change (2005) through the Marine Biological Association and the University of Plymouth. I went on to complete post-docs at the Marine Biological Association, UK (2005 - 2006), University of Queensland (2006-2007), University of Plymouth (2007-2008) and Edith Cowan University, Western Australia (2008-2011) before starting a lectureship at Aberystwyth University in 2011.
Teaching
Module Coordinator
Coordinator
Lecturer
Grader
Additional Lecturer
Tutor
Undergraduate Teaching
BR12410 Study & Communication Skills
BR22620 Marine Biology
BR25820 Aquatic Botany
BR26220 Applied Aquatic Conservation (Module co-ordinator)
BR33010 Marine Biology Field Course (Module Co-ordinator)
BR33920 Population and Community Ecology (Module Co-ordinator)
BR32930 Dissertation
I am also the scheme co-ordinator for C164 BSc (Hons) Marine and Freshwater Biology, C166 BSc (Hons) Marine and Freshwater Biology with a year in industry and C169 MBiol Marine and Freshwater Biology.
PhD Students
Ally Evans (2011-2015) Artificial defence structures as surrogate habitats for natural rocky shores: giving nature a helping hand.
Ben Harvey (2011-2015) Determining the impacts of ocean acidification and global warming on biotic interactions in shallow-water marine environments.
Nathan King (2013-2017) The effects of climate warming on the ecophysiological responses of kelp
Mathilde Bue (2015-) Food-web dynamics in UK kelp forests
Pippa Lewis (2016-) Blue carbon potential of intertidal marine canopy formers
Cat Oliver (2018-) The effects of problem algal harvesting on the ecology of receiving habitats
I am very interested to hear from any students with interests in climate change ecology, kelp forest community ecology or more generally marine community ecology. Possible sources of funding are available.
Research
My research interests primarily lie in understanding how shallow-water marine systems are structured & function.
Climate impacts research: Using a range of approaches my research focuses on the impacts of global warming (gradual warming and marine heatwaves) & ocean acidification on marine biodiversity. In particular, I am interested in how these environmental stresses affect key ecosystem processes (e.g. predator-prey, plant-herbivore & competitive interactions) & the consequences for shallow-water assemblage structure & functioning.
Ecological sensitive design of marine infrastructure: Artificial structures are proliferating in the marine environment yet are poor substitutes for natural rocky reefs. Our research focuses on improving the evidence base regarding eco-engineering of marine artificial structures, understanding the barriers to its widespread implementation in marine and costal engineering projects and working with policymakers, regulators and practitioners to increase awareness and uptake of ecoengineering solutions.
Kelp forest ecology: Kelp forests are important ecosystem engineers providing habitat and food which supports high diversity ecosystems and provides a wealth of goods (e.g. food) and services (e.g. carbon cycling, coastal protection) to human society. In the UK, kelp forests have been understudies in recent decades compared to much of the world. Over the last 4-years we have been trying to redress this at the same time as exploring the likely impacts of climate change for kelp forest ecosystems and their potential role as Blue Carbon donors.
Publications