Dr Paul Robson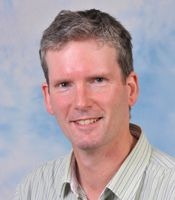 Senior Research Scientist
Contact Details
Profile
I graduated in Microbiology and Virology and received a doctorate in molecular microbiology from Warwick University working with Professor David Hodgson. My PhD was studying the mechanism of light induction from a promoter controlling carotenogenesis in Myxobacteria.
Since then I have worked in plant molecular biology and physiology, developing interests in the molecular mechanisms determining plant physiology and morphology. This included 7 years working with Professor Harry Smith at Leicester University studying photomorphogenesis and the biotechnological application of phytochrome. After a move to Aberystwyth I worked at IGER studying senescence and the induction of a stay-green phenotype in Maize (with Professor Howard Thomas); molecular determinants of apomixis (with Professor Philip Morris) and I now lead a project on Miscanthus Molecular Genetics and Crop Performance (with ).
Teaching
Grader
Lecturer
Tutor
Research
The aim of my research is to understand the molecular and physiological control of morphologies in Miscanthus that contribute to efficient resource capture and utilisation and to develop molecular tools to enable efficient breeding strategies in Miscanthus. The work will provide fundamental insight into the genetic and environmental interactions determining Miscanthus development and how morphological change and physiological processes contribute to the capture of light and water and to nutrient use efficiency. This project will also develop genetic resources for Miscanthus including a genetic map and will test the syntenic relationship with other crops.
Research highlights include the following objectives:
To determine variation in morphologies relevant to resource capture including, plant architecture, early season establishment, leaf area and senescence and to test the impact that these morphological changes have on resource capture and yield.
To determine the morphological and physiological responses of Miscanthus to environmental signals in plot-based and controlled environment studies focusing initially on light as a resource and signal to reveal novel insights into photomorphogenesis in grass species.
To develop markers and a genetic map for Miscanthus and to use markers for association and QTL mapping of morphological and compositional traits in Miscanthus.
To determine the impact of senescence on crop quality, nutrient use efficiency and crop yield.
To determine the extent of synteny with other crop species such as Sorghum and maize.
To develop innovative phenotyping analyses including the use of high-throughput phenomics studies.
To characterise gene expression in Miscanthus from senescence associated genes and abiotic stress genes.
Publications
Awty-Carroll, D
, Hauck, B
, Clifton-Brown, J
& Robson, P
2020, '
Allelopathic and intraspecific growth competition effects establishment of direct sown Miscanthus
',
GCB Bioenergy
, vol. 12, no. 6, pp. 396-409.
https://doi.org/10.1111/gcbb.12680
Robson, P
, Hastings, A
, Clifton-Brown, J
& McCalmont, J
2020,
Sustainable use of Miscanthus for biofuel
. in C Saffron (ed.),
Achieving Carbon Negative Bioenergy Systems from Plant Materials.
Burleigh Dodds Series in Agricultural Science, Burleigh Dodds Science Publishing, Cambridge, UK.
Awty-Carroll, D
, Ravella, S
, Clifton-Brown, J
& Robson, P
2020, '
Using a Taguchi DOE to investigate factors and interactions affecting germination in Miscanthus sinensis
',
Scientific Reports
, no. 10, 1602.
https://doi.org/10.1038/s41598-020-58322-x
Scordia, D, Scalici, G
, Clifton-Brown, J
, Robson, P
, Patane, C & Cosentino, SL 2020, '
Wild Miscanthus Germplasm in a Drought-Affected Area: Physiology and Agronomy Appraisals
',
Agronomy
, vol. 10, no. 5, 679.
https://doi.org/10.3390/agronomy10050679
Clifton-Brown, J
, Schwarz, K-U
, Awty-Carroll, D
, Iurato, A
, Meyer, H, Greef, J, Gwyn, J
, Mos, M
, Ashman, CR
, Hayes, C
, Huang, L
, Norris, J
, Rodgers, C, Scordia, D
, Shafiei, R
, Squance, M
, Swaller, T
, Youell, S
, Salvatore, C, Flavell, R
, Donnison, I
& Robson, P
2019, '
Breeding Strategies to Improve Miscanthus as a Sustainable Source of Biomass for Bioenergy and Biorenewable Products
',
Agronomy
, vol. 9, no. 11, 673.
https://doi.org/10.3390/agronomy9110673
More publications on the Research Portal