Dr Rattan Yadav
PhD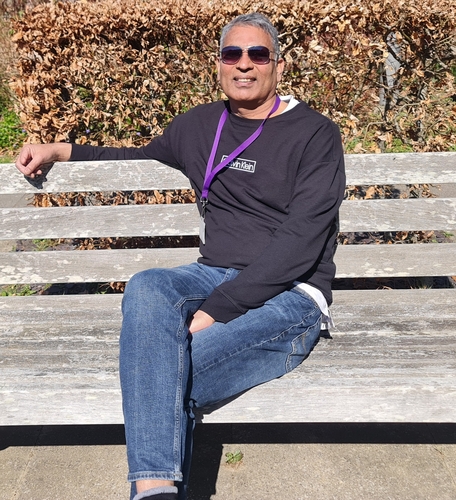 Profile
Dr Rattan Yadav is a Research Leader in Plant Genomics and Breeding at the Institute of Biological, Environmental & Rural Sciences (IBERS) of the Aberystwyth University. He received his PhD degree from the University of Sussex and worked for two years at the International Rice Research Institute (IRRI) in the Philippines before joining at Aberystwyth in 1996. Prior to working at IRRI he was as an Agricultural Research Services (ARS) cadre scientist of plant breeding discipline with the Indian Council of Agricultural Research (ICAR) from 1986 to 1991.
Teaching
Lecturer
Additional Lecturer
BRM3920: Crop Genomics and Genetic Engineering
BRM0700 - Current Topics in Biotechnology
Research
Rattan's research focusses on capturing and translating naturally occurring genetic variations present in crops germplasm into 'public good' outcomes. He has particular interests in developing modern breeding methods to hasten crop improvement especially in the developing world.
Rattan currently is an academic editor of PlosOne & Frontiers in Plant Science. He also is a member of the BBSRC's 'Follow-on Funds' Committee, member of GCRF Peer review Collage, and sits in the the panel of experts for Newton Fund, European Union and InnovateUK.
Current Research Grants:
Development of pearl millet hybrid seeds and novel food products, Innovate UK, 2017-2019, £814,000
Application of crop genetics to improve Calcium content in millets and other crops for promoting health benefits in the prevention and treatment of osteoporosis, European Commission, 2015-2017, £216,0083.
Development of pearl millet for health benefit, Innovate UK, 499,950, 2014-2016
Dissecting and accessing useful genetic variations for Iron and Zinc content in pearl millet using genome wide association studies, BBSRC and Unilever, 2014-2018, £245,000
Application of innovative plant breeding and phenotyping technologies to reduce the nutrient requirements of forages and improve livestock production efficiency, Innovate UK, £1.16 Million, 2016-2021
Novel strategies for genetic improvement of disease resistance in perennial ryegrass, Innovate UK, 2015-2020, £785,394.
Roots for the future - A systematic approach to root design, BBSRC Link, £2.5 million over 5 years (2014-2019)
Genomics-assisted breeding for fatty acid content and composition in perennial ryegrass (Lolium perenne
Publications
Root imaging showing comparisons in root distribution and ontogeny in novel Festulolium populations and closely related perennial ryegrass varieties
Humphreys, M.
,
Doonan, J.
,
Boyle, R.
,
Camargo-Rodriguez, A.
,
Marley, C.
, Williams, K.,
Farrell, M.
, Brook, J.,
Gasior, D.
,
Loka, D.
,
Collins, R.
,
Marshall, A.
,
Allen, D.
,
Yadav, R.
, Dungait, J. A. J., Murray, P. J. &
Harper, J.
2018
In :

Food and Energy Security.
e00145
Mapping grain iron and zinc content QTLs in an Iniadi-derived immortal population of pearl millet
Kumar, S., Hash, C. T., Nepolean, T., Mahendarkar, M. D., Satyavathi, C. T., Singh, G., Rathore, A.,
Yadav, R.
, Gupta, R. & Srivastava, R. K.
2018
In :

Genes.
9
,
248
,
p. 1-17
17 p.
, 9050248
Quantitative Trait Loci (QTL) for water use and crop production traits collocate with major QTL for tolerance to water deficit in a fine mapping population of pearl millet (Pennisetum glaucum L. R. Br.)
Tharanya, M., Kholová, J., Sivasakthi, K. S., Sehgal, D., Hash, C.,
Yadav, R.
& Vadez, V.
2018
(Accepted/In press)
In :

Theoretical and Applied Genetics.
Accessing and Dissecting Genomic Regions for High Grain Iron and Zinc Content Using GWAS in Pearl Millet
Manwaring, H. R.
,
Hegarty, M.
,
Winters, A.
, Bligh, F. &
Yadav, R.
2018
(Accepted/In press)
1 p.
Towards defining heterotic gene pools using SSR markers in pearl millet [Pennisetum glaucum (L.) R. Br.]
Ramya, R., Ahmed M, L., Satyavathi, C. T., Rathore, A., Katiyar, P., Raj, B., Kumar, S., Gupta, R., Mahendarkar, M.,
Yadav, R.
& Srivastava, R.
2018
In :

Frontiers in Plant Science.
8
, 1934
More publications on the Research Portal