Rattan Yadav
PhD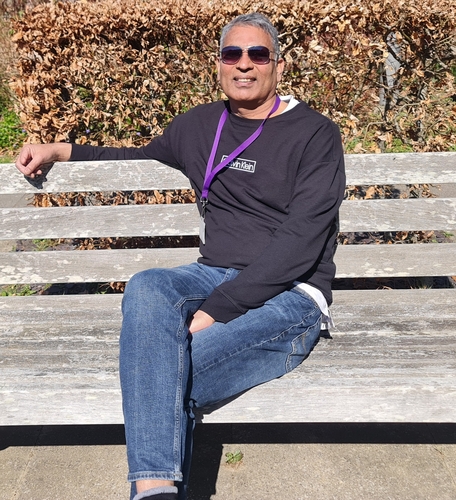 Profile
Dr Rattan Yadav is a Research Leader/Academic with expertise in Plant Genetics, Genomics and Breeding at the Institute of Biological, Environmental & Rural Sciences (IBERS) of the Aberystwyth University. He received his PhD degree from the University of Sussex and subsequently undertook post-doctoral research at the International Rice Research Institute (IRRI) in the Philippines before coming to Aberystwyth in 1996. Currently he also holds an adjunct professorship at CCSHAU, Hisar, India.
Additional Information
Recent research grants:
Principal Investigator - Capturing Naturally Occurring Genetic Variations for Health Benefitting Traits in Pearl Millet germplasm for Sustainable Food, Nutrition and Health Security, Funder - Royal Society, UK, £150,218, 1 March 2020 to 1 September 2022.
Principal Investigator - 2020 ASEM-DUO Professor exchange, India and European Countries, £2550, January 2020 - December2021, http://www.asemduo.org/02_programs/programs_10.php
Co-Investigator – A new paradigm in boosting orphan crops to super grains: Linking metabolomics and gene editing to improve Teff for global food security and sustainable agriculture (SUPERTEFF) , Funder - European Commission, £191,193, March 2020 to March 2022.
Principal Investigator – Delivering low glycaemic index (GI) pearl millet grains for the benefit of type-2 diabetics in African regions, Funder - InnovateUK, £498,000, 1 November 2019 to 30 April 2021
Principal Investigator - Development of pearl millet hybrid seeds and novel food products: An affordable resource in the prevention of type-2 diabetes. January 2017- January 2019, £814,000, 2017-2019, Funders - Innovate UK
Principal Investigator - Application of crop genetics to improve Calcium content in millets and other crops for promoting health benefits in the prevention and treatment of osteoporosis, Funder - European Commission, 2015-2017, £216,008
Principal Investigator - Development of pearl millet for health benefits for type-2 diabetes – feasibility study of physicochemical properties and genetic enhancement, March 2015-July 2017, £499,998, Funder - Innovate UK (Unilever (UK) and Hindustan Unilever (India) as Industry partners)
Principal Investigator – Dissecting and accessing useful genetic variations for Iron and Zinc content in pearl millet using genome wide association studies, BBSRC and Unilever, 2014-2018, £245,000
Co-Investigator - Application of innovative plant breeding and phenotyping technologies to reduce the nutrient requirements of forages and improve livestock production efficiency, Funder - Innovate UK (2016-2021), total value £1.16M.
Co-Investigator - Novel strategies for genetic improvement of disease resistance in perennial ryegrass, Funder - Innovate UK, 2015-2020, £785,394.
Co-Investigator - Roots for the future – A systematic approach to root design (SUREROOT), BBSRC Link, £2.5 million over 5 years (2014-2019)
Co-Investigator - Genomics-assisted breeding for fatty acid content and composition in perennial ryegrass (Lolium perenne L.), BBSRC Link, £2.4 million over 5 years. 2013-2018.
Teaching
Course Viewer
Lecturer
Grader
Tutor
BRM3920: Crop Genomics and Genetic Engineering
BRM0700 - Current Topics in Biotechnology
Research
Dr Yadav has broad background in genetics, physiology, genomics and plant breeding and applies such knowledge in improved crops production at global scale. His research, in the last three decades, has focused mainly on capturing and translating naturally occurring genetic variations present in crops germplasm for 'public good' outcomes. He has particular interests in developing and integrating modern genetics and genomics tools to traditional plant breeding leading to enhanced food, nutrition, health, and environmental outcomes at global scales. To achieve such scientific goals, he collaborates extensively with academic, industries (Unilever, Hindustan Unilever, Germinal Holdings), and 'not for profit' inter-governmental organizations (such as CGIAR, FAO, IAEA) across the world and passionate about pursuing 'international development' goals via sustainable agricultural developments.
Externally, Dr Yadav has just completed his term as a member of BBSRC's follow-on-fund (FOF) committee (2016-2020) and is currently a member of the Sub-panel 6: Agriculture, Food and Veterinary Sciences panel of REF2021. Presently he also is a panel member of BBSRC's Industrial Strategy Challenge Fund (ISCF), Academic editor of PlosOne; and sits on the panel of experts for Newton Fund's Environment and Agriculture panel, UKRI's Global Challenge Research Fund (GCRF) and InnovateUK's Agri-Tech panels. Currently, he also is editing a special issue of Journal 'Agronomy' focusing on novel breeding technologies in cereals.
Publications
Yadav, CB, Tokas, J, Yadav, DV
, Winters, A
, Singh, RB
, Yadav, R
, Gangashetty, P, Srivastava, R
& Yadav, R
2021, '
Identifying Anti-Oxidant Biosynthesis Genes in Pearl Millet [Pennisetum glaucum (L.) R. Br.] Using Genome—Wide Association Analysis
',
Frontiers in Plant Science
, vol. 12, 599649.
https://doi.org/10.3389/fpls.2021.599649
Yadav, R
& Kumar, R 2020,
CRP 2020 Reviews: Rice Agri-Food Systems (RICE)
. CGIAR Advisory Services.
Srivastava, R, Singh, RB, Vijay Lakshmi, P, Srikanth, B, Satyavathi, CT
, Yadav, R
& Gupta, R 2020, '
Genome-Wide Association Studies and Genomic Selection in Pearl Millet: Advances and prospects
',
Frontiers in Genetics
, vol. 10, 1389.
https://doi.org/10.3389/fgene.2019.01389
Puranik, S
, Sahu, PP
, Beynon, S
, Srivastava, R, Ojulong, H
& Yadav, R
2020, '
Genome-wide association mapping and comparative genomics identifies genomic regions governing grain nutritional traits in finger millet (Eleusine coracana L. Gaertn)
',
Plants, People, Planet
.
https://doi.org/10.1002/ppp3.10120
Serba, D
, Yadav, R
, Varshney, RK, Gupta, SK, Mahalingam, G, Srivastava, R, Gupta, R, Perumal, R & Tesso, T 2020,
Genomic Designing of Pearl Millet: A Resilient Crop for Arid and Semi-arid Environments
. in C Kole (ed.),
Genomic design of Climate-Smart Cereal Crops.
Springer Nature, pp. 221-286.
https://doi.org/10.1007/978-3-319-93381-8_6
More publications on the Research Portal