Mr Penri James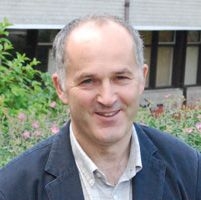 Profile
Penri James is a graduate of the University of Wales, Bangor and lectures in farm management, land use and information technology in the rural context. He is particularly interested in utilising information technology - spreadsheet, database, and GIS - as decision making tools for rural businesses. Penri is the scheme co-ordinator for Foundation Degree Agriculture schemes, has responsibility in the Institute for coordinating agriculture franchise schemes with other colleges. He also has a research interest in modelling the behaviour of plant and animal systems.
Teaching
Publications
Williams, ML
, James, W
& Rose, M
2017, '
Fixed-time data segmentation and behaviour classification of pasture-based cattle: Enhancing performance using a hidden Markov model
',
Computers and Electronics in Agriculture
, vol. 142, no. Part B, pp. 585-596.
10.1016/j.compag.2017.11.010
Morris, D
& James, W
2017, '
Social media, an entrepreneurial opportunity for agriculture-based enterprises
',
Journal of Small Business and Enterprise Development
, vol. 24, no. 4, pp. 1028-1045.
10.1108/JSBED-01-2017-0018
Williams, M
, MacParthalain, N
, Brewer, P
, James, P
& Rose, M
2016, '
A novel behavioral model of the pasture-based dairy cow from GPS data using data mining and machine learning techniques
',
Journal of Dairy Science
, vol. 99, no. 3, pp. 2063-2075.
10.3168/jds.2015-10254
Morris, D
& James, P
2016, '
Social Media, an Entrepreneurial Opportunity for Agricultural Based Enterprises.
', Paper presented at Institute of Small Business and Entrepreneurship Conference, Paris, France,
27 Oct 2016
-
28 Oct 2016
.
Huws, SA
, Griffith, GW
, Edwards, JE
, Williams, HW
, James, WP
, Owen, IG
& Kingston-Smith, AH
2013, '
Sicrhau argaeledd cynnyrch cil gnowyr o'r ansawdd orau mewn modd effethlon
',
Gwerddon
, vol. 13, pp. 10-28.
More publications on the Research Portal