Darogan: Aberystwyth University launches a series of conversations that look to the future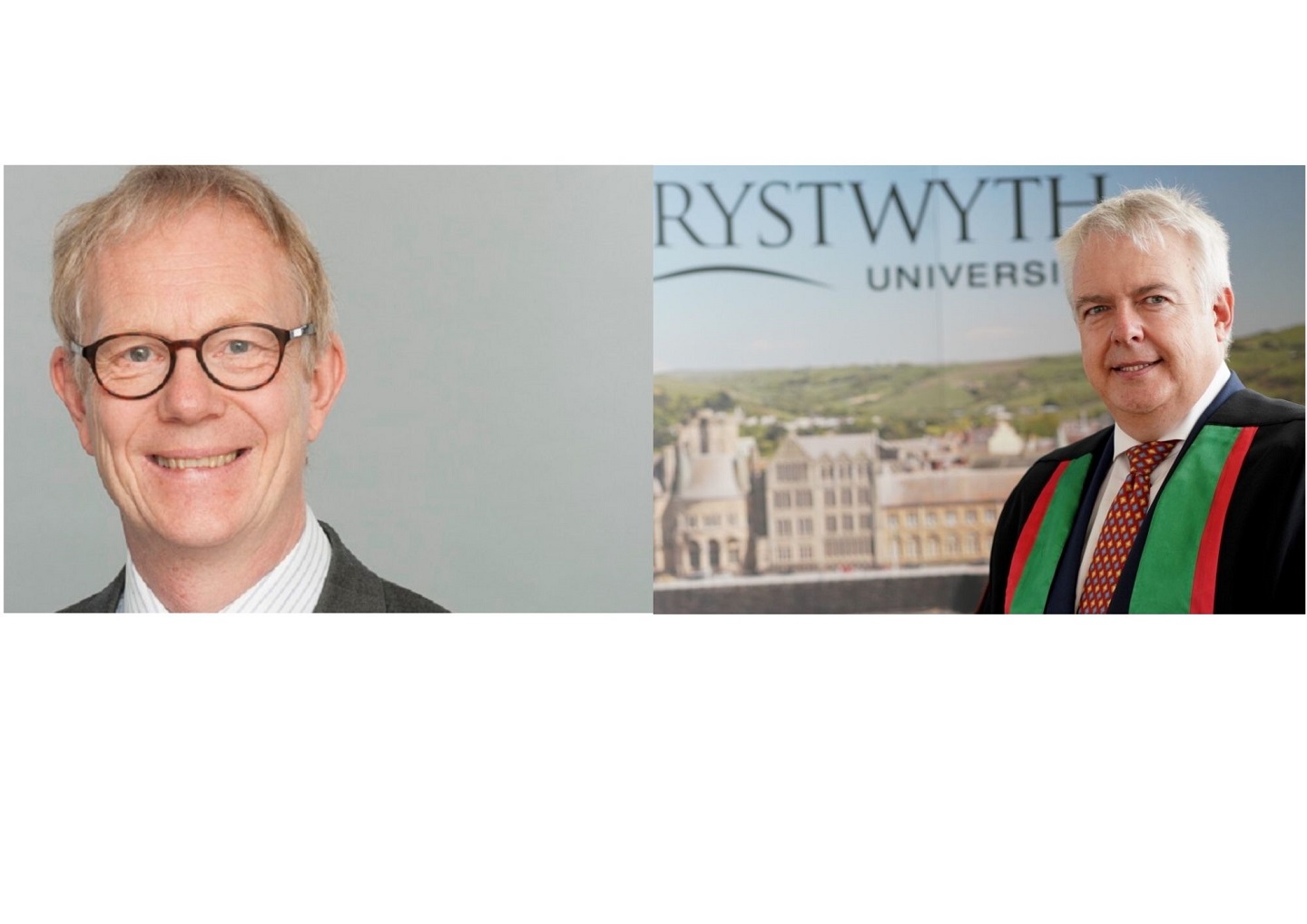 Carwyn Jones and Emyr Lewis
On Thursday 21 January 2021, Aberystwyth University will launch a new series of conversations with prominent individuals in Wales with the aim of stimulating debate about possible models and versions of the future that await us in the 2020s and beyond.
In the first of the DAROGAN* conversation series, former First Minister of Wales, Professor Carwyn Jones MS, will discuss the constitutional future of Wales and the United Kingdom with Professor Emyr Lewis, Head of the Department of Law and Criminology at Aberystwyth University.
Dr Roger Owen, Associate Dean of Welsh Medium Academic Provision, Faculty of Arts and Social Sciences, is a member of the DAROGAN organising team.
Dr Owen said: "2020 has demonstrated that predicting future events is very difficult, if not impossible; but it has also shown how important it is to be prepared and to look for what the future might hold in our world today.
"Building on our world-class academic tradition in the Welsh language, Aberystwyth University's DAROGAN series will cover areas such as the constitutional future of Wales, the future of agriculture and the countryside society, the future of public broadcasting, climate change and global warming, commerce and consumerism, pacifism, and sport and recreation.
"We hope the series will appeal to a scholarly and general audience, and will cover issues of concern to a wide population and the practical principles that underpin them."
The second talk of the series will take place on Thursday 18 February when Penri James, Lecturer at the Institute of Biological, Environmental and Rural Sciences will discuss the future of the agricultural sector in Wales with Aled Jones of NFU Cymru, and Glyn Roberts of the Farmers Union of Wales.
Then, on Thursday 18 March, Angharad Mair from Tinopolis will discuss the future of broadcasting and the digital industries with Dr Jamie Medhurst, Reader in the Department of Theater, Film and Television Studies.
The first DAROGAN conversation will take place on Microsoft TEAMS on Thursday 21 January 2021 and will start at 7pm. To join, please contact wpj@aber.ac.uk quoting DAROGAN in the email header.
This year's series culminates in a special meeting at the National Eisteddfod in August: watch out for further details.
*Note that the DAROGAN series will take place through the medium of Welsh.