Mobile app to help stroke patients recover at home during Covid-19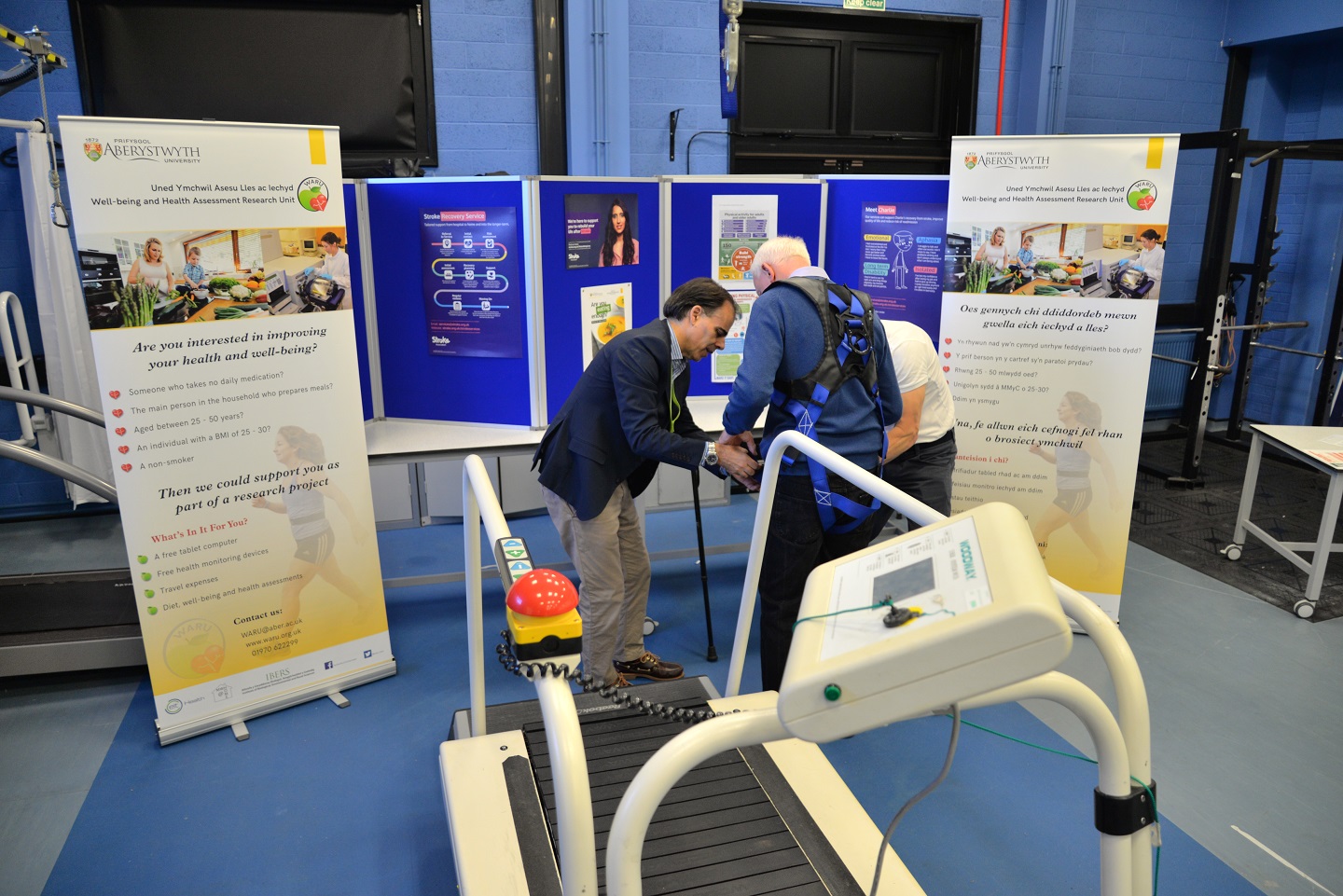 The new app will help stroke patients recover at home during Covid-19 when they are unable to visit exercise facilities such as Aberystwyth University's Sport & Exercise Department.
Researchers at Aberystwyth University are developing a mobile app to help recovering stroke patients exercise more and cope with isolation during the Covid-19 pandemic.
Powered by artificial intelligence, the Virtual Exercise Practitioner app will deliver home-based training programmes which have been tailored for stroke induced movement disorders.
It will enable patients to self-assess and monitor their own physical function as well as provide real-time feedback to enhance self-motivation.
Future improvements will include an option for patients to share their status with their NHS practitioner and with researchers.
The project is being supported by the Welsh Government Office for Science through a Sêr Cymru grant of £66,000 awarded as part of a special funding round set up to support research projects tackling Covid-19 issues and is part funded by the European Regional Development Fund.
Welsh Government Education Minister, Kirsty Williams, said: "Coronavirus has had an impact on people in many different ways, with the need to self-isolate meaning we need to change the way we exercise.
"I'm pleased we're supporting this project through Sêr Cymru and staff and students at Aberystwyth University can use their expertise to make a real difference to the lives of people recovering from a stroke."
Principal Investigator Dr Otar Akanyeti is a Sêr Cymru Cofund Research Fellow and a lecturer at the Department of Computer Science at Aberystwyth University.
"The aim of the Virtual Exercise Practitioner is to reduce sedentary behaviour at a time when stroke patients may be self-isolating while recovering at home. By promoting activity, the app will improve the physical, cognitive and mental well-being of patients, aid recovery and in the long-term prevent further health complications such as falls, recurrent stroke, diabetes or depression," said Dr Akanyeti.
The project brings together a multidisciplinary research team from across Aberystwyth University with expertise in Artificial Intelligence, Neuroscience, Stroke Rehabilitation, Clinical Exercise Science and Psychology.
Co-Investigator Dr Federico Villagra Povina, a lecturer in Exercise and Physiology at Aberystwyth's Institute of Biological, Environmental and Rural Sciences, said: "There is no question that the COVID-19 pandemic has imposed additional challenges on stroke patients and their families. To minimise the risk of infection and create space for COVID patients, stroke survivors are being discharged from hospital as soon as possible and many face-to-face rehabilitation programmes including exercise training have been cancelled. We hope the app will make an important contribution to the recovery process at this challenging time."
Dr Rachel Rahman, Director of the Centre of Excellence in Rural Health Research at Aberystwyth University, said: "Stroke rehabilitation outcomes are especially affected more in rural areas with an older demographic and limited access to healthcare services. In the long-term, therefore, the aim of the app is to deliver stroke care by offering affordable rehabilitation programs for underprivileged patients with lower incomes or living in rural areas."
Mr David Langford, a chartered health and exercise specialist at Aberystwyth University and lead researcher on the project, said: "Stroke is a life changing event and we aim to empower patients to regain independence and improve their functional fitness using our innovative stroke specific app."
Professor Chris Price from the Department of Computer Science said: "This project is part of our ongoing efforts to improve stroke care pathways using innovative, technology-led solutions. We work closely with the NHS, and aspire to provide a mechanistic understanding of how stroke impacts mobility and help patients recover through personalized interventions."
There are 1.2 million stroke survivors in the UK with 100,000 new cases every year and an estimated cost of £3billion to the NHS.
The Sêr Cymru programme is part funded by the European Commission (either WEFO or H2020), and Welsh Government and the Higher Education Funding Council for Wales (HEFCW).
For further information, please contact Dr Otar Akanyeti ota1@aber.ac.ukor Dr Villagra Povina fev@aber.ac.uk.