New digital platform for medieval Anglo-Norman Dictionary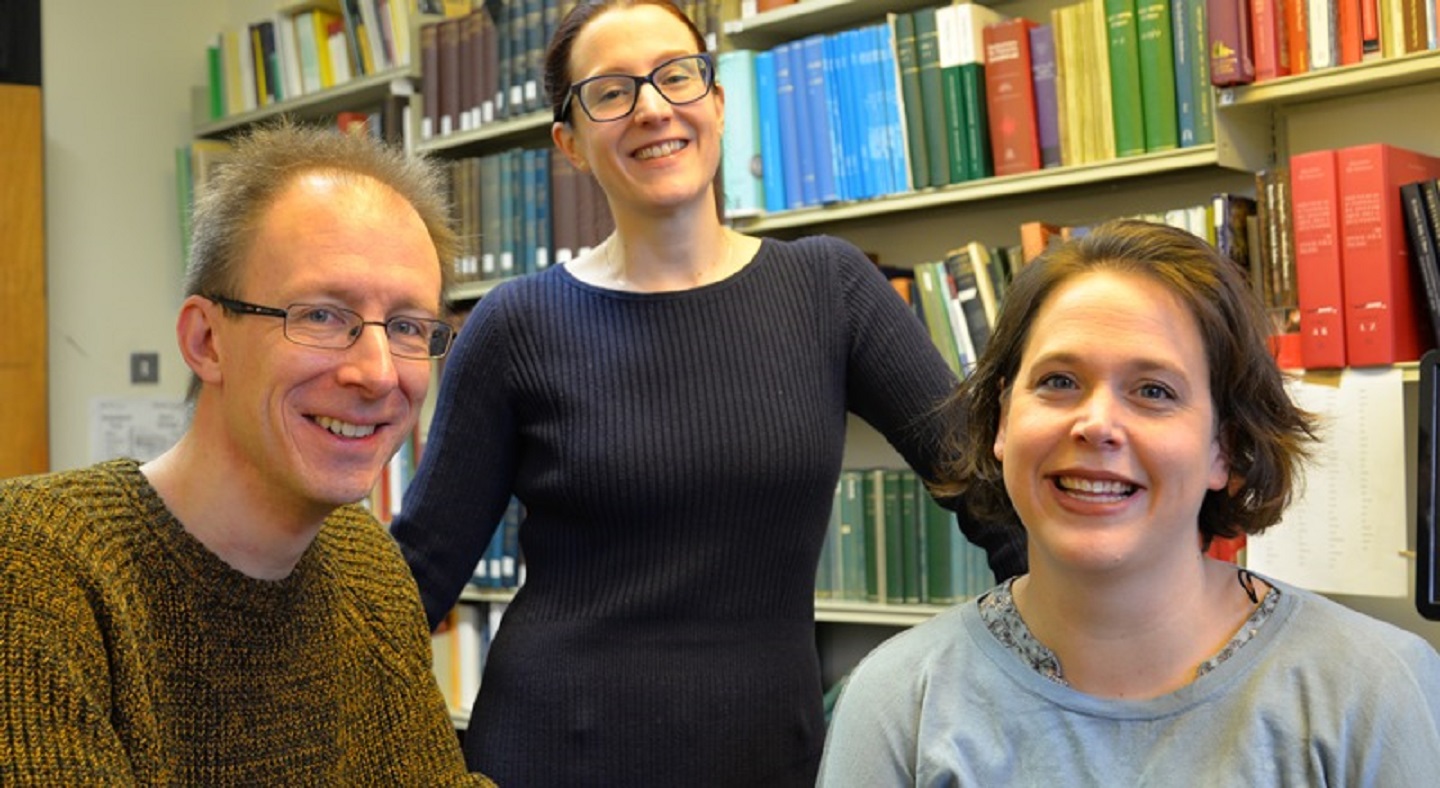 Pictured left to right are the team who worked on the new digital platfform: Dr Geert De Wilde, Principal Investigator, Editor and Project leader, Dr Megan Tiddeman, Post-Doctoral Research Associate and Dr Heather Pagan, Co-Investigator and Editor.
Researchers at Aberystwyth University have launched a new digital platform providing detailed chronological information for all Anglo-Norman words for the first time ever online.
Anglo-Norman came over to the UK from France with William the Conqueror and his followers in 1066, laying the foundations for present day English.
It was the main written language of the British Isles until the middle of the thirteenth century and was still being used for complex administrative matters as well as affairs of state well into the fifteenth century.
With funding from the UK Research and Innovation Arts & Humanities Research Council (AHRC), members of the Anglo-Norman Dictionary team based in the Department of Modern Languages at Aberystwyth University have been revising and enriching the first edition of the Anglo-Norman Dictionary which was printed in a series of volumes between 1977 and 1992.
Their detective work on words was first published online in 2001 when the project was led by the late Professor David Trotter.
Working from over 1,000 historical original texts, researchers have completed revised dictionary entries for A-R and are currently working on the revision of S.
The project's ultimate aim is a complete A-Z revision, which will produce an online resource three or four times the size of the first edition.
A brand-new digital platform has now been launched to replace the old website, providing a more modern and user-friendly interface as well as adding new features and search-options to the dictionary. To date, it includes more than 25,000 words and around 175,000 citations.
Dr Geert De Wilde, Principal Investigator, Editor and Project leader, said: "What is most important about this new digital platform is it makes available, for the first time, the results of a conversion of the Anglo-Norman Dictionary into a Historical Dictionary that provides detailed chronological information for all Anglo-Norman words.
"It therefore provides a more advanced tool for researchers not only to read and understand Anglo-Norman sources but also to study a very significant element of the history of both the French and the English language."
The chronological element of the digital Anglo-Norman Dictionary is incorporated in all search options - for example, by English definition, source text or semantic field – and will allow researchers to trace the chronological development of this medieval language.
The resource shows how more than 50% of the English words in use today are Anglo-Norman in origin including words like 'actually', 'jolly', 'dungeon' and 'nice' as well as a host of everyday culinary words such as 'soup', 'lettuce', 'pastry', 'sauce' and 'mustard'.
The Anglo-Norman Dictionary project has been funded by a series of AHRC grants awarded in 2003, 2007, 2012 and most recently, a further grant of just over £800,000 for the period from March 2017 – February 2021.
Recognised in 2011 with the Prix Honoré Chavée by the Académie des Inscriptions et Belles-Lettres in France, the AND team works closely with dictionaries of medieval French in Nancy, France and Heidelberg in Germany, and with the Oxford English Dictionary and the Middle English Dictionary in the U.S.A.