Fellowship funds search for historical links between disability and technology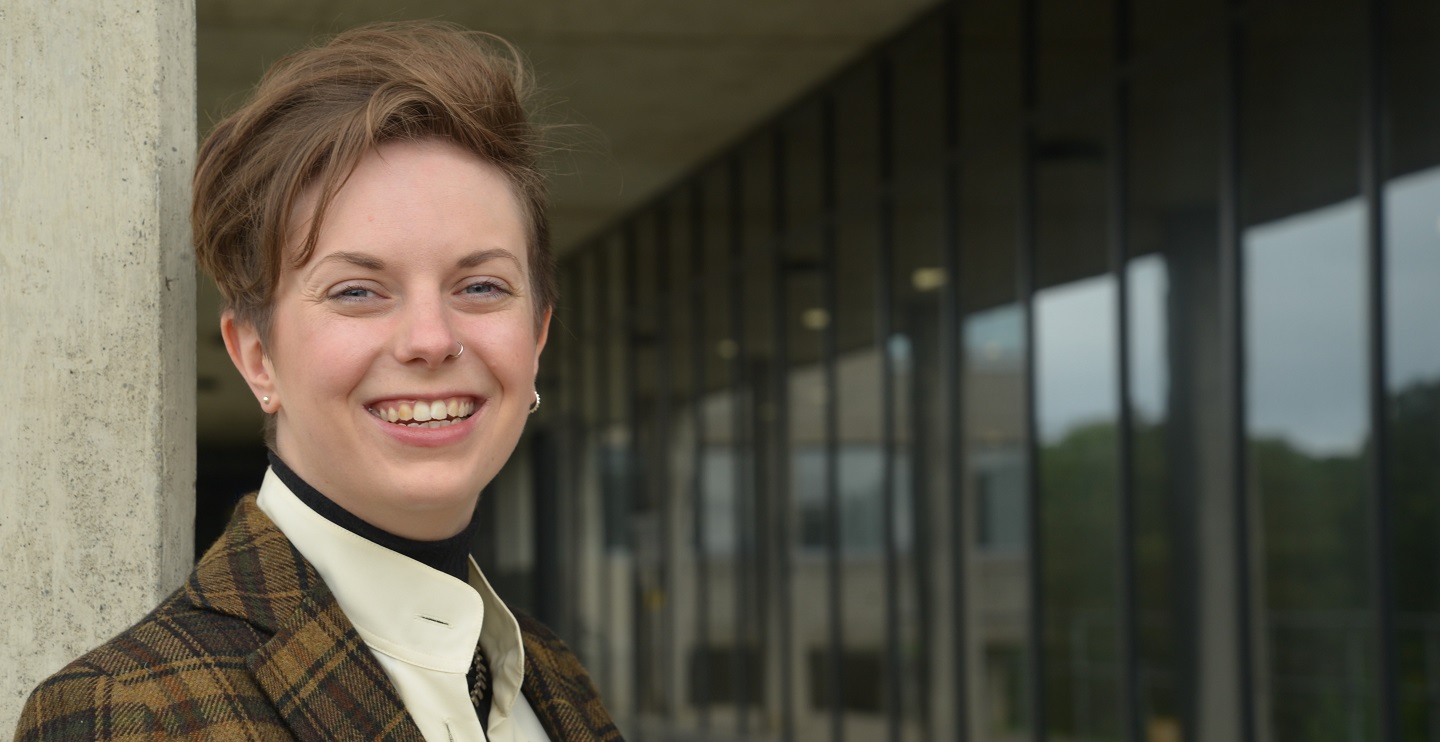 Dr Rachael Gillibrand, who is searching for historical links between disability and technology.
In an age when mechanised prosthetic limbs have achieved remarkable levels of sophistication, an Aberystwyth University historian is embarking on a summer-long search for evidence of devices made over the past 700 years.
Dr Rachael Gillibrand from the Department of History and Welsh History has been awarded a Jaipreet Virdi 2021 Fellowship for Disability Studies by the Medical Heritage Library.
The Fellowship will enable her to look for links between disability and technology from the 13th century through to the present day.
According to Dr Gillibrand there is evidence of mechanised prosthetic limbs being produced as early as 1450.
Her work on the Medical Heritage Library archives will look at all forms of technology, from the humble walking stick to more elaborate and intricate solutions, and all forms of disabilities.
An initial search has revealed a 1950 video from Vauxhall Motors' Rehabilitation Unit in Luton, and a description of a wheel chair "intended for the infirm" featured in an advert for the 'Morning and evening amusements at Merlin's Mechanical Museum' in London, from 1787.
Another source is Guy de Chauliac's Chirurgia magna from 1363, which mentions the use of glasses for the preservation of sight. A copy of the manuscript from 1506, from the French city of Lyons, features in the archive.
The online archive brings together digitised material from some of the world's leading medical libraries to provide open access to resources in the history of healthcare and health sciences.
Dr Gillibrand said; "I'm delighted to have been awarded the Jaipreet Virdi 2021 Fellowship for Disability Studies. Medical history has fascinated me from an early age and I am passionate about making it more accessible to fellow researchers and the wider public.
"The use of technology to help people overcome their disabilities goes back a very long way. There is a general perception that people born with disabilities in the Middle Ages would be cast out by society, but historical sources suggest to the contrary; many were cared for in a way we don't think of today. History also shows how our understanding of disability has changed. In the Middle Ages hearing was considered a learning difficulty due to its effect on language development, but today it is seen as a physical disability."
Originally from Blackpool, Dr Gillibrand's interest in the history of medicine was triggered by frequent hospital visits to see her sister, who suffered from a heart condition as a child.
She joined Aberystwyth University in September 2021 after completing a PhD at Leeds University on the culture associated with disability between the years 1450 and 1550.
As part of her undergraduate teaching, she delivers a module entitled 'Dread and Despair? Living with Disability in the Middle Ages'.