Aberystwyth University launches new European Opportunities Fund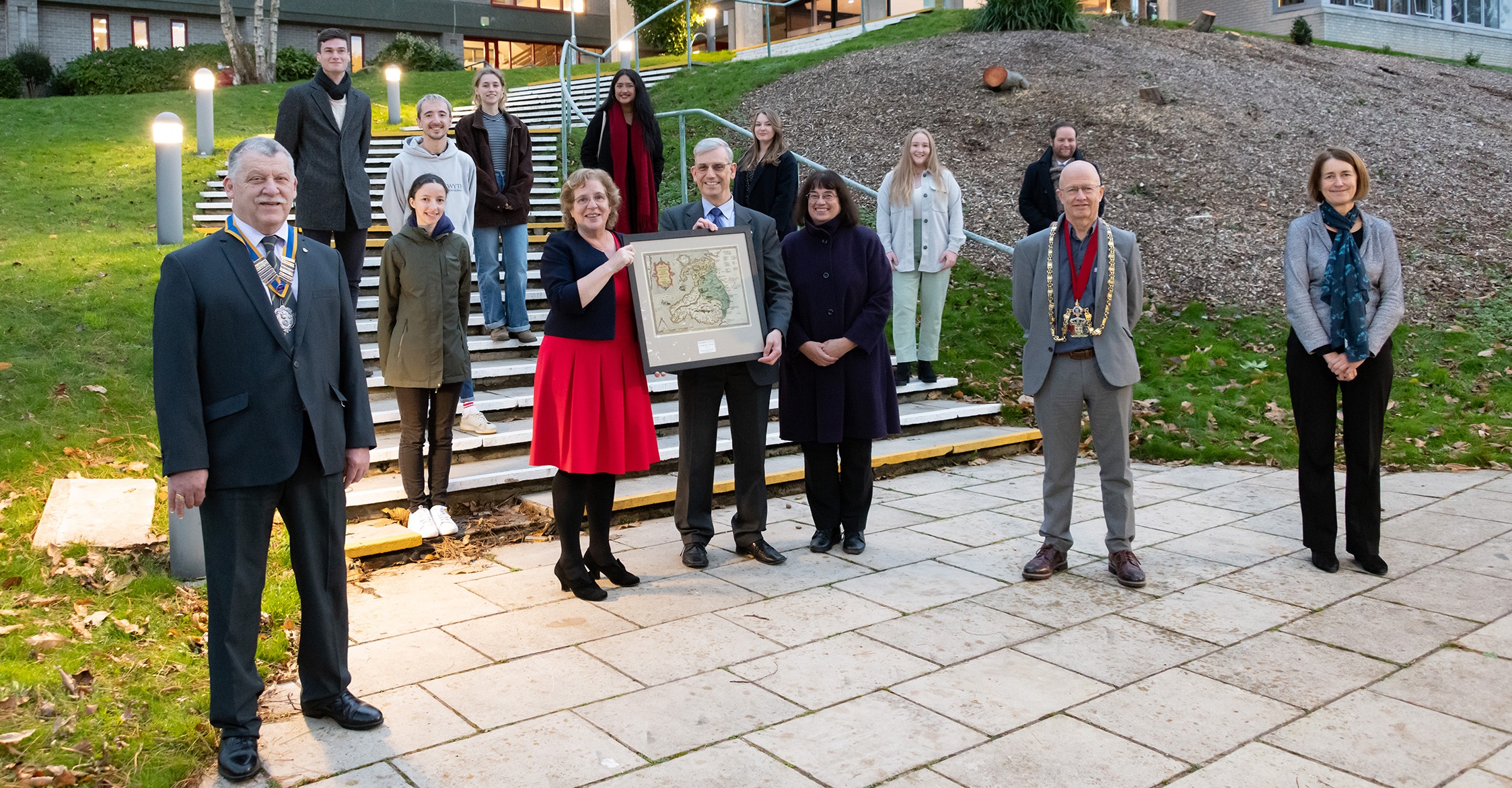 Aberystwyth University Vice-Chancellor Professor Elizabeth Treasure presents a copy of Humphrey Llwyd's Cambriae Typus, printed in 1573 in Antwerp by Abraham Ortelius, to Mr William Parker and Vivien Hopkirk to mark the launch of the European Opportunities Fund, which has been funded by a generous donation by Mr Parker.
Aberystwyth University has established a major new fund to support student study opportunities in Europe, thanks to a donation from a former student.
William Parker, who graduated with a degree in History from Aberystwyth in 1981, has donated over half a million pounds to establish the University's new European Opportunities Fund.
Providing grants of between £500 and £3000, the fund will enable undergraduate and postgraduate students to study, work or attend conferences in the European Union and the European Economic Area, with funding available for periods of up to four weeks in the first year.
Students can also apply for additional funding so they can choose more sustainable travel options and for language training.
Describing himself as a European and an internationalist, William Parker has enjoyed a successful professional career in engineering-based businesses, most recently in the mobile telecommunications industry, that has seen him work in Europe, Africa, the Middle East and the Far East.
A speaker of French and Dutch, he firmly believes that learning languages meant he was considered for a far wider range of job opportunities than would otherwise have been the case.
He was also able to further his interest in languages during his time as a student at Aberystwyth.
A University occasional grant meant he could spend a month during the summer of 1979 studying French at a college affiliated with the Université de Tours.
Speaking at the launch of the European Opportunities Fund, Mr Parker said: "Aberystwyth University provided a wonderfully rich springboard for my professional career and I am delighted to be able to support the University in this way.
"In a rapidly changing world it is important the University and its students maintain their interconnectedness across the European Union and the European Economic Area. I hope that this new fund will make it easier for Aberystwyth students from all backgrounds to travel and experience new languages and cultures.
William Parker describes the fund as having an "espresso coffee format" that delivers a "short powerful stimulus".
"I hope this new fund will inspire students to visit new places, meet new people and establish new networks for study, work and social purposes. In my experience, such opportunities provide an 'improved' personal toolkit for life after university."
"In addition, I very much hope, that others will be inspired by my example to contribute to the University as I was by the previous generosity of fellow graduates."
Professor Elizabeth Treasure, Vice-Chancellor of Aberystwyth University said: "It is a great privilege to welcome William Parker back to Aberystwyth and to launch our new European Opportunities Fund, a significant and important addition to the funding available to our students who wish to study or work abroad. It also marks a major milestone in our global opportunities strategy, one that will bring wonderful new opportunities for so many of our students.
"From its very early days, Aberystwyth University has been a truly international institution that welcomes students from all corners of the world to our university town, whilst offering our students many wonderful openings to broaden their horizons and experience other cultures.
"William's generosity follows a long and distinguished tradition of philanthropic giving that provided the foundations for this wonderful institution, and which will now open doors for a new generation of our students in an innovative and exciting way."
The new fund has been welcomed by Marta Barteczko, President of the Erasmus Student Network in Aberystwyth who spent a year in Spain as part of her Business and Spanish degree.
Marta Barteczko said: "It is wonderful to be here today to celebrate the launch of the new European Opportunities Fund and to thank Mr Parker for his generosity and vision.
"I know from my own experience how important it is for students to be able to go abroad, experience different cultures and broaden our horizons. My skills have improved not only in the academic field but also in terms of communication and social abilities. I was fortunate enough during the COVID pandemic to experience events and trips organised by the Erasmus scheme in Sevilla, Spain. This inspired me to join the Erasmus Student Network charity in the UK as a way of giving others a chance to see their opportunities just as they were given to me during my year abroad."
Fine Art MA student Carys Wilson is the first recipient of the new European Opportunities Fund.
She has just completed a week-long art course in Sardinia, Italy, on the use of egg tempera for her work, a medium widely used by Renaissance artists.
She said: "This course has been like brain food. I have discovered the mistakes I was making when exploring this medium independently, gained a huge amount of practical and historical knowledge from an expert in her studio, worked alongside 'emerging artists' and made invaluable professional links. It has really sped up my learning, enabling me to move forward much quicker and with greater confidence in my own practice as I move towards my MA shows next year.
"Without the European Opportunities Fund there is absolutely no way I would have been able to attend this course, pay for accommodation or the travel costs, and the application process was easy. I recommend it to other students and am hugely grateful to Mr William Parker for making all of this possible."
Louise Jagger, Director of Alumni Relations at Aberystwyth University said: "Aberystwyth University was founded by philanthropic support and has grown into today's thriving and ambitious institution as a result of nearly 150 years of support from alumni and friends around the world. Donations and legacies make an enormous difference to our students and staff by funding innovative programmes and projects to enhance our teaching, research and student experience. William's generous gift will transform lives by providing new opportunities for students in ways that support their studies and career ambitions. We are deeply grateful for his generosity."
Full details of the new fund are available online.
The website features a full list of eligible countries for the 2021/2022 academic year, the level of financial support available and student eligibility criteria.
Students wishing to take part in the scheme are required to register their interest by e-mailing global@aber.ac.uk.