Technology to prevent octopus over-fishing being developed at Aberystwyth University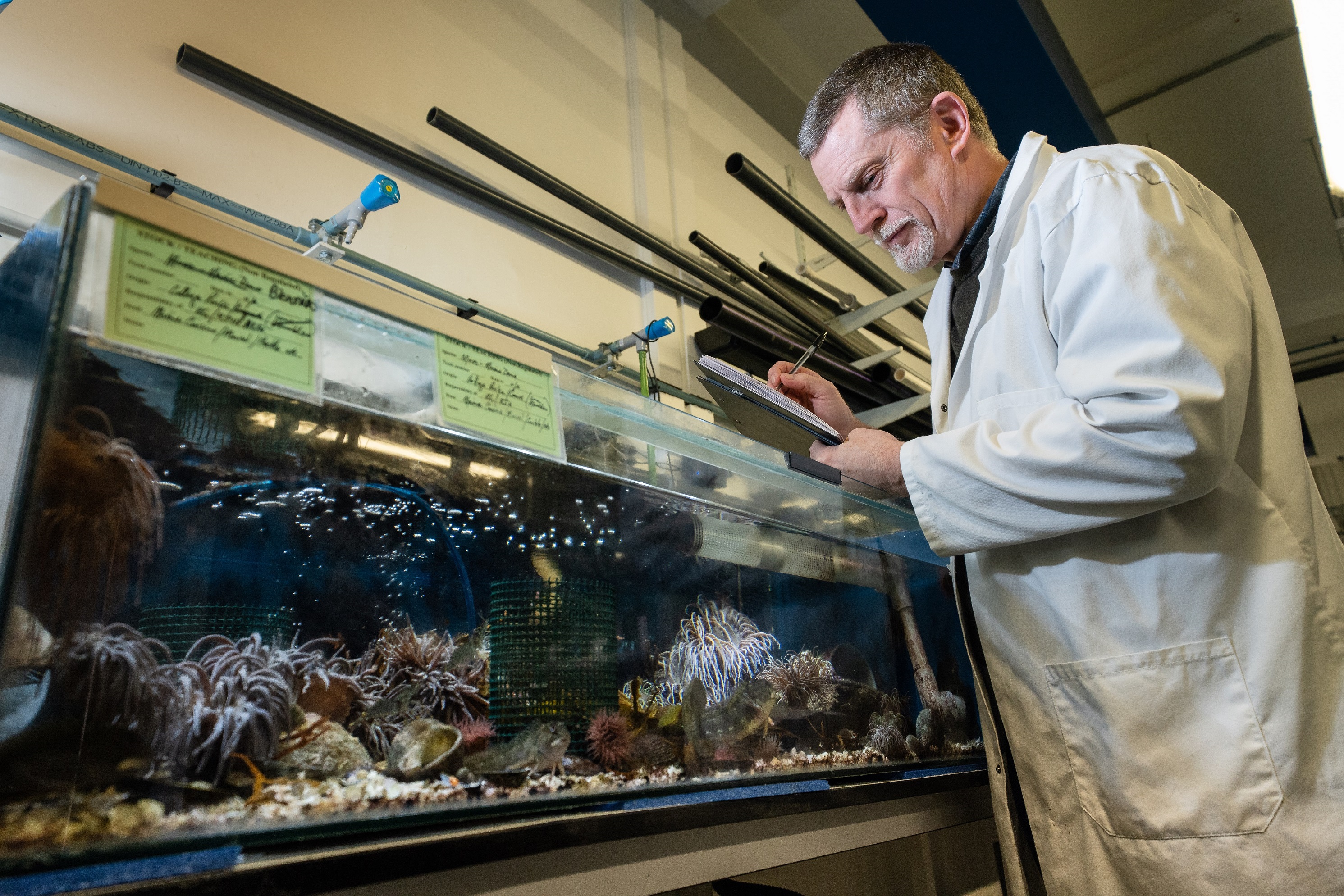 Professor Paul Shaw
New technology to prevent the over-fishing of octopuses and other sea creatures is being developed by scientists at Aberystwyth University.
The volume of fishing of octopuses, squid and other cephalopods - often known as inkfish because they can all squirt ink - has increased significantly over the past 60 years.
Octopus species are often misidentified, and their catch numbers and locations inaccurately reported. This is prompting fears that a lack of data about these mollusks could lead to overfishing, threatening their future and an important source of protein-rich food for the world population.
A multidisciplinary research team, including academics in Aberystwyth, aims to address this knowledge gap by using environmental DNA, machine learning and artificial intelligence tools to create a seafood traceability network to improve stock management and ensure the sustainability of octopus fisheries.
The project's first phase will be funded with a $750,000 awardover 12 months from the United States Government's National Science Foundation Convergence Accelerator.
One of the project's senior scientists is Professor Paul Shaw, who is a Professor of Population Genetics & Genomics at the Institute of Biological, Environmental and Rural Sciences at Aberystwyth University.
He will be developing the global octopus genetic database on which the tracking of fishery products will depend.
As part of the project, the team will develop a phone app to allow everyone in the fish supply chain - fishers, traders, retailers and consumers - to access information that tracks from where their food comes and its sustainability.
Professor Shaw commented:
"Tracking and sharing information about where our seafood comes from is an essential part of efforts to prevent over-fishing. Tracing seafood origins can help people from across the supply chain make informed choices to fish sustainably. This cutting-edge technology will use machine learning, artificial intelligence and environmental DNA genetic methods to identify and track fishery products.
"The aim is to provide a proof-of-concept that can be rolled out to the fishing industry in general. So, while the team will focus on cephalopods, the longer-term aim is to provide a comprehensive system to enable any seafood item to be harvested, distributed and processed through to the consumer in a clearly identifiable and sustainable way."
The team's objectives are to develop a prototype traceability system allowing for affordable identification of species and area of capture for wild octopus fisheries in the U.S. and from across the world.
They will also bring together a citizen-science network to gather new data on octopus populations from portable environmental DNA kits.
Environmental DNA is free DNA that persists in the environment, in this case in seawater, providing an indication of which organisms are prevalent or in the vicinity.
Water samples collected by team members off Southern California and Campeche/Yucatan in Mexico will be analyzed at Loyola Marymount University's laboratory, and the results stored with other data in the project's SeaTraceBlueNet dashboard.
Demian Willette, assistant professor of biology at Loyola Marymount University's Frank R. Seaver College of Science and Engineering, who will serve as the team's lead principal investigator, added:
"Working with a range of partners and leading-edge technology, we plan to produce a traceability tool that will allow for a better understanding of the species caught, the source of the product, and confirmation of its legitimate path from fishery to fork."
The 15-member team includes experts from seven countries, including the United States, Wales, South Africa, Japan and Mexico, across the fields of fisheries management, marine biology, computer science, data science and analytics, environmental anthropology, genetics, and fisheries trade policy.
14 industry partners, from fishers to seafood processors, will help inform and test the design of the traceability tool for real-world use.