Half a million boost to Aberystwyth University's new nursing education facilities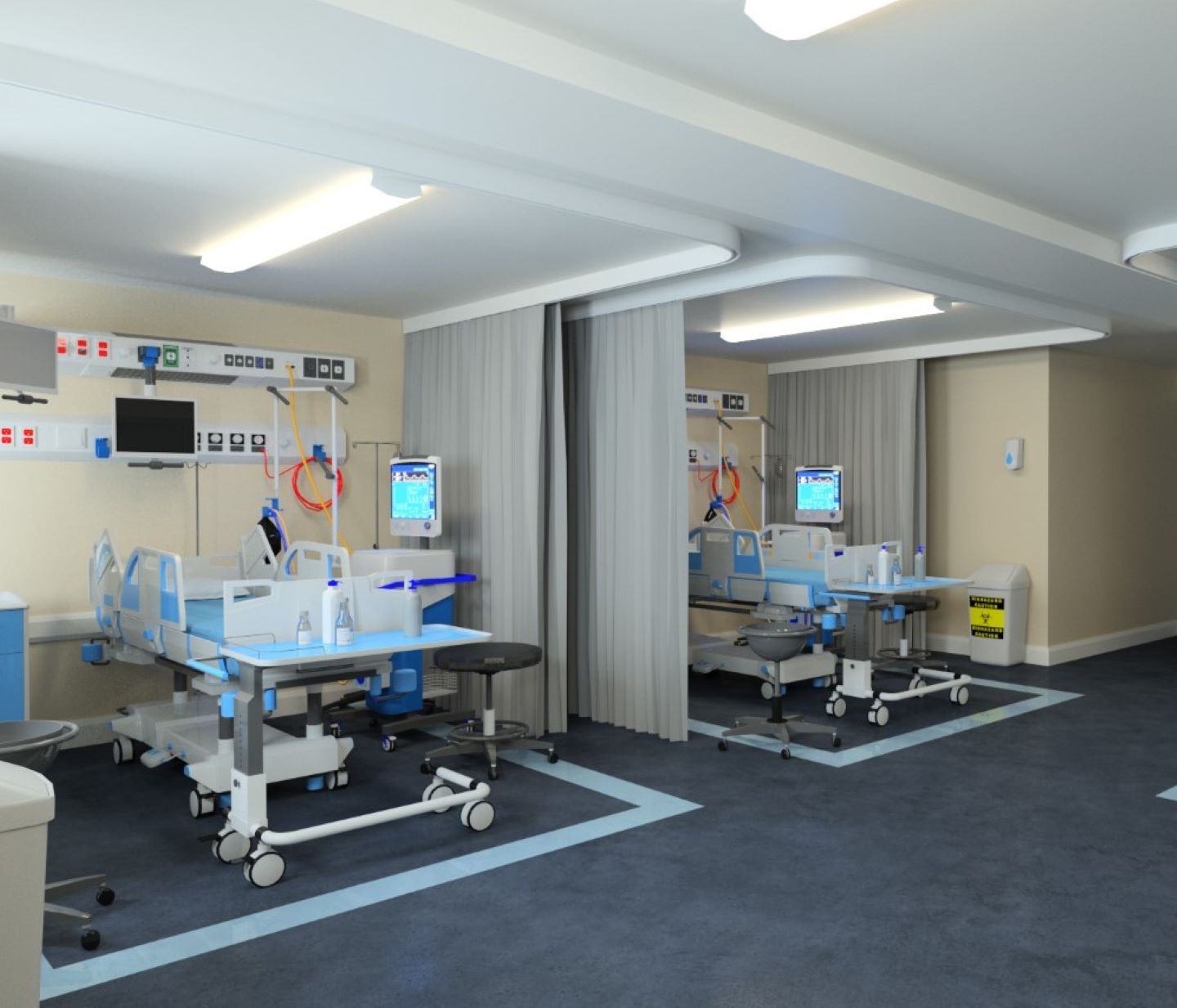 Images showing how the Clinical Skills Unit in the new Healthcare Education Centre at Aberystwyth University will look
A £500,000 grant from the Welsh Government will fund new facilities at Aberystwyth University for its nursing courses which will start in September this year.
The announcement comes six months after the University's plans to offer nursing qualifications for the first time were given the go-ahead by Health Education and Improvement Wales.
The money will be used to invest in facilities at the University's new Healthcare Education Centre, located opposite Bronglais Hospital in Aberystwyth.
The plans include capital works and the purchase of equipment to create a suite of high quality clinical practice rooms, as part of a £1.7 million University investment at the site.
The new centre will include a Clinical Skills Unit with high fidelity simulation areas that reflect the patient's journey from home and community services through to assessment, planned and acute care.
Work on the facilities is due to be completed in March this year, in time for the first nursing students to begin their studies in September.
Health Minister Eluned Morgan MS said:
"The people who work in the NHS are its lifeblood. Investing in training and the future workforce is a priority for us. I'm delighted our funding is helping to support a new phase for Aberystwyth University in providing nursing training.
"The new facility provides students with invaluable training in a rural setting and builds on the work of CARER (Community and Rural Education Route) programme, giving them experience of working closely with clinicians and patients in community settings.
"Over the past five years training places for nurses have increased by 72% in Wales and we are pleased that we have retained the NHS bursary for student nurses to support people into a career in nursing.
"I look forward to visiting the new centre when it opens in the spring and meeting those starting out on the journey to be becoming a nurse".
Aberystwyth University Vice-Chancellor Professor Elizabeth Treasure added:
"During the pandemic, the work of our nurses, and that of other NHS and care workers, has been nothing short of extraordinary. It is a great honour that we will be educating nurses here in Aberystwyth for the first time this September.
"We are very grateful to the Welsh Government for this important investment to support the development. The funding will help ensure that the new students have access to the best resources and a high quality education when they start in September.
"The Healthcare Education Centre will benefit the local recruitment and retention of nurses in mid-Wales, and offer wider benefits to the area. It also has the potential to inspire new models of healthcare delivery. Supporting community needs, in close co-operation with our partners, is central to our civic mission; and establishing nursing education here is an important part of that. Our plans will also make an important contribution to enhancing mental health and Welsh-medium provision locally and beyond.
"A big thanks goes to everyone who has been a part of developing our plans to provide nursing education here - including the Welsh Government, the local health boards and Ceredigion County Council - without whom these exciting developments would not be possible."
The proposals to establish nursing education were developed by Aberystwyth University in co-operation with a number of partners including the Hywel Dda, Betsi Cadwaladr and Powys local health boards as well as service users and carers.
The new degree courses will also offer students the opportunity to study up to half of their course through the medium of Welsh.
26 January this year is the closing date to apply to study as part of the first cohort of nursing students at Aberystwyth University.
More information is available by going to www.aber.ac.uk/en/hec or emailing nrsstaff@aber.ac.uk.