Windrush Cymru: Exhibition and films at Aberystwyth Arts Centre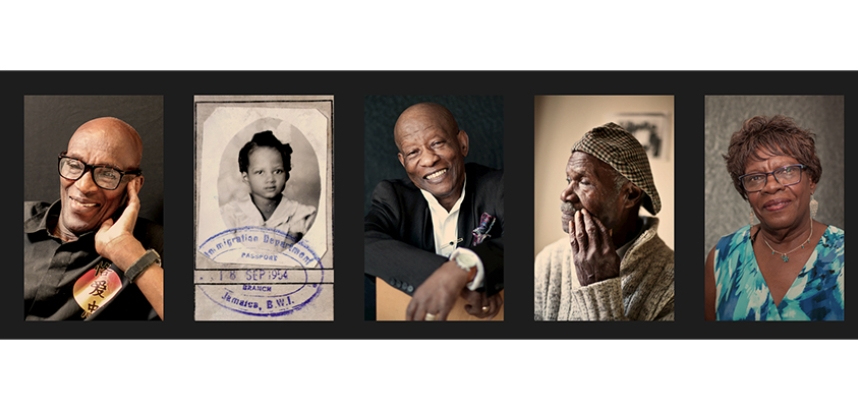 A new exhibition opened at Aberystwyth Arts Centre this week, featuring stories of how the Windrush Generation Cymru made their homes in Wales.
The exhibition presents the accounts of more than 40 people as they describe their journeys to Wales, the challenges they faced building a new life in a country far from home, finding work and the attitudes of people towards them.
The Windrush Generation are diverse people from different parts of the Commonwealthwho arrived in the UK between 1948 and 1988, in response to an invitation from the British Government offering work and an opportunity for a better life.
The exhibition is the outcome of the 'Windrush Cymru – Our Voices, Our Stories, Our History' project, which is collecting, recording, documenting, sharing, archiving and celebrating the contributions of the Windrush Generation.
Led by Race Council Cymru and funded by National Lottery Heritage Fund, the project is delivered in partnership with National Museum of Wales, Wales Millennium Centre, People's Collection Wales, Windrush Cymru Elders, and Black History Wales 365. With support from Arts Council of Wales, Royal Welsh College of Music and Drama, and Gower College Swansea.
The exhibition will be on display in the Great Hall Foyer until 3 May 2022, as part of the exhibition's tour of venues across Wales.  Admission is free. 
In conjunction with the exhibition, two films will be shown in the Arts Centre Cinema:

The Stuart Hall Project (2013), showing at 5pm on Saturday 9 April, is a sensitive, emotionally charged portrait of cultural theorist Stuart Hall, one of the most inspiring voices of the post-war Left, whose resounding influence on British intellectual life commenced soon after he emigrated from Jamaica in 1951.

Pressure (1976), showing at 7.45pm on Tuesday 3 May, is hailed as Britain's first black feature film.  It is a hard-hitting, honest document of the plight of disenchanted British-born black youths. Set in 1970s London, it tells the story of Tony, a bright school-leaver, son of West Indian immigrants, who finds himself torn between his parents' church-going conformity and his brother's Black Power militancy. 
To book cinema tickets visit Aberystwyth Arts Centre website www.aberystwythartscentre.co.uk or contact the Box Office on 01970 62 32 32 or artstaff@aber.ac.uk.