Estyn rates Aberystwyth University's Learn Welsh provision 'excellent'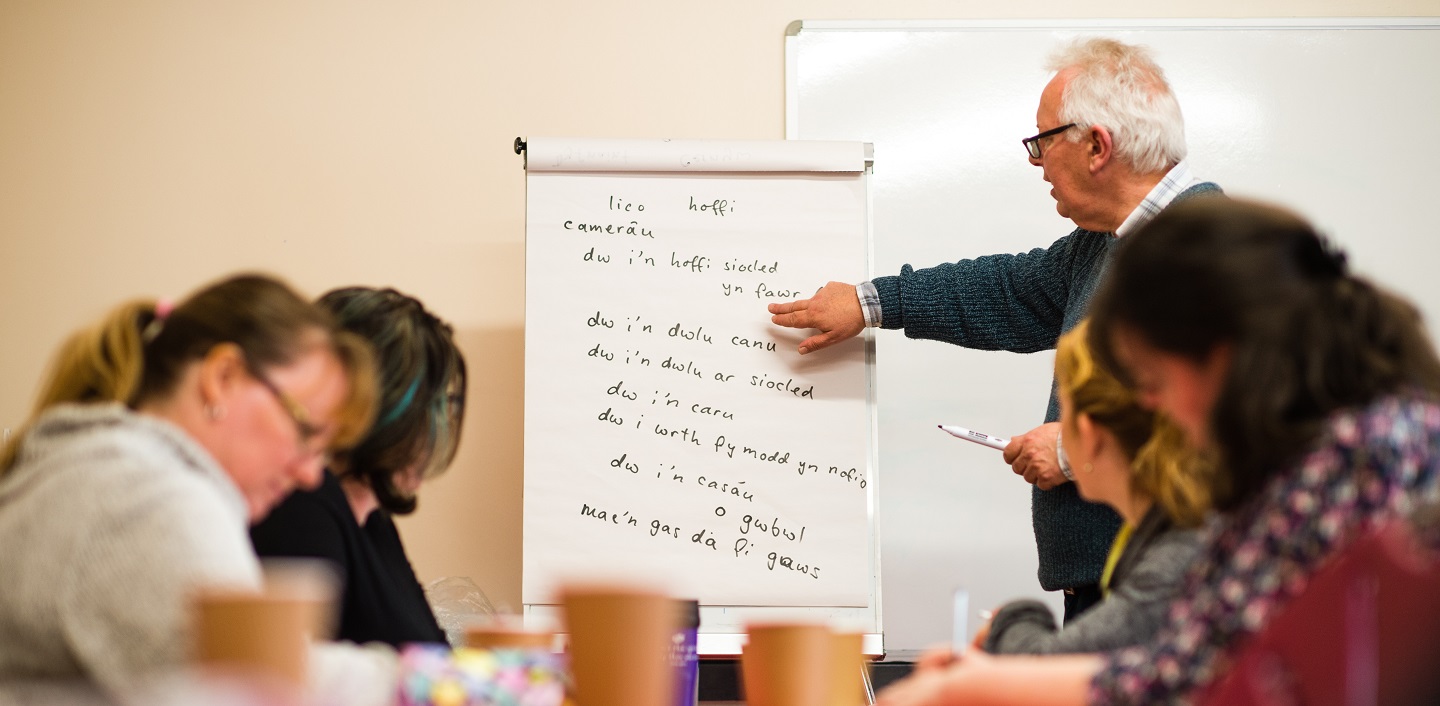 Learn Welsh Ceredigion, Powys and Carmarthenshire has been rated excellent by Estyn, the body that inspects education and training standards in Wales.
The unit is part of Aberystwyth University, and is one of 11 providers of Welsh courses for adults supported by the National Centre for Learning Welsh. It runs courses for learners at all levels for over 1,500 learners online and at locations throughout Ceredigion, Powys and Carmarthenshire.
In a report published on 31 August 2022, following an inspection in May 2022, Estyn praised Learn Welsh Ceredigion, Powys and Carmarthenshire as 'a very supportive and caring learning community that has adapted and succeeded highly effectively on the online learning platform.'
According to the report, it 'succeeds in creating an inclusive learning community that provides excellent care, support and guidance for its learners.'
Estyn noted that learners at all levels are making good progress: 'Many learners make strong progress, develop as independent learners and use the Welsh language beneficially outside their lessons, either socially, at work or by using additional resources, such as electronic resources, to reinforce and extend their learning.'
Estyn praised Learn Welsh Ceredigion, Powys and Carmarthenshire's arrangements for safeguarding learners and for taking care of their wellbeing, noting that 'learners feel like an important part of the class's close-knit and friendly community.'
It runs courses for employers across the region, including Hywel Dda Health Board, and it also offers Welsh at Home courses for learners who wish to use Welsh within the family. The report states: 'One of the provider's strengths is that it is innovative in planning and delivering a programme that provides mainstream courses alongside courses for specific groups of learners.'
Estyn gives particular praise to the courses for school staff and courses for parents, both of which work together to enrich the linguistic experience of the school community: 'This provides them with wider access to hear and use the Welsh language. As a result, provision responds proactively to national priorities, such as increasing the use of the Welsh language in schools as pupils and teachers progress along the linguistic continuum. This contributes purposefully towards planning and developing training for the education workforce.'
The courses make a key contribution to meeting the Welsh Government's goal of reaching one million Welsh speakers by 2050, and the report says that Learn Welsh Ceredigion, Powys and Carmarthenshire has 'a definite vision and strategy that promote the aims and objectives of the National Centre for Learning Welsh successfully.'
At the start of the pandemic in March 2020, Learn Welsh Ceredigion, Powys and Carmarthenshire succeeded in moving very swiftly to online learning, and ensured there was minimal disruption to the teaching. The report noted that 'one highly effective feature of provision is that nearly all tutors forge a positive relationship with learners by creating a supportive learning environment.'
Responding to the report, Siôn Meredith, Head of Learn Welsh Ceredigion, Powys and Carmarthenshire said: "This report provides clear evidence of very effective work by a team which is passionate about creating new Welsh speakers, and enabling learners from all backgrounds to enjoy learning and have the confidence and opportunities to use Welsh in their everyday lives. The positive collaboration with partners across the region, especially with schools and local authorities, is another key ingredient in the success."
Professor Elizabeth Treasure, Vice-Chancellor of Aberystwyth University, has personally benefited from the Learn Welsh courses and said: "Many congratulations to the whole team on the findings of this report which is well-deserved recognition for the excellent work of the centre's staff and tutors across the three counties, at what was a challenging time during the pandemic. Learn Welsh is part of the University's commitment to promote the use of Welsh amongst students, staff and our communities, and thereby play our part in achieving the target of a million speakers by 2050. It also reflects the University's community commitment to promote lifelong learning opportunities to everyone, and the benefits this brings."
The full report is available on the Estyn website.
A new programme of Learn Welsh courses starts in September 2022, and full details can be seen at Learn Welsh Ceredigion-Powys-Carmarthenshire | Learn Welsh.