Communities in global conflicts supported by Aberystwyth University project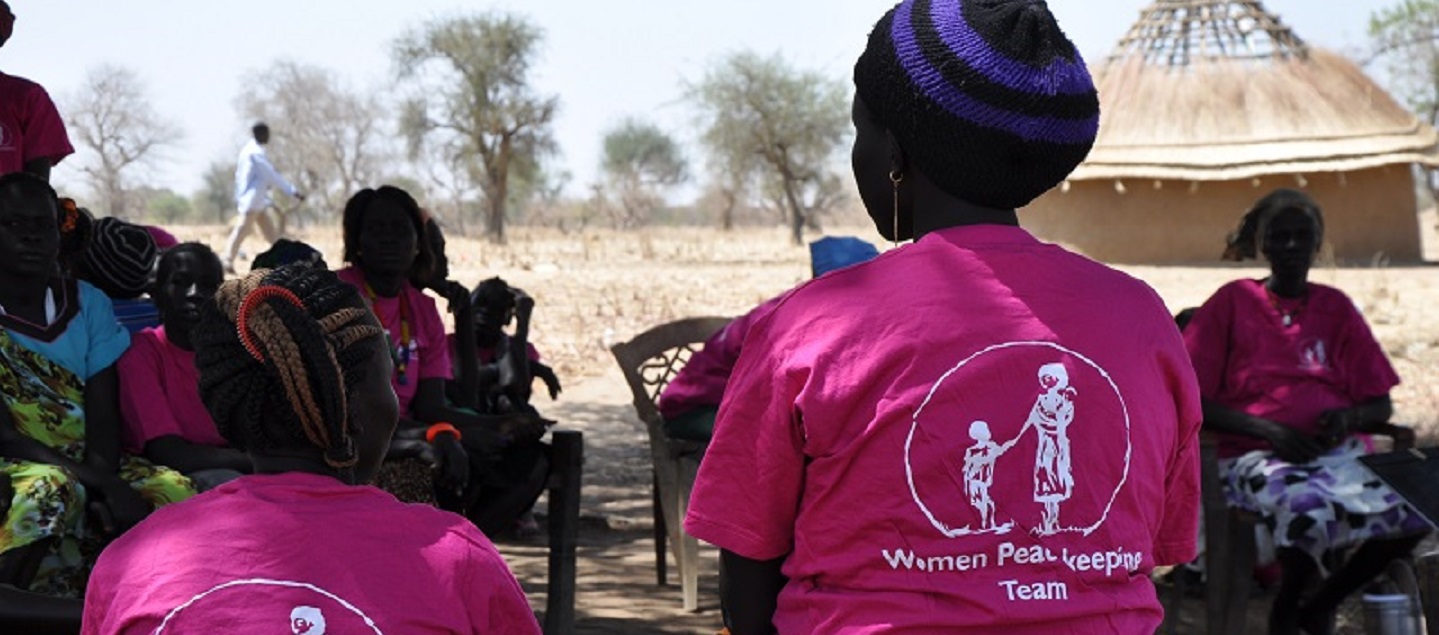 Unarmed civilian protection organisations like Nonviolent Peaceforce's South Sudan Women's Protection Teams work to create physical safety in communities affected by violent conflict. Photo credit: Nonviolent Peaceforce
Learning from indigenous coffee growers protecting themselves from armed violence in Colombia is part of one of the new research projects funded by an international network led by Aberystwyth University.
The Creating Safer Space network works with researchers, communities and organisations in conflict-affected regions to enhance and strengthen civilians' ability to protect themselves and others nonviolently. It aims to create safer spaces in which communities can build sustainable peace and development.
The network has announced that it will be supporting 13 collaborative research projects around the world that further understanding of Unarmed Civilian Protection (UCP) and community self-protection.
Several of the successful projects will focus on core countries of the Creating Safer Space network – Colombia, South Sudan, Myanmar and the Philippines. Support has also been given to projects in Cameroon, Palestine and Nigeria.
One of the projects that is being supported focuses on south-west Colombia, where researchers are working with diverse communities such as indigenous coffee growers and Afro-Colombians to learn from their knowledge and experience of navigating the complex conflicts that threaten their security. The goal of the project is to help enhance community capacities for nonviolent self-protection in the region and beyond.
Another of the research projects aims to explore and strengthen unarmed community-led protection in Cameroon. In the face of violence from both the military and armed separatist groups, civilians in Cameroon have been pro-active and resourceful in devising ways to protect each other and stay safe, including through coded language, non-verbal communication, direct negotiation with the warring parties, early warning networks and information sharing through local associations and social media. Involving researchers in the UK and Cameroon, the project uses creative research approaches, such as participatory storytelling, poetry and drawing, to help affected communities learn from each other.
Professor Berit Bliesemann de Guevara from Aberystwyth University's Department of International Politics, who leads the Creating Safer Space network, said:
"We are really excited that our Network is now entering its core research phase. The successful projects are extremely important for our understanding of the nonviolent strategies civilians are actively using to deter or prevent violence against other civilians and themselves. In a world ripe with violence, communities and activists who use unarmed strategies in defence of their life and rights are testament to the power of human spirit and solidarity. Our research projects will show how such active nonviolent strategies work, and how they can be scaled up to benefit more people affected by violence – both in the Global South and North."
One of the research projects already supported by the Creating Safer Space network explores youth and civil society "nonviolent artivism" against police brutality in two Kenyan locations: Nairobi and Kisumu. The project is considering the effectiveness of wall paintings and pictures - murals, graffiti, visual art, spoken word, poetry and music - as an unarmed civilian protection strategy, and assessing its success in reducing police brutality.
Another ongoing project receiving support is based in Papua, Indonesia, an area affected by long term violent conflict. The project is studying and strengthening existing ways people protect themselves without arms in an effort support community-based conflict management.
Creating Safer Space is led by Aberystwyth University in collaboration with the University of Antioquia (Colombia), Chulalongkorn University (Thailand), City University of New York (USA), Durham University, Leeds Beckett University, and Strathmore University (Kenya).
It is funded by the Arts and Humanities Research Council (AHRC) of UK Research and Innovation. The funding is part of the Global Challenges Research Fund, a £1.5 billion fund supporting cutting-edge research and innovation that addresses the global issues faced by developing countries.