Extreme droughts sparked cultural leaps in human evolution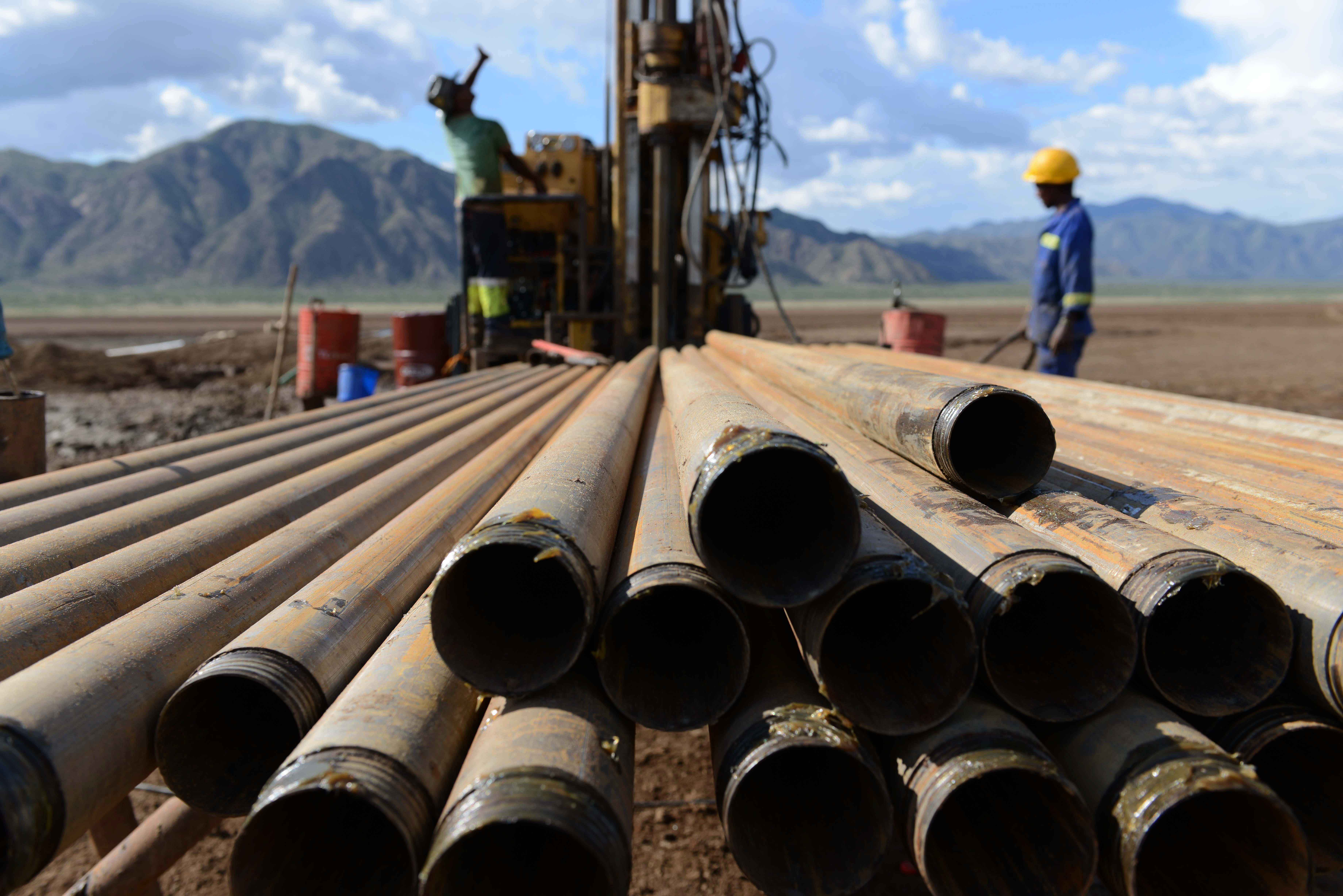 Drilling equipment in Chew Bahir basin, southern Ethiopia (Credit: Dr Julian Ruddock)
Extreme droughts lasting tens of thousands of years played a critical role in human evolution by forcing Homo sapiens to develop the culture and tools to cope, according to new research.
An international team of researchers, including academics from Aberystwyth University and across a wide range of disciplines, extracted two 280-metre cores of sediment from the Chew Bahir basin in southern Ethiopia. This area boasts a large concentration of human fossils and is where early humans lived during the Ice Age between 2.5 million and 11,700 years ago.
The cores give the most complete record across the longest period for humans living in this area and provide unprecedented insight into how climate influenced their biological and cultural transformation.
In a paper published today in the journal 'Nature Geoscience', the research found that between 620,000 and 275,000 years ago, humans lived in long-lasting and stable conditions in southern Ethiopia alongside a range of closely related groups.
However, between 275,000 and 60,000 years ago, the area was rocked by extensive natural climate changes which transformed areas of lush vegetation and deep lakes into deserts and small salty puddles.
The research demonstrated that these changes in climate forced humans to adapt culturally, socially and technologically, developing enhanced language, sophisticated hunting methods, and stone tools such as blades and spear points.
The period between 60,000 and 10,000 years ago contained the most extreme drought and likely forced humans to move to wetter regions in north east Africa and the Mediterranean.
However, while Homo sapiens were able to develop strategies to help them adapt, other human species like Homo habilis and Homo erectus were unable to do so, which led to their extinction.
The extracted cores are among the most detailed obtained from the region, giving researchers the opportunity to examine every single decade's climate for the past 620,000 years every half a centimetre of sediment.
Professor Helen Roberts and Professor Henry Lamb, both from Aberystwyth University's Department of Geography and Earth Sciences, worked on the project, which involved researchers from 19 institutions in six countries.
Professor Roberts said:
"These findings take us a step closer to understanding the links between past climate, the environment and human evolution. The period we studied was one of great human innovation in how people interacted with each other, their culture, and their use of stone tools. Because of our findings we can further understand the conditions in which humans lived, how they evolved and developed as societies.
"It also has resonance today as our project helped us explore how different climate drivers interacted in the past. This is something that can be translated into the modern day and help us to understand climate and climate change now."
Dr Verena Foerster at the University of Cologne's Institute of Geography Education, which also took part in the research, said:
"In view of current threats to the human habitat from climate change and the overuse of natural resources through human activity, understanding the relationship between climate and human evolution has become more relevant than ever."