Minister opens new Healthcare Education Centre at Aberystwyth University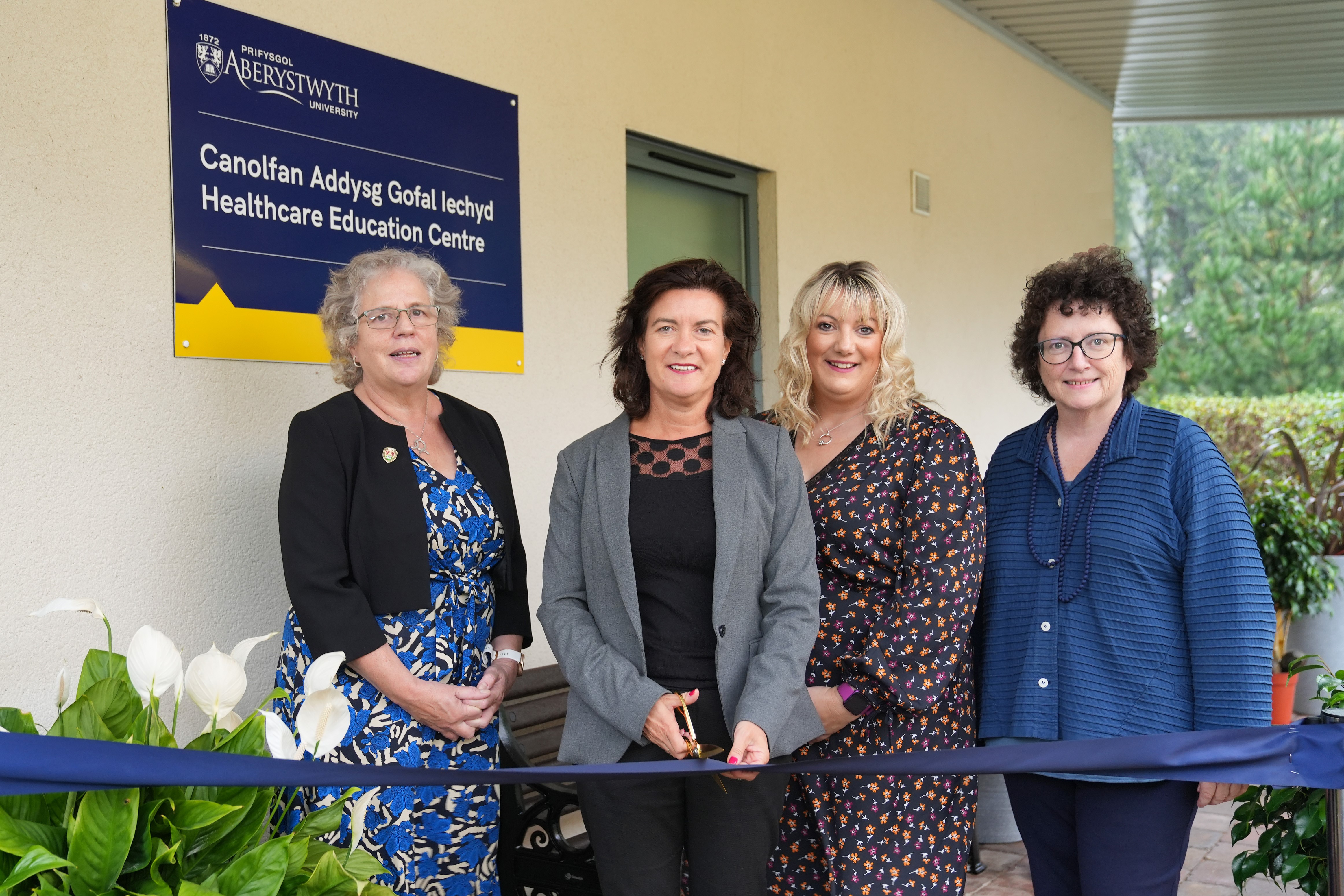 Vice-Chancellor Professor Elizabeth Treasure, Health Minister Eluned Morgan MS, Principal in Healthcare Education Amanda Jones, and Elin Jones MS opening the Healthcare Education Centre
Wales' Health Minister will open a new £1.7 million centre to train NHS staff at Aberystwyth University today.
The University has created a suite of high-quality clinical practice rooms within its new Healthcare Education Centre, which is located opposite Bronglais Hospital in the town. The £1.7 million development was supported by a grant of £500,000 from the Welsh Government.
A central part of the new site is a Clinical Skills Unit with high-fidelity simulation areas that reflect the patient's journey from home and community services through to assessment, planned and acute care.
The new teaching equipment includes virtual reality headsets for experiencing ageing and life-size human models that simulate a wide variety of health conditions.
Aberystwyth University's first ever cohort of nursing students began their studies at the Centre at the start of September.
The new developments are expected to be a big boost to efforts to retain and recruit NHS staff, particularly in mid Wales.
Health Minister Eluned Morgan MS said: "I am delighted to open this new centre at Aberystwyth University. It is an excellent collaboration between the health boards and the University and will provide a boost to nurse recruitment in this area.
"I am also really pleased that students will have the opportunity to study through the medium of Welsh, which will help deliver our plans to increase the use of Welsh language in the health service, as set out in our More than Just Words strategy."
Nursing education at Aberystwyth University has been developed with the support of several partners, including Hywel Dda, Betsi Cadwaladr and Powys local health boards as well as service users and carers.
Health Education and Improvement Wales awarded a Welsh Government-funded contract to Aberystwyth University to educate both adult and mental health nurses.
The new degree courses offer students who started their studies this year the opportunity to study up to half of their course through the medium of Welsh.
Aberystwyth University Vice-Chancellor Professor Elizabeth Treasure added:
"It is a great honour to have the Minister visit us to open the Centre, which is a significant investment for mid Wales. I am confident this will boost the recruitment and retention of staff both locally and regionally. And, by offering much of the training in Welsh, it will also benefit the language provision in our health service.
"We are very grateful to the Welsh Government for supporting the project. Thanks go to all our partners who have helped make this happen, including the local health boards, Ceredigion Council and Health Education and Improvement Wales.
"Over the years ahead, and working with partners, we are keen to make an increasing contribution to meeting the needs of our NHS. I'm sure that the new Centre will be an important resource in that effort. We are today laying the foundations for the growth of healthcare education here in Aberystwyth into the future."