First year of Aberystwyth nurse education - 'major boost' for local NHS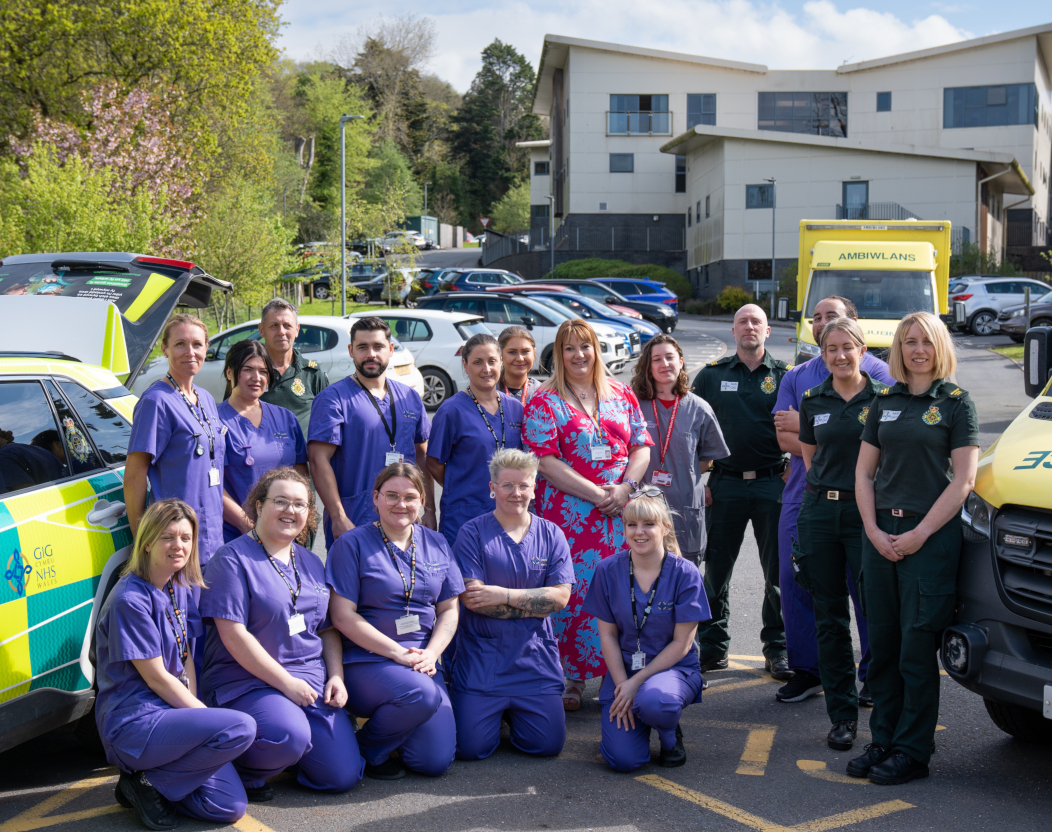 Some Aberystwyth University nursing students and staff with local NHS paramedics
Hywel Dda University Health Board has hailed the first year of nurse education at Aberystwyth University as a major boost for the local NHS.
Aberystwyth University began offering nursing degrees in both Adult and Mental Health in September 2022.
The degrees offer students the opportunity to study up to half of their course through the medium of Welsh. The course also provides student nurses with work placements at Bronglais Hospital and community areas so they gain practical experience in a hospital setting.
Clinical practice accounts for 50 per cent of a student nurse's training programme. In the past year, around fifty students have been placed at Bronglais Hospital and other health settings across the Hywel Dda health board area.
The University has created a suite of high-quality clinical practice rooms within its new Healthcare Education Centre, which is located opposite Bronglais Hospital. The £1.7 million development was supported by a grant of £500,000 from the Welsh Government.
Mandy Rayani, Hywel Dda University Health Board's Director of Nursing, Quality and Patient Experience said that the Health Board is proud to be key practice learning partners with Aberystwyth University and has supported the course from the beginning.
"The student journey from classroom to workplace challenges knowledge, skills and professional values and provides opportunities to transfer theory into practice and build critical hands-on skills in the real-world experience required to prepare the next generation of nurses and for their future careers", said Mandy.
"Collaborative working is the cornerstone of successful clinical experience for nursing students. In these challenging times the partnerships between ourselves and higher education are vital to clinical learning and also preparing the next generation of health workers.
"The aim of working in partnership with Aberystwyth University is to benefit the local recruitment and retention of nurses, as well as the potential to inspire new models of healthcare. The collaboration will continue to contribute to enhancing health care provision both locally and beyond."
Speaking about her placement in Gorwelion Community Mental Health Team, Aberystwyth University nursing student Gwenno Jones said:
"I thoroughly enjoyed my placement, every member of staff within the placement made me feel welcome and treated me as part of their team. The staff showed professionalism, compassion, and empathy towards the patients in their care under extreme pressures at times. I was encouraged to actively take part in the care of patients in the area, providing holistic and evidence-based nursing care. I have learnt many new skills that I will take forward in my nursing career.
"I had a fantastic supervisor and assessor who were able to show me a wide range of clinics and give me opportunities to develop my nursing skills and knowledge."
Amanda Jones, Aberystwyth University's Principal Lead in Healthcare Education, said:
"We're very pleased that the new nursing education is already giving a boost to the recruitment and retention of staff both locally and regionally. And, by offering much of the training in Welsh, it's also benefitting the language provision in our health service.
"We are very grateful to all our partners who have helped make this happen, including the local health boards, the Welsh Government, Ceredigion County Council and Health Education and Improvement Wales.
"Over the years ahead, and working with partners, we are keen to make an increasing contribution to meeting the needs of our NHS. The new Healthcare Education Centre is an important resource in that effort. We are laying the foundations for the growth of healthcare education here in Aberystwyth into the future."