Honorary Fellowship presented to Ian Gwyn Hughes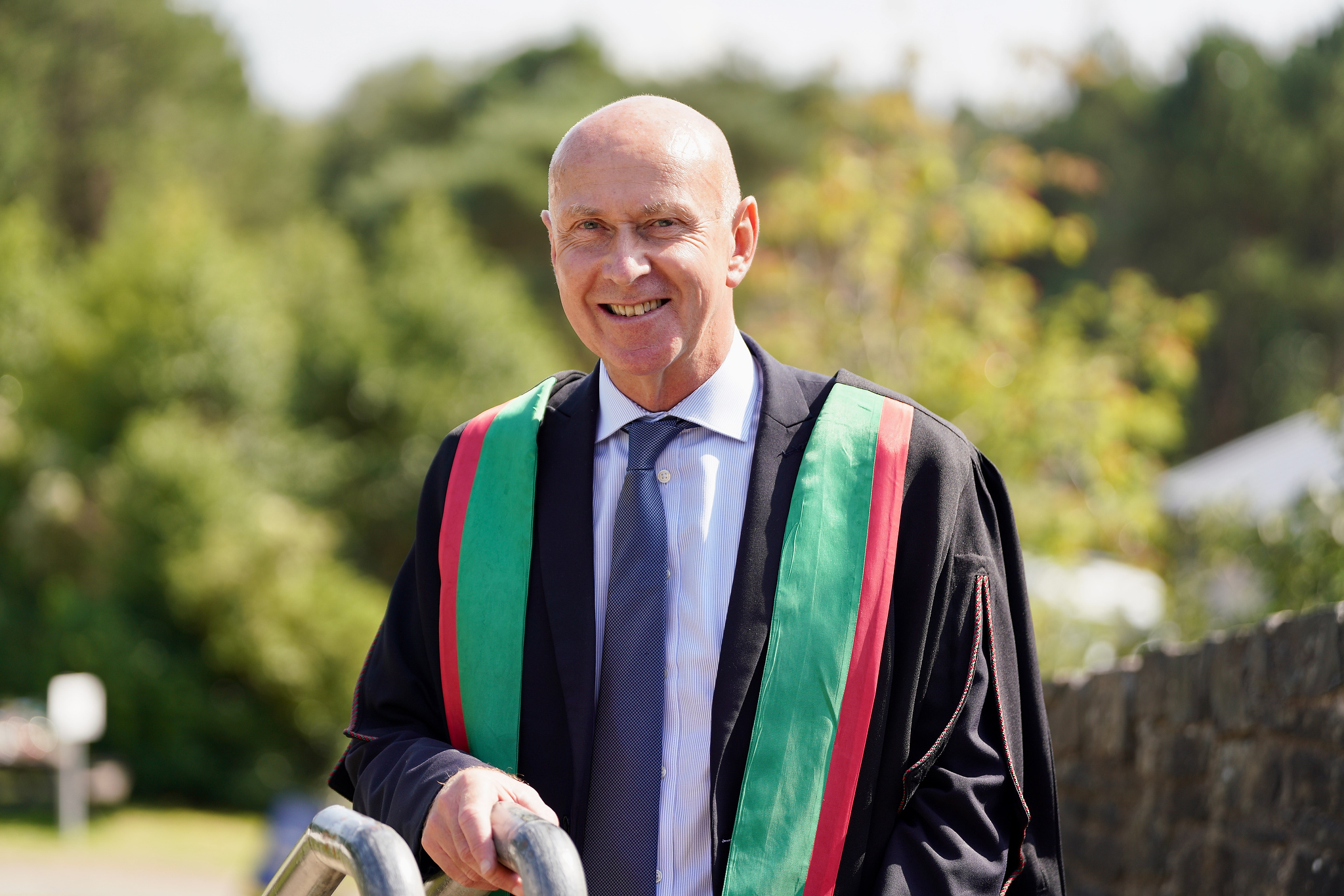 Ian Gwyn Hughes, Honorary Fellow
Ian Gwyn Hughes, Head of Public Relations and Culture at the Football Association of Wales and former BBC broadcaster, has been presented with an Honorary Fellowship of Aberystwyth University.
Originating from Colwyn Bay, Ian Gwyn Hughes was educated at Eirias High School, Colwyn Bay and Ysgol Glan Clwyd, St Asaph. He went on to study History and International Politics at Aberystwyth.
In 1982, he began his broadcasting career working for CBC (Cardiff Broadcasting Company) radio. By the end of the year he started working as a presenter and commentator for the BBC Wales Sports Department, and over the next three decades worked for the BBC as football correspondent, football editor, and as a commentator on Match of the Day. 
In 2011 he was appointed Head of Public Affairs for the Football Association of Wales, and 10 years later became Head of Public Relations.
Over the past 12 years Ian Gwyn Hughes has overseen many key moments in Welsh national football, been involved in two UEFA European Championships and the 2022 FIFA World Cup in Qatar.
Ian Gwyn Hughes was presented as Honorary Fellow by Steve Thomas, Director of Communications & Public Affairs at Aberystwyth University, who said:
"For football fans, the name Ian Gwyn Hughes is very familiar. For many years, he was the voice of international football in Wales. Since 2011, he has led the Football Association of Wales' communications, where his work can be summed up by the now familiar adopted line – Together Stronger.
"There is no doubt that Ian's vision, to bring everyone together as one strong group of supporters, and to build a real bond between the public and players, has paid off. His work has been part of a wonderful success story for the national team - for football and for the nation. It is an honour and a privilege to present Ian Gwyn Hughes as a Fellow of Aberystwyth University."
On receiving his Honorary Fellowship as part of the graduation ceremony on Thursday 20 July 2023, Ian Gwyn Hughes said:
"You wouldn't believe what a privilege and an honour it is to be here today. Forty years ago, I sat up there graduating in History and International Politics... I've worked with some fantastic people in the broadcasting world at the BBC and as the head of communications in the last ten years at the Football Association of Wales. Sitting there forty years ago, never thinking that a degree in History and International Politics would lead to being head of communications at two European Championships and a World Cup."
Aberystwyth University Honours 2023
Each year, Aberystwyth University confers Honorary Awards on a small number of distinguished individuals in recognition of their outstanding achievement and contribution.
Aberystwyth University awards celebrate individuals who have roots in, or connections to, the region and have either: made an exceptional and outstanding contribution to the development of the University over a prolonged period; gained recognition for national or international excellence in an academic area relevant to the University; or made a significant contribution to the cultural, academic, educational, professional or economic arena.
The 2023 Honorary Fellows are (in order of presentation):
Helen Prosser, Director of Teaching and Learning at the National Centre for Learning Welsh
Tina Evans, 'Human on Wheels' inspirational blogger and motivational speaker, and television presenter
Ben Thompson, Short Film Programmer at Tribeca Festival in New York
Ann Griffith, Leader of Wales and the World at the 2022 National Eisteddfod
Professor Dato' Dr Rahmat Mohamad, Professor of Law at MARA Technological University in Malaysia
Kate O'Sullivan, veterinary surgeon for Mill Referrals, Director of Ystwyth Vets and British Small Animal Veterinary Association volunteer
Phil Thomas, veterinary surgeon, Director of Ystwyth Vets and Director of Iechyd Da
Ian Gwyn Hughes, Head of Public Relations at the Football Association of Wales and former BBC Wales football correspondent.