Geographers reach new heights to raise money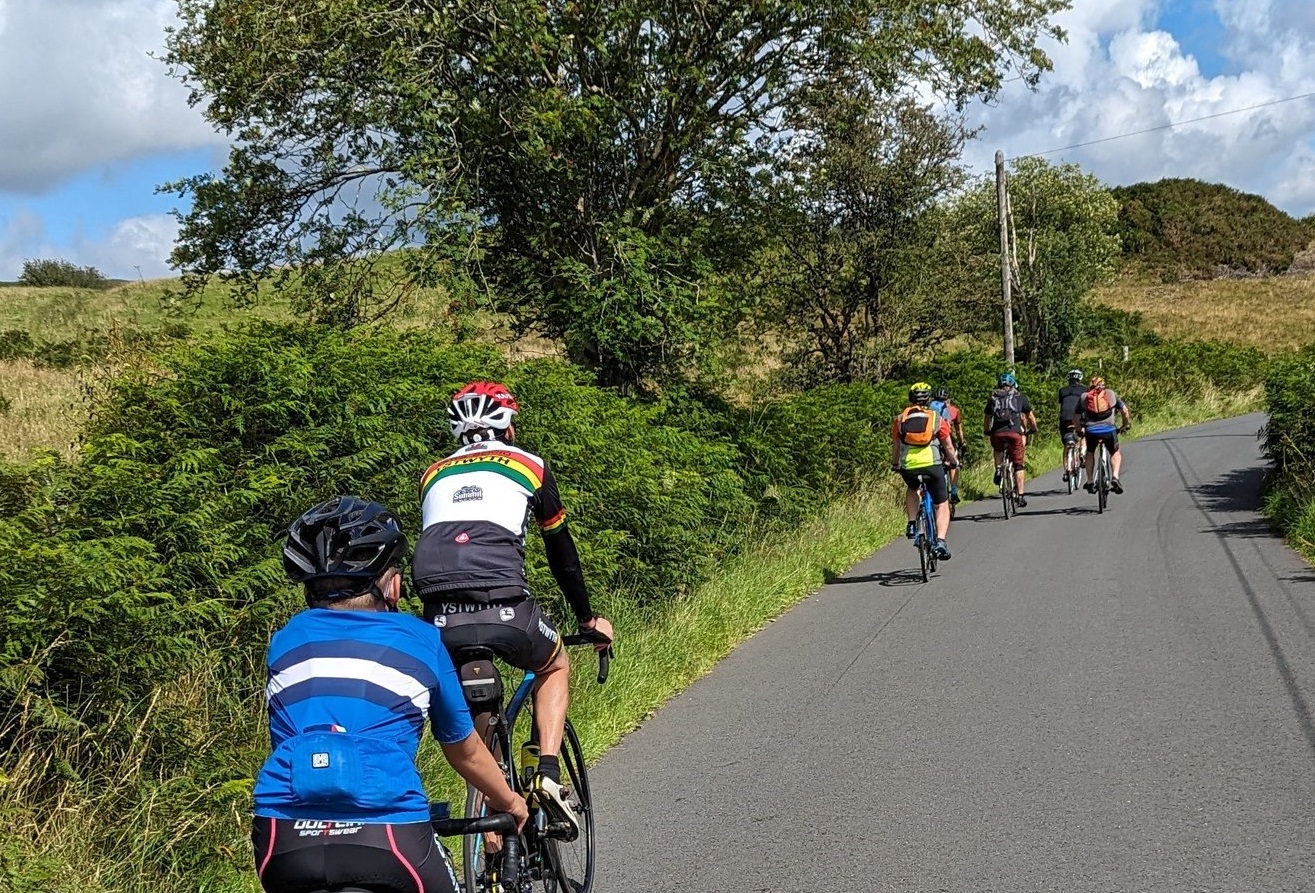 A team of Aberystwyth University staff and postgraduate students have completed a challenge inspired by their colleague, and have raised over £2,000 for the Chemotherapy Unit at Bronglais Hospital.
On Wednesday 19 July, the group from the University's Department of Geography and Earth Sciences ran, walked or cycled from Penglais Campus to the University's upland research centre at Pwllpeiran, near Cwmystwyth.
The route took the team from Penglais Campus to Aberystwyth sea front, from where they traced the course of the River Ystwyth, stopping halfway at the University's Trawsgoed Farm, before working their way up through the foothills of the Cambrian Mountains towards Pwllpeiran.
The group more than doubled their initial fundraising target, raising over £2,300 for Bronglais General Hospital Chemotheraphy Day Unit, Aberystwyth University's Charity of the Year for 2022-23.
Professor Sarah Davies, Head of the Department of Geography and Earth Sciences said:
"The inspiration for this challenge came from our friend and colleague, Professor Andrew Thomas, who has received chemotherapy treatment at Bronglais in recent months. Andrew has been collaborating with colleagues at Pwllpeiran Upland Research Platform over the last few years to investigate the impacts of land management, conservation practices and changing weather patterns on soil properties and carbon emissions at different altitudes. Therefore, this seemed like a fitting challenge for us to take on. The fact that Andrew was able to join us, cycling alongside his 10 year old son, made it all the more special.
"Thank you so much to everyone who took part, supported and sponsored us - it's been a real team effort."
Professor Andrew Thomas said:

"Everyone involved in the challenge did so well, and I'm really pleased that my son and I were able to join them to raise money for such a worthwhile cause.
"It is so important to have the unit in Bronglais. Chemo saves lives but it is not a pleasant experience. The thought of having to travel long distances for treatment doesn't bear thinking about, and I'm sure all the hundreds of people going through this in Aber at the moment would agree."