Aberystwyth nursing education expands with healthcare support workers qualification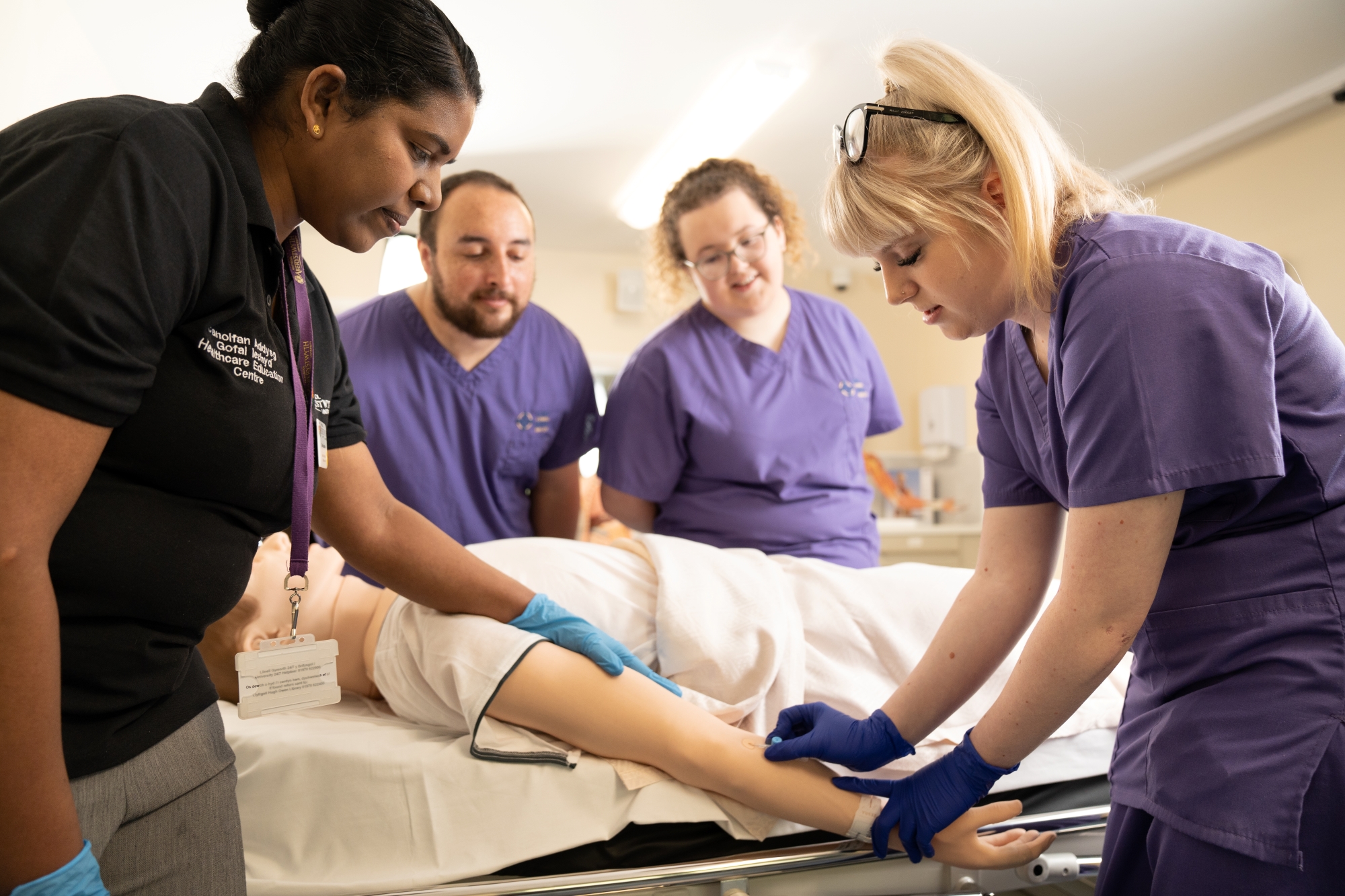 Nursing students learn clinical skills in the simulation suite at Aberystwyth University's Healthcare Education Centre.
Nursing education at Aberystwyth University will expand in September with a professional qualification for health and social care support workers.
Students will be able to study the Level 4 Higher Education Certificate in Healthcare Education on a part-time basis over two years while continuing to work in their main paid employment.
The qualification meets the Nursing and Midwifery Council's education standards and is equivalent to the first year of the University's full-time BSc degrees in nursing, which began in September 2022.
Students who successfully complete the Level 4 qualification can then choose to apply to join the second year of the University's BSc nursing degree programme or progress to other health and social care roles.
The scheme is being funded by Health Education Improvement Wales, which is part of NHS Wales, so there will be no course fees. However, students must be employed in a healthcare role within a health or social care setting within the Mid Wales region to be eligible to complete the programme.
Scheme Co-ordinator Dr Angharad Jones from Aberystwyth University said:
"We are delighted to offer this Level 4 qualification for this first time which will help to develop the skills of health and social care support workers in Mid Wales whilst allowing them to remain in full-time employment, as well as offering them a flexible pathway towards a BSc nursing degree if they decide to continue their studies. We have developed this course in collaboration with the NHS in Wales to ensure we are responding to the training needs of the regional healthcare workforce."
Students can choose to study 50% of their Level 4 Certificate in Health and Social Care through the medium of Welsh.
Further information and details on how to apply are available on the University's website: courses.aber.ac.uk/undergraduate/healthcare-education/