Twenty-three million exposed to metal mining contamination – study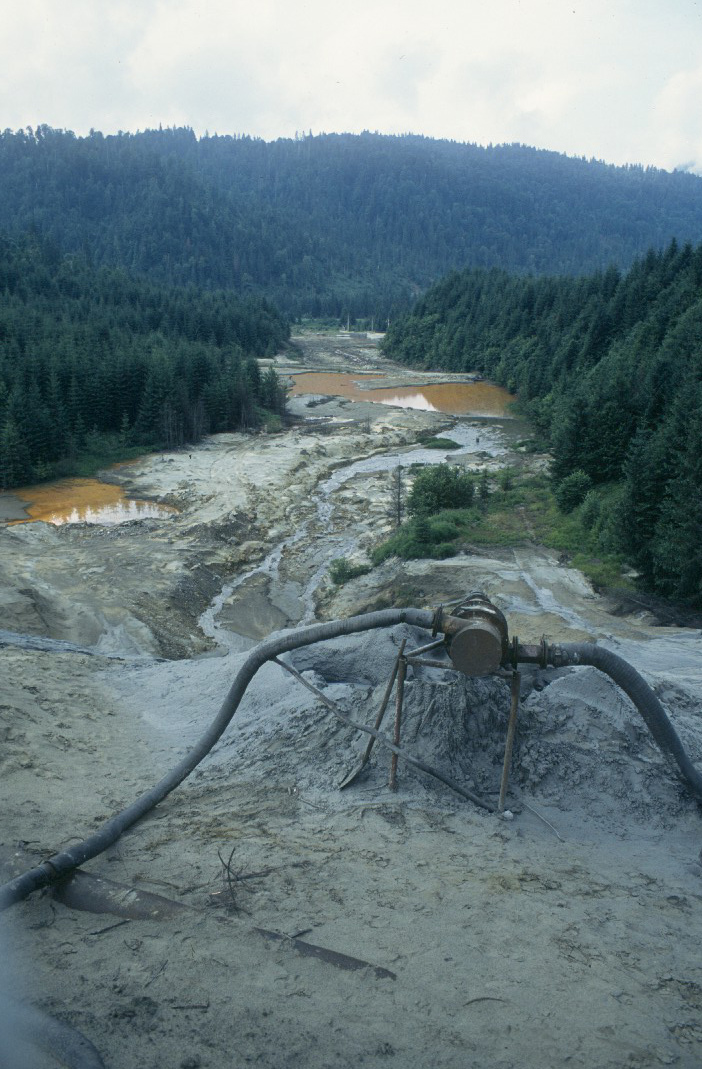 A partially failed tailings dam in NW Romania (Credit: Professor Paul Brewer, Aberystwyth University)
Twenty-three million people around the world are believed to be affected by potentially dangerous concentrations of toxic waste, according to a new study.
Published in the journal Science, the research by a team including Aberystwyth University academics offers new insights into the extensive impact of metal mining contamination on rivers and floodplains worldwide and demonstrates its associated environmental and health challenges.
Using a new global database of 185,000 metal mines, the research assessed the global scale of metal mining contamination in river systems and the effects on human populations and livestock.
The study modelled contamination from all known active and inactive metal mining sites, including tailings storage facilities - used to store mine waste - and looked at potentially harmful contaminants such as lead, zinc, copper, and arsenic, which move downstream from mining operations and are often deposited in river channels and on floodplains for extended periods.
The results highlight the widespread reach of the contamination, affecting approximately 479,200 kilometres of river channels and encompassing 164,000 square kilometres of floodplains on a global scale.
Approximately 23.48 million people live on these affected floodplains, supporting 5.72 million livestock and encompassing over 65,000 square kilometres of irrigated land. Due to a lack of available data for several countries, the team behind the study believes these numbers to be a conservative estimate.
Humans can be exposed to these contaminant metals in a number of ways, including from direct exposure through skin contact, accidental ingestion, inhalation of contaminated dust, drinking contaminated water and eating food grown on contaminated soils.
This poses an additional hazard to the health of urban and rural communities in low-income countries and communities dependent on these rivers and floodplains, especially in regions already burdened with water-related diseases.
In industrialised nations in Western Europe, including the UK, and the United States, this contamination is a major and growing threat to water and food security, compromises vital ecosystem services, and contributes to antimicrobial resistance in the environment.
One of the authors of the research, Professor Paul Brewer from Aberystwyth University commented:
"These very significant findings demonstrate the scale of the threat posed to people, ecosystems, and the wider environment from metal mining activity across the world. For the first time we have been able to establish that the number of people exposed to contaminant metals sourced from the long-term discharge of mining waste into rivers is almost 50 times greater than the number directly affected by acute tailings dam failures.
"The new modelling approach used in this study provides industry and regulatory agencies with a tool for assessing the potential downstream impacts of metal mining activity on human populations and the environment. This will benefit future generations as we will be able to develop better, data-informed strategies for identifying and managing land contaminated by metal mining."
Professor Mark Macklin, who led the multi-disciplinary, international team behind the research, commented on the significance of the study, stating:
"Our new process-based modelling and mapping methodology for predicting the dispersal of mine waste in river systems worldwide provides governments, environmental regulators, and the mining industry with a tool that, for the first time, will enable them to assess the offsite and downstream impacts of mining on ecosystem and human health.
"We expect that this will facilitate a step change in mitigating the environmental effects of historical and present mining and, most importantly, help to minimize the impacts of future mining development on communities, as well as protecting food and water security."