Purple Plaque Unveiled to Honour Peace Envoy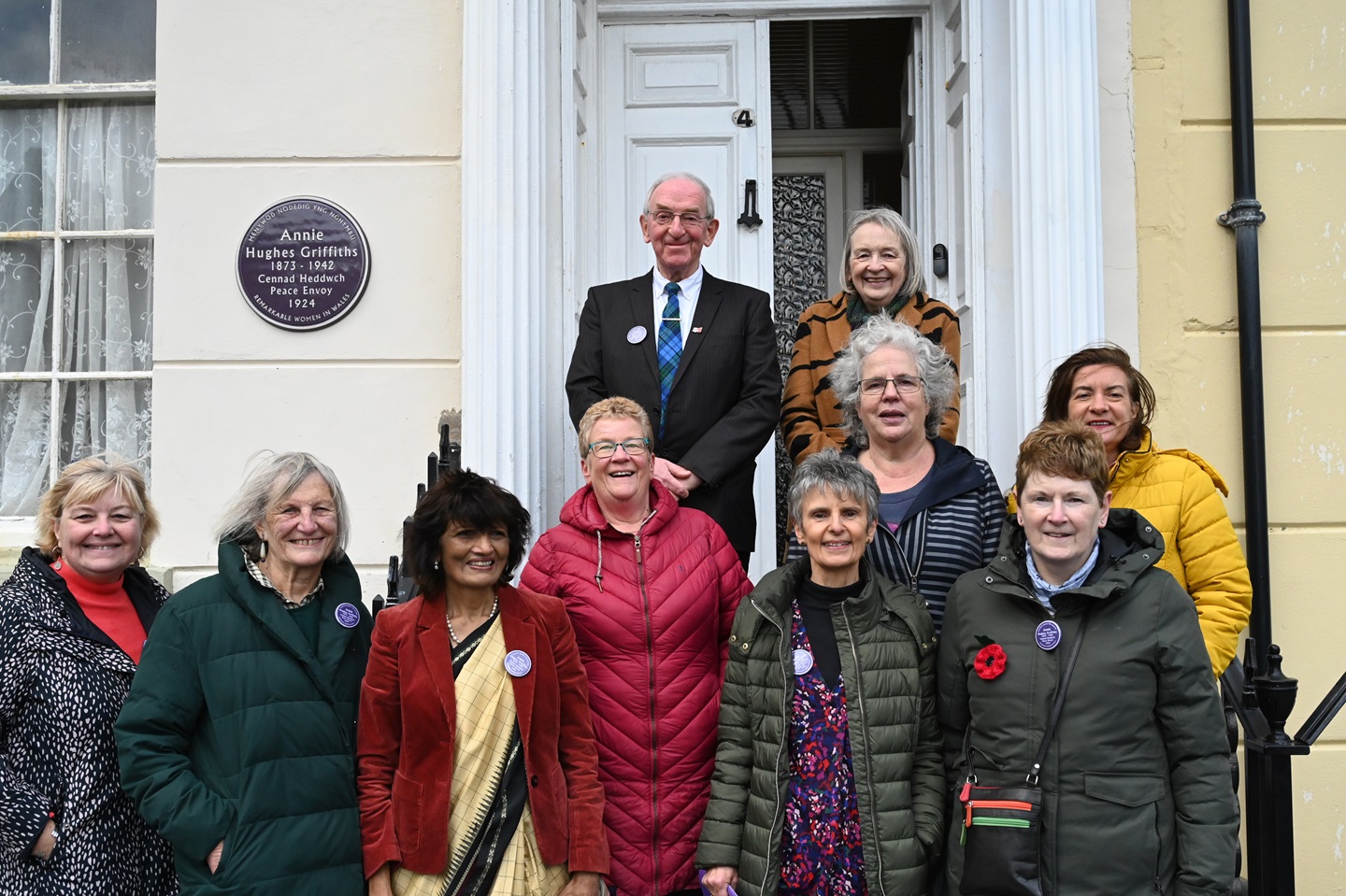 Plaque unveiling with guests including Rolant Elis (grandson), Meg Elis (granddaughter), Vice-Chancellor of Aberystwyth University Professor Elizabeth Treasure, Eluned Morgan MS, and members of the Welsh Purple Plaques Committee.
A prestigious Purple Plaque will be unveiled in Aberystwyth today (Friday 3 November) in honour of a remarkable woman who led a deputation to the United States of America in 1924 to deliver a peace petition signed by almost 400,000 Welsh women.
The plaque commemorating Annie Hughes Griffiths (1872–1942), who was a student at Aberystwyth in the 1890s, will be placed on the wall of her former home in Laura Place where her grandson still lives.
It will be unveiled by members of her family, and speakers at the event will include Welsh Government Minister for Social Justice and Chief Whip, Jane Hutt MS.
Annie Hughes Griffiths is the 14th woman in Wales to be honoured by Purple Plaques Wales, which was set up to improve the recognition of exceptional women in Wales.
Sue Essex, chair of Purple Plaques Wales, said: "We think Annie truly embodies the spirit of Purple Plaques Wales. The fact that she was able to lead on a project which touched so many women right across Wales and emboldened them to sign a petition for peace was remarkable in itself - especially in an age without mass communications. To then go on and present it to the US President and tour it across the United States was an amazing achievement. I'm so glad we can mark this with a Purple Plaque."
Jane Hutt MS said: "Annie Hughes Griffiths was a trailblazer in the women's peace movement in Wales and it is right she is remembered for her remarkable efforts with a Purple Plaque. I'm thrilled her legacy is now being recognised and the petition she spearheaded has been repatriated to the National Library in Aberystwyth."
The Purple Plaque ceremony is part of the programme for Aberystwyth University's annual Festival of Research, whose theme this year 'The Pursuit of Peace' was inspired by the centenary of the Welsh Women's Peace Petition 1923-24.
Following the unveiling, a bilingual book will be launched at 5pm on Friday 3 November at the National Library of Wales, where the petition is now on display.
Edited by Professor Mererid Hopwood and Dr Jenny Mathers from Aberystwyth University, Yr Apêl / The Appeal chronicles the significance of the peace campaign and how Annie Hughes Griffiths and a team of organisers succeeded in collecting the signatures of 390,296 women from all walks of life and all parts of Wales.
Professor Mererid Hopwood said: "As we launch our book telling the remarkable story of the Welsh Women's Peace Petition, we are delighted that a Purple Plaque is being unveiled in lasting recognition of the efforts of Annie and the thousands of other women who came together a century ago to make such an ambitious call for global peace."
Tickets for Aberystwyth University's Festival of Research – The Pursuit of Peace are free and all are welcome.