Man runs 3 peaks for Alzheimers with Aberystwyth University support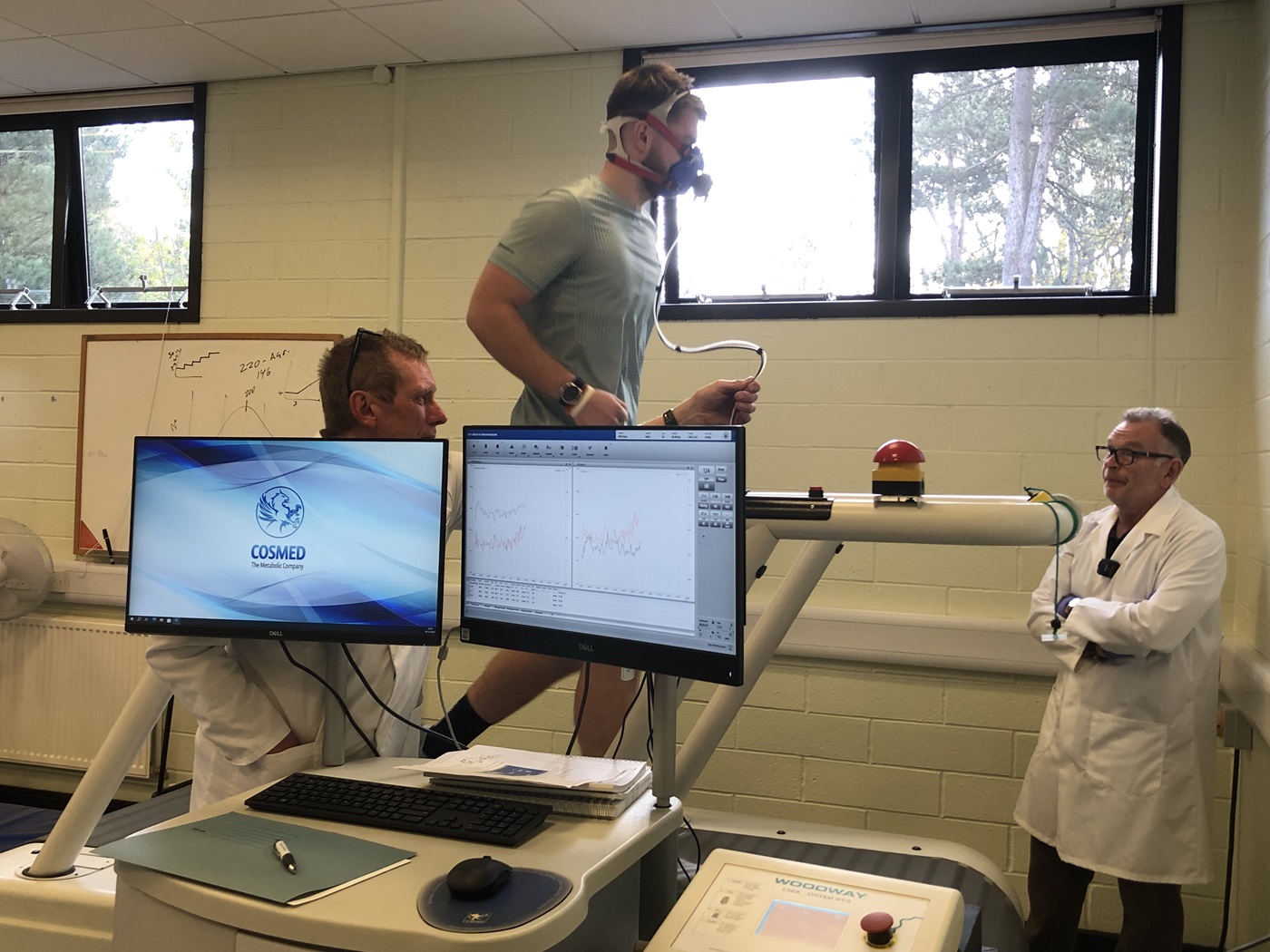 Dr Rhys Thatcher and Will Dean at the Aberystwyth University facilities.
A man training to climb the highest three peaks in Britain and run 450 miles between them in just nine days for Alzheimers' research has been supported by Aberystwyth University experts.
The well-known three peaks challenge is attempted by thousands each year, but normally means walking up and down the highest mountains in Wales, Scotland and England – Yr Wyddfa, Scafell Pike and Ben Nevis - and driving between them.
But to raise money for Alzheimers' Research UK, documentary maker Will Dean is going one step further by not only climbing each peak, but running between them as well.
This means that to meet his goal, Dean will have to run the equivalent of two marathons per day.
His mother, a former senior police officer in the north of Wales, was diagnosed with early-onset dementia aged 49.
In aid of this extraordinary fundraising effort, academics at Aberystwyth University gave Will access to specialist equipment and testing facilities to support him in preparing for the challenge.
Speaking from his training at Aberystwyth University, Will Dean commented:
"I am very grateful for all the support here in Aberystwyth. I do hope that by taking on this challenge I can, not only raise a lot of money for this very important cause, but also draw attention to the condition.
"Dementia is often branded as 'normal ageing' this couldn't be further from the truth. My challenge will include taking over 990,000 steps, this number is similar to the total number of people living with dementia in the UK today. 7.5% of these people are like my mum, living with dementia under the age of 65. My mission is to raise vital funds that help make a world with a cure for Dementia possible. Dementia will affect one in every two people in their lifetime, this means I have connected with a lot of people who share this mission. I am so grateful for all those donating and I hope to talk to many others during my time running the 3 Peaks Challenge."
Donations to Alzheimers Research UK as part of Will's challenge, which starts in the first week of May 2024, can be made by going to: https://donate.alzheimersresearchuk.org/publicnew/ 
Supporters are also invited to join Will during his challenge by contacting him on social media.
Exercise physiologist Dr Rhys Thatcher from Aberystwyth University, who has organised the testing, said:
"Will's efforts are so inspiring and we just feel privileged to be able to give him a little bit of help along the way. We are glad our equipment and expertise here can be used to help him raise money for such an important cause. We at Aberystwyth University wish him all the best with the challenge."