Prof Andrew Evans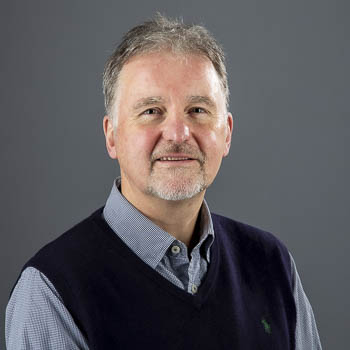 Professor
Head of Department (Physics)
Contact Details
Profile
Andrew is Professor of Materials Physics and currently Director of the Institute of Mathematics and Physics. Prior to arriving at Aberystwyth, he worked with Prof. J.O. Williams in Wrexham on the characterisation of wide-gap materials and before this with Prof. K. Horn at the Fritz Haber Institute in Berlin, developing synchrotron radiation methods for the study of surfaces and interfaces. He graduated with a first class degree in physics from the University of Wales Cardiff and obtained his PhD in semiconductor physics under the supervision of Prof. R.H. Williams FRS.
Teaching
Module Coordinator
Coordinator
Tutor
Lecturer
Moderator
Research Groups
Publications
Reed, BP
, Bathen, ME
, Ash, JWR
, Meara, CJ, Zakharov, AA, Goss, JP, Wells, JW
, Evans, DA
& Cooil, SP
2022, '
Diamond (111) surface reconstruction and epitaxial graphene interface
',
Physical Review B
, vol. 105, no. 20, 5304.
https://doi.org/10.1103/PhysRevB.105.205304
Astley, S
, Hazeldine, K
, Ash, J
, Cross, RE
, Cooil, SP
, Allen, MW, Evans, J, James, K, Venturini, F, Grinter, DC, Ferrer, P, Arrigo, R, Held, G, Williams, GT
& Evans, DA
2022, '
Identifying chemical and physical changes in wide-gap semiconductors using real-time and near ambient-pressure XPS
',
Faraday Discussions
.
Røst, HI
, Reed, BP
, Strand, FS
, Durk, JA
, Evans, DA
, Grubišić-čabo, A, Wan, G, Cattelan, M, Prieto, MJ, Gottlob, DM, Tănase, LC, De Souza Caldas, L, Schmidt, T, Tadich, A, Cowie, BCC, Chellappan, RK, Wells, JW
& Cooil, SP
2021, '
A Simplified Method for Patterning Graphene on Dielectric Layers
',
ACS Applied Materials & Interfaces
.
https://doi.org/10.1021/acsami.1c09987
Sangtawesin, S, Dwyer, BL, Srinivasan, S, Allred, JJ, Rodgers, LVH, De Greve, K, Stacey, A, Dontschuk, N, O'Donnell, KM
, Hu, D
, Evans, DA
, Jaye, C, Fischer, DA, Markham, ML, Twitchen, DJ, Park, H, Lukin, MD & De Leon, NP 2019, '
Origins of Diamond Surface Noise Probed by Correlating Single-Spin Measurements with Surface Spectroscopy
',
Physical Review X
, vol. 9, no. 3, 031052.
https://doi.org/10.1103/PhysRevX.9.031052
Risinggård , HK
, Cooil, SP
, Mazzola, F
, Hu, D
, Kjærvik, M, Østli, ER, Patil, N, Preobrajenski, A
, Evans, D
, Breiby, DW, Trinh, TT & Wells, JW 2018, '
Degradation of the chemotherapy drug 5-fouorouracil on medical-grade silver surfaces
',
Applied Surface Science
, vol. 435, pp. 1213-1219.
https://doi.org/10.1016/j.apsusc.2017.11.221
More publications on the Research Portal