Student Ambassadors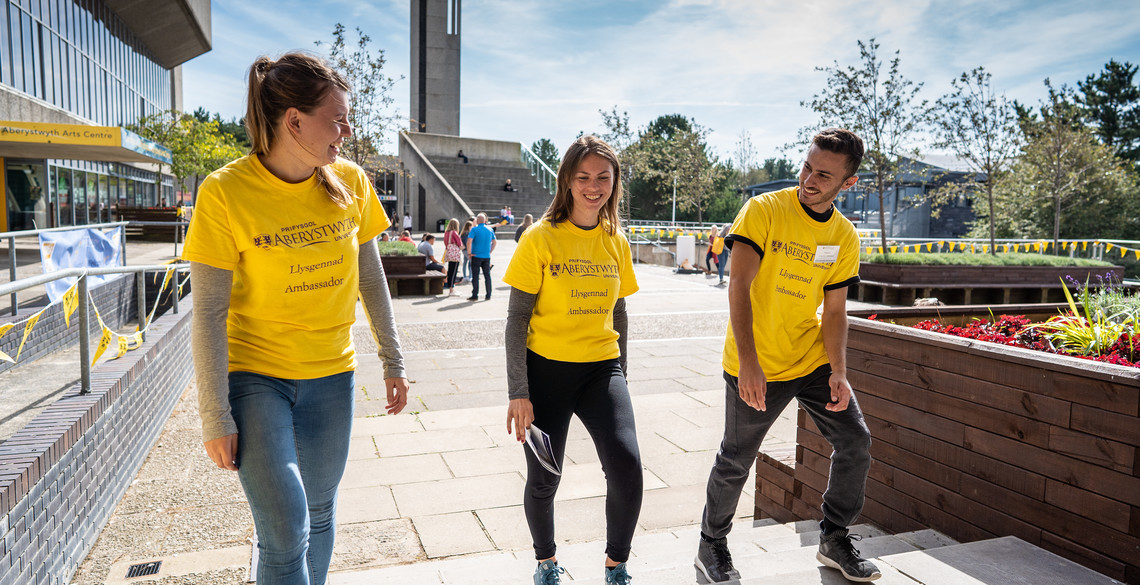 The benefits of being a student ambassador
Earn money at the rate of £9.50* an hour in a role that's flexible around your academic studies
Gain valuable work experience
Select what type of work you want to do and when
Gain a variety of useful skills – public speaking, leadership, events organisation and team working
Gain useful insights into the Higher Education world
Network and have fun!
*earning correct at time of publishing – June 2021
What does a student ambassador do?
As a student ambassador, you will perform a vital role in assisting visitors to the University with all aspects of their visit by offering support, encouragement and advice.
On campus:
Assist at Open Days, Visiting Days and other on-campus events/activities
Lead Campus Tours
Meet and greet visitors
Represent at schools, colleges and HE Fairs
Act as a positive role for the University

Virtually:
Online Open Days / Online Applicant Events
Webinars
The Student Room
Live Chat - offer information and advice about Aberystwyth and student life
How do I apply?
If you wish to apply for a Student Ambassador role you will need to register for AberWorks and you will also need to meet the Right to Work criteria. More information can be found on the AberWorks website.
Unfortunately, due to the ongoing Coronavirus pandemic, the scheme is closed to new registrants. The situation is being reviewed and any updates can be found on the website.
However, if you are a current student in your 2nd or 3rd year or a postgraduate and are registered on the AberWorks system, you are eligible to apply for a role.
You can apply for a student ambassador role with the Marketing and Student Recruitment Team as a Central Ambassador or with your Academic Department as a departmental ambassador.
Current Ambassador profiles
Name: Elen Haf Roach
Course: Cymraeg Proffesiynol
Year: 3
Why did I apply to be an Ambassador?
When I visited Aberystwyth for the first time on an Open Day, I was nervous and didn't really know what to expect. When my parents and I arrived on campus, we were greeted by a friendly ambassador which made me feel at ease and comfortable straight away. I soon realised the importance of being able to ask a current student their thoughts and feelings regarding studying at Aber and wanted to be able to provide prospective students with a similar experience. Similarly, I have absolutely loved my time at Aber and wanted to share my passion with others and answers any questions or queries prospective students may have about studying here.
What do I enjoy most about being an Ambassador?
I see being an Ambassador as an opportunity to be able to give back to the University and share my own experiences with others. I love it when you take prospective students and their families on a campus tour and see their reaction to what we offer and the facilities that are available for all students to use. There's no better feeling than seeing somebody you took on a tour, walking around the campus and town as a student!
Name: Tom Mumford
Course: Computer Science with Integrated Year in Industry
Year: 3
Why did I apply to be an Ambassador?
I really wanted to help prospective students gain a positive insight to their future. Student experiences in my opinion are invaluable when making the decision of what uni to attend.
What do I enjoy most about being an Ambassador?
Chatting and teaching people about Aberystwyth University. Hearing why they chose to apply to the university is really interesting. I also enjoy seeing how happy people are when they visit Aberystwyth.
Name: Darya Koskeroglu
Course: Robotics and Embedded Systems Engineering with Integrated Year in Industry
Year: Industrial Year
Why did I apply to be an Ambassador?
I applied to become a student ambassador because I am keen to get involved with the university, meet new people and improve my CV. I really love Aberystwyth and I hope to pass on the advice and sources that helped me through the university process. I am an international student, therefore I could not attend an Open Day to learn as much as I wanted about Campus, so I was passionate about making sure that prospective students would get a genuine and complete picture of Aberystwyth University!
What's the best thing about being an Ambassador?
The numerous Campus Tours I've been leading has allowed for my further development in public speaking, I now know the campus tours off by heart, being able to answer questions about what happens if they need academic or financial help, career's and CV advice or what to do if the laundry machine stopped working. Lastly, when graduating from Aberystwyth, having this experience on my CV is a brilliant asset. Coupled with getting paid for the experience and having fun, being an Ambassador is such a joy!
Name: Assanatou Sy
Course: Strategy, Intelligence and Security
Year: 2
Why did I apply to be an Ambassador?
I've always been involved in my academic environment so I applied to be a Student Ambassador to get involved with the university. I was also eager to get out of my comfort zone and work in an environment that relied on exchanging with people and developing my communication skills. I knew that this would be a great way to familiarise myself with the university, so I applied in my first year. I was also keen on getting more work experience with flexibility around my term timetable. I was able to speak with previous Ambassadors and was really interested in joining the team, specifically for international prospective students. As an international student myself, I relate to the stress and fear many international students experience when choosing a university away from home, and I wanted to help in the process of making these important decisions.
What do I enjoy most about being an Ambassador?
I enjoy so many things about being an Ambassador, this has definitely been an amazing experience! Not only have I been able to meet and exchange with prospective students from around the world, I am continuously meeting fellow ambassadors from different cultural and academic backgrounds. I've made many friends from duties and activities that I've participated in. There are a variety of duties, so it never feels like a routine, which is something I really appreciate. I was able to participate in Open and Visiting days, Covid-Marshalling and my favourite so far has been Campus tours.
Information for Current Student Ambassadors
If you are a current student ambassador and registered on AberWorks, please follow the link below for further information.
Contact us
If you have any questions or queries about becoming a student ambassador or the scheme itself, please contact events@aber.ac.uk.
If you are interested in being a departmental ambassador, please contact your department co-ordinators for more information.