Residential Leadership Workshops (Available for Students at Key Stage 4 and 5)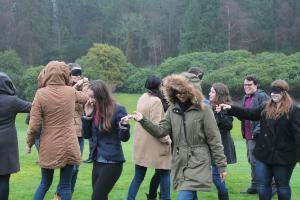 Led by Aberystwyth Business School Staff, the Leadership Workshops are designed to develop student's confidence, team-working, leadership and employability skills and are especially suited to students who are interested in studying a Business-related subject at University.
Workshops run over one, two or three days in seminar rooms and lecture theatres within the University. Teams are allocated a number of different tasks such as orienteering, self-assembly "Dragons' Den" project and presenting a news bulletin.
Each team is mentored by a member of Aberystwyth Business School staff or student ambassador and a de-briefing is provided after each activity to help students identify and build upon their preferred teamwork and leadership skill sets.
Additional activities can be arranged to suit the needs of your group, such as a tour of Aberystwyth University, access to the sports facilities and evening entertainment at the University's award-winning Arts Centre.
There is no cost for the workshop itself and complimentary accommodation for two members of staff as well as a buffet lunch during the workshop is provided.
For more information, please email Dr Sophie Bennett