Learning and living in Welsh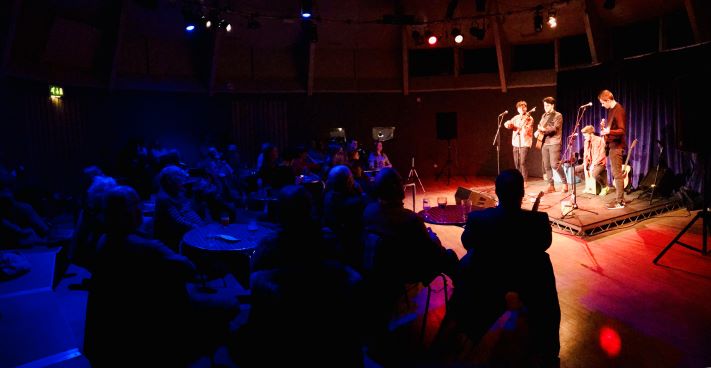 Take time out and enjoy!
As well as the golden opportunities to study, Aberystwyth is also famous as an ideal place to enjoy an extra-curricular life that is lively and varied.
Cicio'r Bar (Kicking the Bar)
This is a regular literary event held at Aberystwyth Arts Centre and arranged and presented by the poets Eurig Salisbury, Lecturer and Assistant Head in the Department of Welsh and Celtic Studies, and Hywel Griffiths, Senior Lecturer in the Department of Geography and Earth Sciences. There are two special guests each time - one poet and one musician, or band. Since its inception in 2018, our audiences have been entertained by a wide variety of performers, from Aneirin Karadog to Mari George, from Manon Steffan Ros to Georgia Ruth.
Llên a Chân (Literature and Song)
Noson Llên a Chân is an evening of celebration held once a year around Christmas time and put on by first-year students studying Cymraeg Proffesiynol, as part of their course. It features interviews, readings and performances by well-known names from our nation's literary and musical scene.
Group visits
The learning is enriched by purposeful visits to notable and important institutions in Wales. Here are some examples:
visit to the Welsh Government offices in Cathays Park, Cardiff
visit to Senedd Cymru (the Welsh Parliament) in Cardiff Bay
visits to institutions and companies based in Aberystwyth, eg Books Council of Wales, the National Library of Wales, Atebol (a forward-thinking publishing house and multimedia company).
Here are students from the Cymraeg Proffesiynol course visiting Llanfihangel Genau'r Glyn.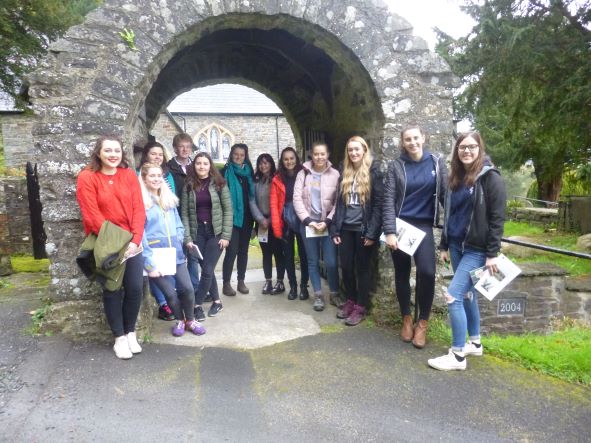 Creative Writing Competitions
This is an opportunity to showcase your talents as a creative writer. The Cymraeg Proffesiynol students organise a creative writing competition every year to coincide with the Noson Llên a Chân. They usually advertise the competition on the website of the Department and University as well as on social media.
Translation Competitions
Translation competitions for undergraduate students are also held. This is your chance to get a feel for the fascinating world of translation!