Gill Rowlands (1940-2019)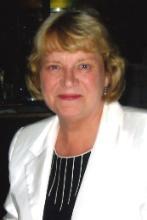 Gill Rowlands has died at a hospice near her home in Hemingford Grey, Cambridgeshire. As Gillian Rees, she came up to Aberystwyth from Porth County Grammar School for Girls in 1960, to study English and American Literature. She will be particularly remembered by alumni of that period for her participation in Debates. After graduating in 1963 she secured a teaching post at Henleaze School, Bristol, but her career there was brief. Following marriage to Glyn Rowlands in September 1964, she left immediately with him for the United States. Glyn, from Ferndale, and Porth County Grammar School for Boys, with his Aber PhD in chemistry, had obtained a post-doctoral fellowship at the Ames Laboratory, Iowa State University. They settled in a home close to the university campus and Gill continued teaching English, but to American students at Ames High School. Friendships formed during their two years in Ames, like those of the Aber years, were to last a lifetime, and a large store of memories was created on a long tour of the States before they left for the UK.
On their return, while Glyn worked first with the Atomic Energy Commission at Harwell, and then in business, Gill was busy in the home and with their son and daughter, but once the children were well settled in school, she returned to teaching. She was appointed to Huntingdon Regional College where she lectured to university entrants, a post she held until retirement. She brought to her teaching a love of English literature which she passed on to many of her students.
With Glyn at the wheel, and often with friends sharing the experience, Gill enjoyed travelling widely on the continent, but for her there was more intense pleasure in revisiting the south Wales valleys, particularly her own home in Treorci, on what became known as a 'hiraeth tour'. She was very proud of her Rhondda Welsh roots. Her affection for Aber never waned and during the period when Glyn was a member of the University Council and successively Vice- President and Pro-Chancellor, they kept a flat overlooking the harbour and a warm welcome for visitors.
Gill was actively involved in social and community affairs in Hemingford Grey. For long an active member of the Houswives' Register (now the National Women's Register), she founded and chaired a flourishing book club, and was constantly adding to her own substantial library. Gardening was another great love and the seasonal glow of flowering plants and shrubs in her garden was evidence of her horticultural knowledge and skill. She also took pleasure in cooking, especially to feed the healthy appetites of grandchildren.
Gillian Eirlys Rowlands, 20 October 1940-15 January 2019. She is survived by her husband Glyn, her son Jonathan and daughter Sarah, and seven grandchildren.