Joseph Clancy (1928-2017)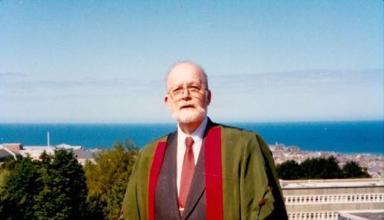 Born March 8, 1928 in New York City, Joseph P. Clancy was the foremost translator of Welsh literature, both medieval and modern, into English, and a poet in English in his own right. His discovery of Welsh literature came when, after reading an English translation of a medieval Welsh poem, Joseph decided he could do better and proceeded to teach himself the language. After a number of short periods of study in Wales he embarked on a year-long sabbatical here in Aberystwyth along with his wife, Gertrude (Gerrie), five of their eight children and his mother in 1972. When he retired from teaching in 1990, he and Gerrie made Aberystwyth their home for more than 20 years. A Fellow of the English Language Section of Yr Academi Gymreig, and an Honorary Fellow of Aberystwyth University, he was awarded an honorary D.Litt. by the University of Wales for his work as poet and translator. Through the years he forged friendships with several prominent Welsh writers, translating their work and making contemporary Welsh poetry and drama accessible to the Anglophone reader.
His most recent translation work was The Poems of Dafydd ap Gwilym, published last year. A renowned author in his own right, Joseph published four volumes of poetry, books of essays and short stories, a non-fiction work on King Arthur for teens, and co-authored a mystery novel with Gerrie.
​Joseph P. Clancy died on February 27, 2017 in Glasgow. Predeceased by his wife, he is survived by his 8 children, 14 grandchildren and 7 great grandchildren