Richard Livsey, Baron Livsey of Talgarth (1935-2010)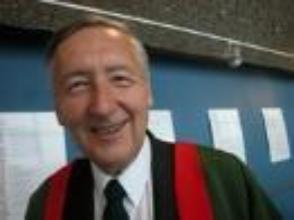 Lord Livsey of Talgarth, a former leader of the Welsh Liberal Democrats, died peacefully at home at Llanfihangel Talyllyn on 15 September 2010 aged 75. A fellow of Aberystwyth University since 2007, he had a passion for Welsh devolution and was a champion for rural communities. Regarded with much respect and great affection by all who knew him, he was a courteous and mild mannered man, lacking any pretension, but with an unwavering determination when pursuing issues about which he felt strongly.
Richard Arthur Lloyd Livsey was born and bred in Talgarth, Breconshire. He attended Bedales School in Hampshire before going on to Seale-Hayne Agricultural College in Devon, where he studied for a National Diploma in Agriculture, and Reading University, where he gained an MSc in agricultural management. In 1961 he joined ICI and moved to Galloway in Scotland to work for a year as an Assistant Farm Manager on one of the company's farms; this was when he met Rene, his future wife. He was then transferred to Northumberland where he worked as ICI's agricultural development officer for the next five years. When Richard left ICI, it was to return to Scotland to become Farm Manager of the Blair Drummond Estate in Perthshire. It was during this time, in 1970, that he fought his first election as a Liberal candidate, contesting the safe Conservative seat of Perth and East Perthshire, coming fourth and losing his deposit.
In 1971, Richard returned to Wales and joined the newly established Welsh Agricultural College at Aberystwyth under the leadership of Dr David Morris. He held his post as senior lecturer in farm management at the College for the next 14 years and, with Rene, also farmed a 60 acre small holding at Llanon.
Despite lack of success in Scotland, Richard's political ambitions remained undiminished and, in 1983, he fought his home seat of Brecon and Radnor on a Liberal-SDP Alliance ticket. While unsuccessful on that occasion, two years later he won the by-election in the constituency with a majority of 559 over Labour. He retained his seat at the 1987 General Election, but with an even slimmer majority, determined after several recounts, of 56 votes, on this occasion over the Conservatives. He joined Parliament's Select Committee on Agriculture, as well as that on Welsh Affairs, but lost his seat at the General Election in 1992 by just 130 votes. He then joined ATB-Landbase Cymru as its Deputy Director, but his main concern was to recapture Brecon and Radnor, which he did in 1997 with a majority of 5,000. On his return to Parliament he was appointed the Liberal Democrat's Shadow Secretary of State for Wales and was heavily involved in the Devolution Settlement for Wales until he stood down in 2001, then becoming a member of the House of Lords. In the Upper House he was made a member of the European Environment and Rural Affairs Committee and became President of the EU Movement in Wales.
In recent years Richard found more time to devote to some of his other interests, including music and sport. Apart from being Vice-President of the Hay-on-Wye Literary Festival and Chairman of the Brecon Jazz Festival, he was a member of several male voice choirs, a keen fly-fisherman and a cyclist and a strong supporter of Welsh rugby and cricket.
Richard is survived by Rene, their two sons and one daughter.
Dr John Harries, Pro Vice-Chancellor