Margaret Joy Welch (1926-2017)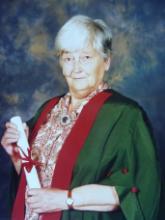 Originally from Galgate, near Lancaster, Joy graduated from Aberystwyth with a BSc in Economics in 1950, having also studied geography and philosophy, and being women's tennis captain in 1948.
At 17, Joy had volunteered to join the Women's Royal Naval Service during WWII and was posted to Eastcote, near Ruislip. Eastcote was an outpost of Bletchley Park, known as HMS Pembroke V. It housed 100 Bombe codebreaker machines which were used to decode German Enigma messages. Even Joy's closest family were told nothing of her role until the information became declassified in the 1970s.
Joy made philanthropic donations to a number of projects at Aberystwyth University over the years, individually, and through the Joy Welch Educational Charitable Trust which she established in 1988. Joy was particularly interested in scientifically-based post-graduate projects with potential benefits to the UK economy. In recognition of her long-term support, she was awarded an Honorary Fellowship of Aberystwyth University in 1998.
Joy is remembered as being a forthright, feisty woman, determined, unconventional and not always at ease in the world in which she found herself. She was a loyal friend and relative and hugely generous to many who were lucky enough to know her and to many people she never met.