Emeritus Professor Martin Barker (1946-2022)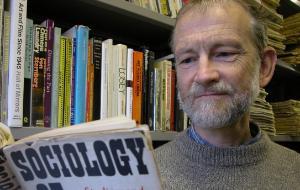 It is with sadness that we note the death of Emeritus Professor Martin Barker who passed away on 8 September.
Martin joined the Department of Theatre, Film and Television Studies in 2001 as Professor of Film and Television Studies, having spent two years at the University of Sussex, and 29 years prior to that at the University of the West of England.
Born in April 1946, Martin studied for a degree in philosophy at the University of Liverpool before embarking on a long and prestigious academic career.
His early work, grounded in the Cultural Studies tradition, focused on racism in the media, especially in comics, and he coined the phrase 'new racism' in 1981 in the context of public discourse over immigration in the early years of the Thatcher government.
His later work explored the debates over 'video nasties' in the mid-80s and along with scholar Julian Petley, he sought to debunk the 'media effects' tradition, arguing against the idea of 'copycat' behaviour. It was an area which often brought him into conflict with the National Viewers and Listeners Association and its formidable leader, Mary Whitehouse.
Later, Martin developed his research into audiences, producing pioneering work in the field of audience and reception studies and developing a methodology for studying audiences which remains very influential in the field. His international reception studies on Lord of the Rings and Game of Thrones were ground-breaking.
During his time at Aberystwyth, Martin embedded this field of study in the undergraduate and postgraduate curricula and nurtured a generation of PhD students, many of whom went on to pursue very successful academic careers. The tributes paid to Martin from young scholars across the globe are testimony to his scholarship and love of researching, learning, and teaching.
Beyond Aberystwyth, Martin was a leading figure in the subject area of Media and Cultural Studies.
Paying tribute to him, Emeritus Professor Peter Golding at Northumbria University and Secretary of the Media, Communication and Cultural Studies Association described Martin as 'one of the most committed, principled, enthusiastic, and effective of researchers and writers in British media and cultural studies'.
As a Department and University, we send our deepest sympathies to Martin's family.
Professor Jamie Medhurst, Head of the Department of Theatre, Film and Television Studies