Professor Meic Stephens (1938-2018)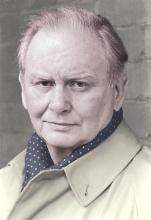 The author and scholar, Professor Meic Stephens, died on the 2nd of July 2018
Meic Stephens was born in Treforest, near Pontypridd in Glamorgan in 1938, the son of an industrial worker. He was educated at Aberystwyth University (known then as the University College of Wales, Aberystwyth) where he graduated in French in 1961. He also studied at Rennes University in Brittany.
During his time at Aberystwyth, he was drawn to literature and journalism. He became editor of Y Ddraig and Courier- the College's magazine and newspaper - and began writing poetry. He then went on to train as a teacher at the University College of North Wales in Bangor.
Meic's first job was as a French teacher in Ebbw Vale in Monmouthshire. Whilst living in Merthyr Tydfil, he launched Poetry Wales - a pioneering publication at the time and one which is still issued today and regarded as one of Wales' leading literary journals.
It was around this time he joined the Welsh Language Society (Cymdeithas yr Iaith Gymraeg) and during the 1966 General Election, he stood as a candidate for Plaid Cymru in Merthyr. The young rebel was at Trefechan Bridge in 1963 for the first Cymdeithas protest. Rumour has it that Meic was responsible for painting the famous slogan 'Cofiwch Dryweryn' on a wall near Llanrhystud but the less said about that, the better…
Meic was raised in an English-speaking home but following his marriage to Ruth Wynn Meredith from Aberystwyth, he set about mastering Welsh (his third language) and making it the language of his home and his heart. Ruth and Meic have four children and eleven grandchildren, who all speak Welsh as their first language.
Despite the importance of the Welsh language to him, Meic has also worked tirelessly for the English language, in particular Welsh writing in English, with a dedication to the cause described as somewhat Stakhanovite. He has published extensively, around 160 books in total, including the Writers of Wales series (together with Dr R.Brinley Jones, former President of the National Library of Wales).
The Oxford Companion to the Literature of Wales/Cydymaith i Lenyddiaeth Cymru which he compiled and edited is regarded as his masterpiece, and a vital resource for generations of students and their teachers. More recently, and together with the late Gwyn Griffiths, he compiled The Old Red Tongue for non-Welsh-speaking readers keen to know more about the wonders of Welsh literature through the ages. Aimed at a global audience, these publications reflect his international outlook.
During his career as literature director of the Arts Council of Wales between 1967 and 1990, his aim once more was to promote the native literature of Wales in both languages ​​by disseminating information about the culture of our country to Wales and the wider world.
Meic developed a host of initiatives in the publishing world in Wales, including writers' awards and scholarships, grants for magazines and publishers, and funding for organisations such as the Welsh Books Council. Under his leadership, the Arts Council grew to be one of Wales' leading public bodies.
In 1993, he took up a wonderful opportunity to view his country from afar as a visiting academic at Brigham Young University in Prvovo, near Salt Lake City, after being invited to take up the role of English professor there. His journal, A Semester in Zion, features an entertaining but sometimes critical report of his life among the Mormons. He soon returned to Wales and was appointed lecturer at the University of Glamorgan. Shortly after, he was awarded a personal chair at the University which was based a mere hundred yards from his childhood home in Treforest.
Despite a busy and varied career, Meic still found time to write and publish his autobiography, Cofnodion / My Shoulder to the Wheel, as well as some of his own poetry in Wilia - poetry written in the Wenhwyseg, the Welsh language dialect of Glamorgan and Gwent. He also continued to hone his skills as a journalist, writing obituaries of prominent Welsh figures for the London papers.
Professor Meic Stephens' contribution to our national culture has been recognised by the National Eisteddfod, and his scholarship by the University of Wales and the Learned Society of Wales. Nevertheless, this honour from his old college is just as significant and one which is gratefully received by him.