Patrick Hannan (1941-2009)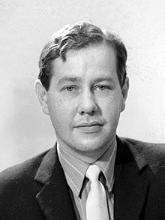 The death of Patrick Hannan in October 2009 at the age of 68 robbed Wales of its leading political analyst on the airwaves. His deep knowledge of the nation's political, industrial and social history gained over forty years stemmed from his brilliant journalism on the front line during the demise of the coal and steel industries while simultaneously covering the politics of Wales in Westminster and the swings and roundabouts of the devolution debate.
A regular columnist of PROM, Patrick graduated in History at an exciting time in Aber at the turn of the sixties. Gwyn 'Alf' Williams was teaching Welsh History and the eccentric Richard Cobb was expounding on the French Revolution, both to packed lecture halls. Pat's editorship of the Courier gave him his first real taste of journalism while his gift for public speaking ensured him full houses in the Debates Union where he became a master of double entendre. Those three elements provided a unique grounding for his future career.
The move into professional journalism was delayed by an irate Editor of the Western Mail who interviewed Patrick with a Courier article in front of him. The article was an attack on the standards of the Western Mail! He was forced to start his proper career in Luton before moving to the Western Mail under a different editor. From there to BBC Wales and thirteen years as Political and Industrial Correspondent before becoming, firstly, a documentary TV producer and finally producer/presenter of thought provoking radio and TV programmes on Radio Wales, Radio 4, HTV Wales and BBC Wales TV. His distinctive voice loomed particularly large at election times, his encyclopaedic knowledge giving him total authority while earning the respect of politicians, contributors and audience alike.
Some people thought of Patrick as a cynic. He was in fact a sceptic, taking nothing for granted, even from his friends. He was able to use sardonic humour to devastating effect when discussing the many ridiculous situations found in political life and revelled in their inconsistencies. These were much in evidence on his highly successful radio series Tea Junction and Call to Order which combined incisive interviewing with heavy irony.
His books are an important testimony to his contrarian thinking. The Welsh Illusion and A Useful Fiction, the latter a heavy broadside against the concept of Britishness in today's democracy, are titles giving a taste of his continuous questioning of conventional wisdoms. Written with style and wit, both are required reading for a knowledge of contemporary Welsh and British history. Patrick's book on the 1984 miners' strike, When Arthur met Maggie is the only detailed account of mining's last stand written by its closest observer.
Patrick was armed with a phenomenal memory for people, dates and events. It was that worldly knowledge which helped him and his team-mate Peter Stead win Radio 4's Round Britain Quiz for Wales for the fifth time in ten years just a week before his death.
He leaves his wife, Menna Richards, Director of BBC Wales, also a graduate and Fellow of Aberystwyth University.
Gareth Price