Professor Peter Wyatt FRSE, FRSC (1924 - 2016)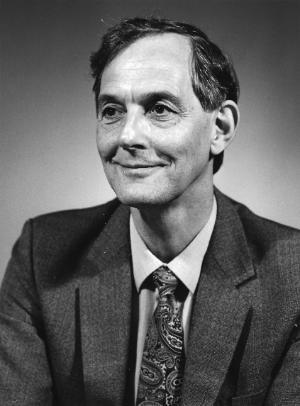 Peter Arthur Harris Wyatt was born on the 31st October 1924 at West Ealing, and schooled at Sudbury Primary School and Haberdashers' Aske's Hampstead School, where he was a Foundation Scholar from 1936 to 1942.
He selected Botany and Zoology along with Chemistry and Physics as his Higher Schools Certificate Subjects with the intention of sitting Oxbridge scholarships; but pupils were advised, because of the likely disruption in education when the second world war finally came to an end, to take any opportunity to secure a place in a university before war service so that they would have a secure place to return to on demobilisation. The Government had introduced State Bursary schemes for the training of both several physicists (for Radar) and rather fewer chemists and Peter entered his name as a potential chemist in the hope that he would be allowed to continue with some biological studies along with the chemistry.
That was how he was posted to the University College of Wales at Aberystwyth, where he was able to continue with work in chemistry, physics, and botany and was left to pursue his degree course and graduate with first class honours in chemistry in 1945. He was fortunate in that he was amongst those who were never called for military service at all but was allowed to proceed to a period of research on the effects of ion-pairing on the rates of ionic reactions under the supervision of Professor C W Davies.
He always said that those years in Wales were amongst the happiest of his life. Although his lodgings were not all that comfortable, the countryside was staggeringly beautiful and he made some of his oldest friendships, several of whom he met again many years later at reunions and holidays abroad organised by the Old Students' Association.
At that time there were only a few hundred students and this made for a good mixture of interests and for learning something from each other, which is how he came to learn some Welsh. And there was a fine string quartet (funded by the Davies family of Llandinam) and, in Charles Clements a distinguished pianist/accompanist on the staff. They put on a concert of chamber music in the Examination Hall every Monday evening and there he first heard several of the piano quintets he was to play many years later with David Charles's quartet at Lympstone.
Much of their entertainment was of their own making. The student societies were always well attended and one or other of them took place every evening. Singing was still a great feature of everyday life in Wales in those days and accompanied all events while they were waiting for something to happen and it was quite common to accompany a distinguished procession with "The animals came in two by two".
Singing also featured in the Intercollegiate Eisteddofdau. He took part in the choirs and smaller groups (like the parti ddeuddeg) and competed as a pianist, both as a soloist and, with Gerwyn Thomas (a music student), as a duettist.
In later years he also recalled the singing in the "Men's Dining Club", a rather grand name for the canteen where the male students, who were all in digs, would get a meal. Many of those songs were not for polite company.
As it was war time, on arrival in Aberystwyth he had to join the Senior Training Corps (STC) and he rose to the rank of sergeant, largely, he thought, on account of being able to maintain route marches out into the surrounding countryside (which was no chore for him) and of having a voice that carried well.
Peter qualified with a PhD of the University of Wales in 1948 and took a post as an assistant lecturer in Physical Chemistry at the University of Sheffield, becoming successively a lecturer, senior lecturer, and reader. He spent the academic year 1958-59 as a Leverhulme Fellow at Oxford and two years from 1962 to 1964 under the umbrella of the British Council as a Research Consultant at the Centre of Chemistry at the University of Chile at Santiago.
In 1968 he left Sheffield on his appointment to the Irvine chair at the University of St Andrews where he remained until taking early retirement in 1982, with a three year part-time buy-back, hoping that his removal as one of the older members of the department might leave the opportunity for the appointment of some younger members of staff, which had not been possible for many years. During his full-time there he alternated the headship of the Department of Chemistry with the Purdie Professor of Organic Chemistry. On his retirement, under new university rules, the headship was elected by the staff, and he was surprised to find himself back as head, despite being technically only a part-time member of staff.
In teaching at Sheffield and St Andrews he had the opportunity to cover most aspects of physical chemistry and this activity induced him to think about the basic mathematics and physics involved in the subject, an interest which led to the production of an elementary book on chemical thermodynamics (Energy and Entropy in Chemistry) and two short monographs for teachers (in the Chemical Society series).
His private life was supported throughout by a happy marriage in August 1948 to Thelma Thomas, a fellow student at Aberystwyth. They had five children.
Peter and Thelma moved from St Andrews to Sidmouth in 1985. Peter took the opportunity to indulge interests outside science, publishing in 1997 two volumes, as editor and contributor, on the Wills and Inventories of Uffculme (with historian Robin Stanes and the Uffculme Archive Group) and acting as a pianist and accompanist in local concerts in Sidmouth and even writing a flute sonata and setting several poems to music, some of which were sung at local events by his friends.
Following his retirement Peter and Thelma started attending the OSA annual reunion, and also enjoyed many trips with the travel club. Peter joined the committee and became one of the OSA representatives on the University Court of Governors. They ceased their involvement in protest when the university closed down some degree schemes.
Peter died on the 18th November 2016.