Rhys Lewis (1903-2012)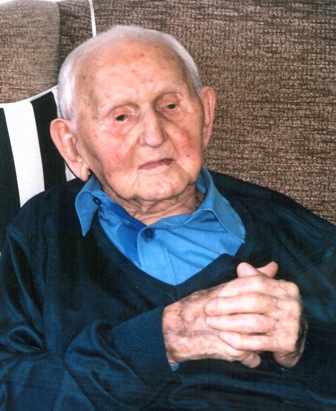 My father, Rhys Lewis, who has died aged 108, experienced early hardship but worked hard, studied in his spare time and progressed from working as a coalminer in his early teens to become a teacher, and then a trainer of teachers. By the time he retired in 1970, at the age of 67, he had spent many happy, fulfilling years lecturing and supervising students on teaching practice.
Born into a mining family in the South Wales village of Llangennech, he was the eldest of six children. He left school at 13 and started work above ground, going underground at 14. Initially working with pit ponies, by the age of 19 he was a face worker, with pick, shovel, explosives and very hard graft, often in thin seams.
Rhys felt, however, that he could better himself and, by attending evening classes and studying in a shed at the back of his terraced home before and after shifts, he matriculated in 1926. At that time he was involved in the General Strike, as secretary of his pit lodge of the South Wales Miners' Federation.
As a mature student, he entered the University College of Wales, Swansea, in 1927, with the hope of studying to be a mining engineer, but the following year he transferred to Aberystwyth, graduating with a BA in history and economic history in 1931 and obtaining a teachers' certificate in 1932. Rhys became a teacher with the London county council and eventually gained a permanent position at Church Street School, Stoke Newington.
On a visit to Denmark in 1930, he met my mother, Louise, and in 1935 they were married in London. Theirs was a loving relationship, and she was very supportive of him. While teaching during the day, Rhys attended the London School of Economics in the evenings, receiving a BSc (Econ) in 1938.
Two days before the declaration of the Second World War, the Church Street children, together with my parents, were evacuated to Stevenage, Hertfordshire. My younger brother and I were born in Hitchin during the war. In 1943 my father was asked to return to London, and he commuted daily, combining his work with Home Guard duties and further study, and obtaining an MSc (Econ) from the LSE in 1946.
In 1947 Rhys took up post at a teacher training college at Wymondham, Norfolk, and in 1949 moved as lecturer and head of history to the newly created Easthampstead Park Training College, near Wokingham in Berkshire (now absorbed into Reading University), where he remained until his retirement, by which time he had become principal lecturer.
He had a long, happy and well deserved retirement, travelling abroad with my mother and keeping up with politics and current affairs. As a Welsh speaker – he could speak little English until he was five – he was proud of his cultural heritage.
Louise died in 1994. Rhys is survived by me, my brother, Peter, seven grandchildren and five great-grandchildren.
John Lewis