Professor Roy Davies OBE (1932-2018)
Professor Roy Davies O.B.E., a former scientist at Aberystwyth University associated with the Welsh Plant Breeding Institute, has died aged 85 after a struggle with Alzheimer's.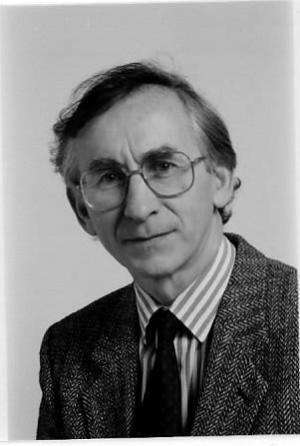 Professor Davies was Dean of Biology at the University of East Anglia in Norwich and deputy director of the John Innes Institute. He was a passionate supporter of science education and served as chair of governors at Thorpe St Andrew School and governor of Norwich School for many years.
Prof Davies was born in 1932 in the schoolhouse in Glynarthen, Cardiganshire where his father was headmaster. He spent the first eight years of his life speaking and being taught in Welsh. When not in school or chapel he was given enormous freedom to roam the local fields and help on farms, where he developed his lifelong love of agriculture and botany.
After learning English, he attended grammar schools in Llandysul and Wrexham before joining Aberystwyth University to study agricultural botany. He gained a first class honours degree followed by a PhD under Prof. P.T. Thomas. Prof Davies met his wife of 60 years, the then Frances Wills, while at Aber. He moved to the Atomic Energy Research establishment in Harwell to work on the effects of radiation on plant cells. Following a year in the USA as part of a multi-national team at Brookhaven National Laboratory Prof Davies returned to Harwell, near Oxford, before moving to the University of East Anglia and John Innes Institute in Norwich.
During his quarter of a century at UEA, Prof Davies was Dean of Biology for eight years and a key player in discussions on the siting of a new hospital alongside the John Innes Centre. As deputy director of the John Innes Institute, and acting director for two years, he was pivotal in the creation of a new conference centre which is now used widely by the local community as well as by scientists.
Local radio and TV broadcasts were two ways Prof Davies was able to pass on his passion for science while his academic research into plant genetics took him all over the world. He lectured in north, south and Central America as well as India, Iran, Turkey and Europe. In Brazil he gave research advice and lectured on behalf of the Royal Society, while in Bulgaria he led a group of industrialists on behalf of the government. Other visits included to Ireland on behalf of the OECD, while his work in was for Turkey for the British Council.
Alongside his research in Norwich, which started with cell walls in green algae and ended 26 years later by introducing genes into pea plant chromosomes, Prof Davies spent eight years editing Heredity, the journal of the Genetical Society of Britain. He was on the editorial board of Mutation Research and Radiation Botany; edited three John Innes Symposia and wrote on genetics. He sat on numerous government committees on agriculture and the governing councils of four science research establishments.
On retirement in 1994 as professor of applied genetics and head of applied genetics at the John Innes Centre, Roy Davies was made Professor Emeritus and an O.B.E.
In retirement Prof. Davies gained enormous satisfaction from his relationships with both Thorpe St Andrew and Norwich schools. He devoted time to his four children, eleven grandchildren and to Fran, with whom he travelled extensively for pleasure. Singing in the Norfolk Millennium Male Voice Choir and Eaton Parishes Choir took him back to his roots in rural west Wales. He spent summer holidays in Aberporth and visited his brother The Rev. J.O. Davies, retired vicar of Llechryd.
Prof Davies, who died in March 2018, is survived by his wife Fran.