Alexandra Dodds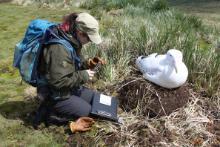 Alexandra studied Marine and Freshwater Biology at Aber, graduating in 2013, since then she has worked in a wide variety of remote locations both within the UK and around the world. Through her work she has been privileged to live in some amazing places from the New Forest to the most northerly isles of Scotland and from the Caribbean to the Falkland Islands. Currently she works for the British Antarctic Survey on Bird Island specialising in albatross research.
What do you remember most about your time at Aber?
One thing that has stayed with me since leaving Aberystwyth is something the Vice-Chancellor said in their speech at my graduation ceremony; as you begin the journey of your career the path you take will look like a higgledy piggledy mess of changing direction and may not always seem like the path is heading in the same direction, but from the final destination you will look back and see your path as a straight line.
What are you doing now career-wise and how has your Aberystwyth Degree helped?
I work for the British Antarctic Survey as a Zoological Field Assistant, specialising in albatross, currently in the midst of an 18-month stint living and working on Bird Island, South Georgia. Since leaving Aber I have worked primarily in the coastal environment focussing on marine ornithology and marine mammalogy. Studying and living in Aberystwyth enabled me to develop my interest and knowledge in this field and give me the foundations I needed, whether that was from reading research papers or carrying out practical conservation work along the beautiful Ceredigion coastline.
What advice would you have for a student doing your course now?
Use your summers to gain experience and learn about the sector you want to enter. Take advantage of all of the fieldwork and research skills opportunities that come your way as they will be a great advantage when it comes to getting a job in the environmental or biological field. Try anything that takes your fancy while at Aber, there are so many clubs and societies and I remember loving the variety and unusual opportunities to try out different activities, you never know who you might meet or what you might learn from joining in.