Myra Kinghorn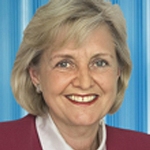 Myra Kinghorn is a Chartered Accountant and a Chartered Director and has a wide range of experience working as an executive and non- executive director.
Following 13 years in the accountancy profession, she was appointed Chief Executive of the Investors Compensation Scheme( which later merged in to the Financial Services Compensation Scheme) for over ten years and later the first Chief Executive of the Pension Protection Fund. She has had a non- executive portfolio for over 14 years and her most recent non -executive roles include: seven years as Chair of the Scheme Management Committee (an independent committee of the European Payments Council based in Brussels ) responsible for firstly the admission of credit and payment participating institutions into the SEPA Credit Transfer Scheme and also the SEPA Direct Debit Schemes and also for dealing with any complaints and appeals ; eight years as a member of the Architects Registration Board ( the regulator of architects ) and Chair of its Audit Committee for over five years and also Governor of Morley College , an adult education college based in central London , including five years as the Chair of the Audit Committee and latterly the Vice Chair.
Myra was the inaugural Chair of the Development Advisory Board for five years from 2010.