Mr Llyr Jones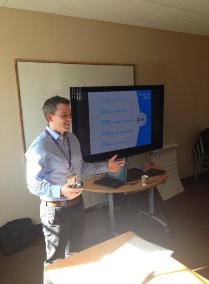 Health Safety and Environment Advisor
Contact Details
Profile
Llyr joined the Health, Safety & Environment Department in January 2015 as a Health, Safety & Environmental Advisor (Training).
Llyr is a former student of Aberystwyth University where he studied Agriculture with Countryside Management and graduated with honours in 2005. Since graduating, Llyr has continued with his development in education by gaining numerous qualifications that relates directly to the role of Health, Safety & Environmental Advisor.
Currently a Graduate member of IOSH, Llyr actively participates in his Continual Professional Development by attending seminars and further training.
Llyr is an experienced Health, Safety and Environmental Advisor with a proven track record of success in the management of the Environmental standard ISO 14001, delivery of IOSH Managing Safely training and auditing against standards such as OHSAS 18001.
Prior to joining the team, Llyr worked for Dunbia as the Health, Safety and Amenities Manager.
Llyr is also a Retained Fire Fighter for Mid and West Wales Fire and Rescue Service.