Community and Rural Education Route (CARER) Programme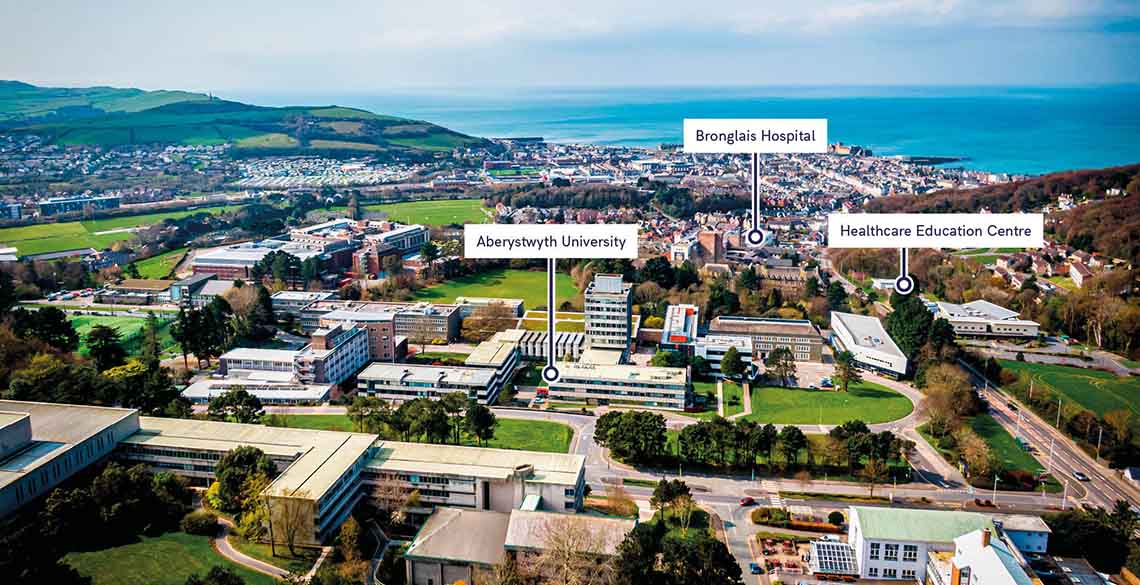 The CARER (Community and Rural Education Route) programme, run in partnership with Aberystwyth and Bangor Universities, will give third year Cardiff medical students the opportunity to have a year of their education delivered in GP practices and hospitals in North and Mid Wales, giving them invaluable experience of working closely with clinicians and patients in community settings.
As Wales sees a critical shortfall in the number of doctors to serve the increasing patient demand, generated by a growing and aging population, this programme has been designed to bring young doctors to North and Mid Wales. The new programme will build on Cardiff University's existing practice of ensuring its medical students are offered placements all over the country in a wide variety of settings and complements.
During this year long placement (referred to as a 'Longitudinal Integrated Clerkship' or 'LIC'), students will work towards the same learning outcomes from the same innovative curriculum as their peers in Cardiff, under the guidance of a small, dedicated team of experts. The first programme of its kind in Wales, initially CARER will only be available for existing third year medical students.
Educational institutions from around the world have been running LIC programmes for over 15 years. Some of the positive elements reported from similar programmes include students acquiring an enhanced understanding of patient needs, better developed communication skills and stronger working relationships with patients, fellow students and healthcare professionals.
Parallel consulting, seeing patients independently and then reporting back to clinicians, ensures active participation which develops and reinforces diagnostic thinking at a much greater rate. In addition, following the patient into the hospital environment gives a unique view of what patients experience as they navigate the NHS. Students will benefit from working within well-developed, fully functioning medical teams. They will also have the unique experience of immersing themselves in a rural community for a year.
Location
The CARER Programme is based at the Healthcare Education Centre which is conveniently situated across the road from Aberystwyth University and Bronglais Hospital.
Students who opt for the Mid Wales area will live in and around the town of Aberystwyth located on the coast of West Wales, nestled between the Cambrian Mountains and Cardigan Bay with access to many of the facilities of Aberystwyth University including:
The GP Surgeries involved in the CARER scheme are situated in and around Aberystwyth and include:
Hospital placements will take place in Bronglais Hospital situated on the edge of Aberystwyth town.
Life of a CARER student
CARER Team: Aberystwyth University
Enquiries can be made via the following email addresses:
Educational benefits of a Longitudinal Clerkship
Identical curriculum to traditional year 3
One to one teaching with GP tutor and educational supervisor who can tailor learning to the students' needs
Small group teaching with the same students throughout the year
Clinical skills are easy to complete
Learn through following a bank of patients throughout the year
Educational Theory / Additional Educational Benefits to CARER
Positive experiences provide feedback, improve confidence and influence learning
Learning in a social context with reciprocal interaction of the person, environment and behaviors improve learning
Learning from observation over time allows modification of performance
Communities of practice within the primary care team provides a greater learning experience
Assessments
Complete the same assessments as traditional year 3
Easier to find patients for longitudinal projects
Longitudinal SSC
GP Portfolio easy to complete
Opportunity to increase position in cohort for Progress Tests
Increased confidence in ISCEs
Other Opportunities
SSC project can be submitted for conferences and competitions
A number of students are doing iBScs
An additional learning experience to add to CVs when applying for future training posts after leaving medical school