Prof Iwan Morus
MA, MPhil, PhD (Cantab)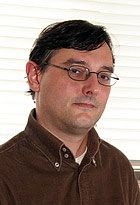 Profile
Born and brought up in Aberystwyth, Iwan graduated in Natural Science from Cambridge University in 1985 before going on to complete an MPhil (1986) and PhD (1989) in History and Philosophy of Science there. He was a Research Fellow at Cambridge until 1994, after which he spent a year at the University of California San Diego before taking up a lectureship at Queen's University Belfast. He joined the Department of History & Welsh History at Aberystwyth in 2005. He was the editor of History of Science until the end of 2014 and remains on the editorial board. He is also on the Editorial Board of the University of Wales Press Scientists of Wales series. He is a fellow of the Royal Historical Society and of the Learned Society of Wales.
Teaching
Module Coordinator
Tutor
Lecturer
Coordinator
Aspire Admin
Moderator
PhD Supervision
History of modern science, technology and medicine; Cultural history of Britain during the long nineteenth century
Research
Iwan has published extensively on the history and culture of Victorian science. He has just completed a biography of the Welsh natural philosopher William Robert Grove and edited the recently published Oxford Illustrated History of Science. He is currently pursuing projects on the history of experts, scientific illusions, and Victorian futures. He is a co-investigator on the AHRC funded project Unsettling Scientific Stories: Expertise, Narrative and Future Histories, and a senior collaborator on the John Tyndall Correspondence Project at Montana State University and York University Canada.
Office Hours (Student Contact Times)
Tuesday 10.00-11.00
Friday 11.00-12.00
Publications
Morus, I
2021, '
Out on the Fringe: Wales and the History of Science
',
British Journal for the History of Science
, vol. 54, no. 1, pp. 87-97.
10.1017/S0007087420000655
Morus, I
2019,
Nikola Tesla and the Electrical Future
. Icon Books, London.
Morus, I
2017,
Sight and Sites: The National Repository and the Politics of Seeing in Early Nineteenth-Century England
. in B Lightman & C Berkowitz (eds),
Science Museums in Transition: Cultures of Display in Nineteenth-Century Britain and America.
Science and Culture in the Nineteenth Century, University of Pittsburgh Press, pp. 87-107.
10.2307/j.ctt1r6b0c8.9
Morus, I
2017,
Staging Science
. in J Holmes & S Ruston (eds),
Routledge Research Companion to Nineteenth-century British Literature and Science.
Taylor & Francis, pp. 201.
Morus, I
2017,
The Oxford Illustrated History of Science
. Oxford University Press.
More publications on the Research Portal