Dr Yi Li BSc (Fudan), MSc(National University of Singapore), MA(London), PhD(London), FHEA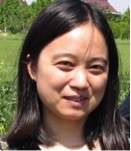 Profile
Yi Li is a Lecturer in East and South East Asian History at Aberystwyth. She received her Ph.D. from SOAS, University of London in 2012. Prior to joining Aberystwyth, she worked as Postdoctoral Fellow at Nanyang Technological University in Singapore, and online learning programme manager at SOAS. Her research interests include colonial and postcolonial history of the Burmese Chinese, Chinese migration and diaspora, and modern East and Southeast Asian history. She was born and raised in Shanghai, and spent years living, studying and working in Singapore and Britain. Before becoming a historian, Yi was trained as a software engineer.
Office Hours (Student Contact Times)
Thursday 13:00-14:00
Friday 10:00-11:00
Friday 15:30-16:30
Publications
Li, Y
2022,
A Cantonese Carpenters' strike in Rangoon, 1922
. in C Choi, T Shiroyama & V Viana (eds),
Strenuous Decades: Global Challenges and Transformation of Chinese Societies in Modern Asia.
vol. 2, Social and Cultural Changes in China, vol. 2, De Gruyter, pp. 121-140.
10.1515/9783110757422-007
Li, Y
2022,
The Unsuccessful Development of Southern Burmese Tin Mines in the Nineteenth Century
. in D Baillargeon & J Taylor (eds),
Spatial Histories of Occupation: Colonialism, Conquest and Foreign Control in Asia.
Bloomsbury, London, pp. 99-118.
10.5040/9781350257023.ch-004
Li, Y
2021, '
Review of Faithful Fighters: Identity and Power in the British Indian Army
',
Journal of Asian Studies
, vol. 80, no. 1, pp. 255.
10.1017/S002191182000409X
Chen, L
& Li, Y
2021, '
Seeking 'A Fair Field' for Women in the Legal Profession: Pioneering Women Lawyers from Burma of 1924-1935
',
Britain and the World
, vol. 14, no. 2, pp. 105-127.
10.3366/brw.2020.0356
Li, Y
2018, '
Yearning to Belong: Malaysia's Indian Muslims, Chitties, Portuguese Eurasians, Peranakan Chinese and Baweanese
',
Kyoto Review of Southeast Asia
, vol. 7, no. 1, pp. 149-153.
More publications on the Research Portal