Duke drops in on pioneering new project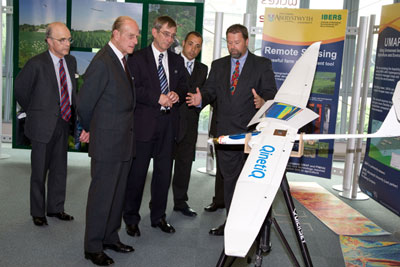 The Duke of Edinburgh was given an introduction to a pioneering agricultural research project when he visited Aberporth in Ceredigion.
He dropped in on scientists from Aberystwyth University's new biosciences centre, IBERS, the Institute for Biological, Environmental and Rural Sciences, as they demonstrated the first results of the U-MAP research project.
The project is investigating the use of small unmanned aircraft equipped with sensors which will fly over farmland taking images of fields and crops. It is envisaged these airborne images will help farmers with a range of problems, including how much fertilizer to use, which crops to harvest and where best to graze.
The Duke saw the UK's first ever images taken from one of the 'unmanned aerial vehicles' demonstrating how a sophisticated new photographic technique and computer analysis can point out small but vital differences in soil and in plants.
"He seemed very interested," said Alan Gay, the project manager from IBERS, "He even asked whether the technology could be used to spot deer!"
IBERS is working in partnership with Aberystwyth University's Institute of Geography and Earth Services and QinetiQ, which runs the West Wales Unmanned Aerial Vehicle Centre at Aberporth. The U-MAP project is supported by the Welsh Assembly Government.
One of the main aims of the project will be to use the new affordable technology to help manage the amount of nitrates used on the land – they are amongst the most serious causes of pollution in farming, but are also vital for crops.
The new technique will show how much nitrogen there is in the soil and in vegetation – which crops need more fertilizer and where excess nitrogen is being left in the ground.
"This will help farmers target their use of costly fertilizer, make sure they don't use too much and help the environment by cutting back on nitrate run-off," explained Alan Gay.
"Another early application will be to help farmers in the uplands to see where the best grazing is for their animals. This can be very difficult to assess at ground level."
The Duke was shown images from fields in Herefordshire and near Aberystwyth – where scientists are checking the technology by comparing the images with their findings on the ground.
The unmanned aircraft are like large model aircraft. They are much cheaper and able to operate flexibly in areas away from airports and are less susceptible to cloud and weather problems than manned aircraft and satellites.
These first results are very promising," said Alan Gay. "We would hope to see commercial applications of this technology within two or three years."
Ends.
Further information:
Emma Shipman, Publicity and Events Officer, IBERS Business Office, Aberystwyth University 01970 823002 / eos@aber.ac.uk
Arthur Dafis, Press and Public Relations, Aberystwyth University
01970 621763 / 07841 979 452 / aid@aber.ac.uk