A miller's tale
Modern farming and traditional milling techniques have come together to produce Wales's newest organic flour.
Loaves made with the flour will be one of the talking points at this year's Winter Fair in Llanelwedd.
The new flour is unique in that it uses locally grown organic wheat – a joint project between the world renowned IBERS research centre at Aberystwyth University and the owners of Wales's latest working water mill.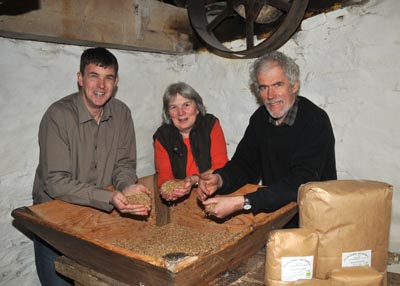 Andrew and Anne Parry of Felin Ganol, Llanrhystud, near Aberystwyth, in mid-Wales, are both former members of staff at IBERS and when they were looking for locally grown organic wheat, they turned to their former employers.
Further developments are in the pipe line with IBERS and Felin Ganol carrying out further research into a variety of traditional oats.
The loaves will be on sale at the Wales Organic Centre stand as part of the organic area on the balcony of the Livestock Building at the Winter Fair. The Centre is part of IBERS.
Saving on food miles, new hope for farmers
Growing crops locally means a saving on food miles and emissions, whilst offering local farmers the prospect of new sources of income.

Felin Ganol flour is sold at local farmers markets, village shops and used by cottage style bakeries. It is the result of extensive restoration work on the Parrys' 16th century watermill.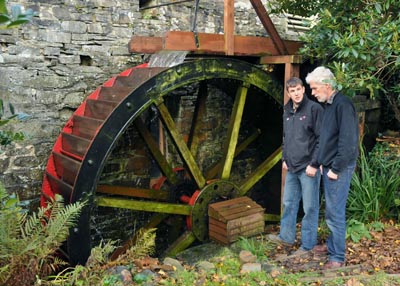 "The collaboration with Felin Ganol displays the willingness of IBERS Farms to work with processors and farmers to develop locally sourced primary products," says Dr Huw McConochie, IBERS Farm Manager.
"We hope that the work carried out in conjunction with Felin Ganol to grow wheat can potentially contribute to the incomes of local farmers as well as ensuring a supply of local produce for the mill."
Helping businesses
IBERS are already growing barley for a successful local brewery, Penlon, and can adapt to meet the needs of both the customer and the particular growing conditions in Wales
Traditionally cereals for brewing and milling were grown and processed within a small geographical area – a model of sustainability and food production with a low carbon footprint.
"IBERS plant breeders use modern technologies to produce varieties of cereals, grasses and legumes which have a positive effect on the environment, whilst IBERS Farms endeavour to make themselves more self sustainable and to reduce their effect on the environment," says Dr McConochie.
"The wheat for Felin Ganol is another fine example of the way IBERS uses world-class research to help create opportunities for local farmers and businesses."
Milling – a mission for the Parrys
Milling has become a mission for the Parrys since Andrew retired from his job as computer manager at IBERS three years ago. Anne also worked there at one time as a plant pathologist.
They bought Felin Ganol in Llanrhystud without ever thinking of getting it to work again. But once they moved in, the temptation was too much.
"You can't live with a water wheel without wondering whether you can get it to turn," says Anne. "You can't see an empty pond without wanting to fill it."
They water wheel turned again for the first time in more than 50 years in 2008 and, within a year, they were beginning to sell their flour to the village shop.
With her background in plant biology, Anne is the miller, whilst Andrew uses his practical expertise as the millwright.
"We're now drawing on all our experiences in our former lives," says Anne. "We want to use local organic produce; we want to supply flour to local bakers and restaurants and sell in local shops. We're doing it for the love of the work."
Further Information:
Dr. Huw McConochie, IBERS, Aberystwyth University 07891956736 / hum@aber.ac.uk