Equine Reproduction Colloquium 2013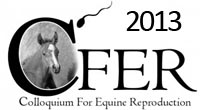 Equine Reproduction Colloquium
A stimulating provisional programme has been confirmed for the 2013 Equine Reproduction Colloquium.
Session one, 'Advances in equine reproduction science', begins with keynote, internationally renowned speaker, Dr Sandra Wilsher (Paul Mellon Laboratory of Equine Reproduction, Newmarket, UK), who will outline her research work such as investigating how the mare recognises pregnancy and the unique events of placenta development. Jennifer Paddison (Aberystwyth University) will describe how recent advances in human research of an embryo-secreted protein (Pre-implantation factor) have potential, valuable applications to equine breeding. The second session 'How can industry benefit from research?' will be led by Jos Mottershead (equine-reproduction.com; Oklamhoma, USA) an industry-based equine reproduction expert with a world-wide reputation.

CFER is proudly sponsored by EGG Tech Ltd, who will be on hand to offer advice on equine breeding products, as well as other quality science and veterinary supplies.

The Colloquium for Equine Reproduction (CFER) 2013 is set to build on its previous success by joining forces with the British Society of Animal Science (BSAS) who will host the event within their annual conference. CFER aims to bring together researchers, vets and grassroots breeders to share the science of breeding. Academic studies of equine reproduction, like any other science, are primarily communicated through peer-reviewed journals. Yet, those on the 'coal face' of breeding rarely have access to these data…until CFER! Following presentations from scientists and industry professionals, a structured public discussion forum encourages ideas to be exchanged and links forged to advance industry progress. CFER invites all breeders, whether involved in large-scale commercial studs or owners of one or two brood mares. A warm welcome to all!

The event takes place on Wednesday 17th April at 1.30 pm (registration is open all morning to ensure a prompt start). Although within the 'umbrella' of the BSAS conference, CFER will have a dedicated lecture theatre and break out rooms for the discussion forum. We are delighted that the registration fee will be frozen at 2011 prices: £60 per person, £30 for students. The price includes lunch and afternoon tea and coffee. As a special offer to welcome CFER, delegates are invited to attend the BSAS conference equine sessions, which take place in the morning. This special offer is designed as a taster of what BSAS has to offer the equine industry, academics, vets, lecturers and students. Do come along and sample the friendly BSAS society! BSAS equine sessions include presentations of research advances in nutrition, exercise physiology, genetics and more.

Registration will be online via the BSAS website and will be available very soon. If you would like more information or to join the CFER network e-mail Debbie Nash dmn@aber.ac.uk. You can also visit our website: www.cfer.co.uk or our Facebook page.